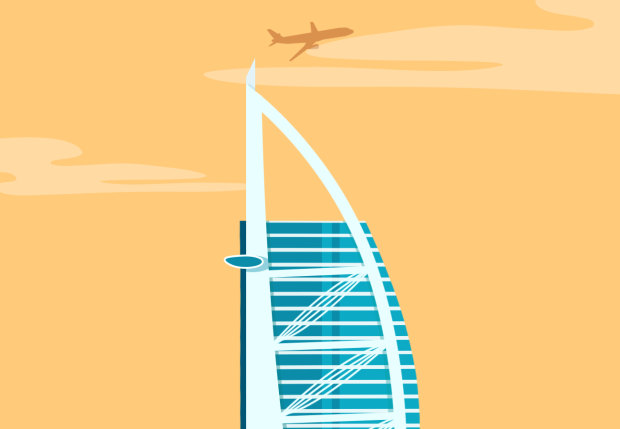 This April, Preen is taking you on a ride. We're all about traveling to escape or even to find that one thing you can never have if you stay still. From journal entries to travel advice, we've got your ticket booked for a getaway from the everyday grind.
When traveling to the United Arab Emirates (UAE), it's almost a given that the spot-to-be would be Dubai. Well, you can't blame them as it is a progressive city with several sights and opportunities for those who want to get out of their home country for work or just a vacation. But just a taxi or train ride away from this busy city, you'll find what they consider as "The Cultural Heart of the Emirates"―Sharjah.
Yes, everyone wants to see well-known Burj Al Arab and other landmarks in Dubai. But if you're the type of person who would like to go museum-hopping and experience a country's culture, then sneaking a trip to Sharjah in your itinerary wouldn't hurt.
So, with the help of a good friend who's currently based there, here's a 24-hour guide in navigating through Sharjah's cultural spots.
8 a.m.: Heritage Area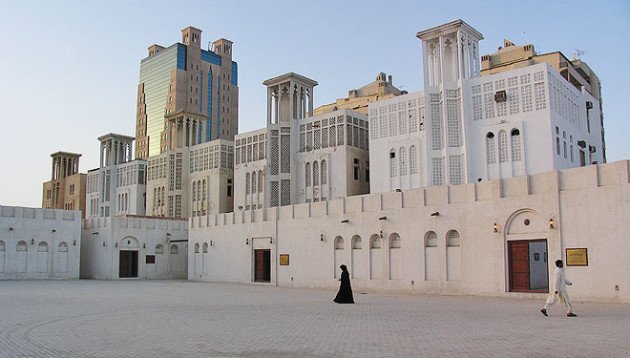 Welcome to the Heart of Sharjah! This place is considered a gold mine for tourists as there are so many exhibits, as well as stores selling knickknacks and souvenirs in this walled complex that you'll probably get lost here for hours. A little tip to help you cover as much ground as possible, you can consult this interactive map from time to time.
But to make it easier for you, here are four spots you can check out at the Heritage Area:
Souq Al Arsah – One of the oldest stores in the UAE and in Sharjah that is still operational today. Many locals and tourists frequent this place, looking for unique items. (Unspoken rule of souqs: It's perfectly fine and normal to haggle, so use your Divisoria skills to get exotic souvenirs to take home with you.)
Sharjah Calligraphy Museum – Learn about the evolution of Arabic Calligraphy and enjoy the various artworks by local and international artists and calligraphers on display.
Sharjah Heritage Museum – A museum dedicated to showcase the customs of Sharjah.
Sharjah Art Museum – This place is long and massive. With three floors of galleries, this is the largest art museum in the region. You'll also find a Fine Arts Library within this building.
11 a.m.: Sharjah Museum of Islamic Civilization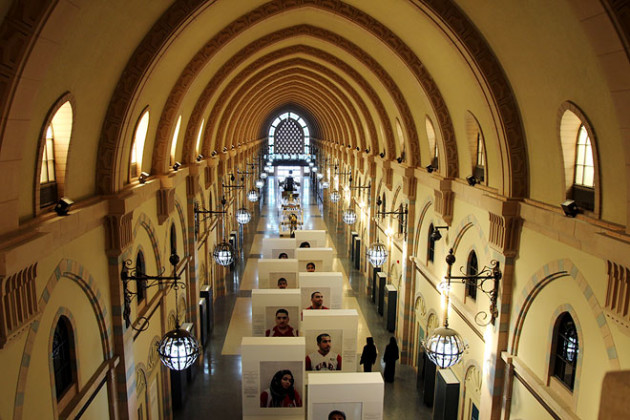 Just a 10-minute walk from the Sharjah Art Museum, you'll find this massive museum filled with interactive exhibits. Here, you'll learn various stuff like how pulleys and water clocks work, and also know about the path that Muslims take during their pilgrimage to Mecca and Medina. Fair warning, though, that you might get carried away with the exhibits and lose track of time and may not be able to explore the entirety of this museum in just two hours. Also, in case you get hungry, you can grab a bite at the museum café.
1 p.m.: Cultural Square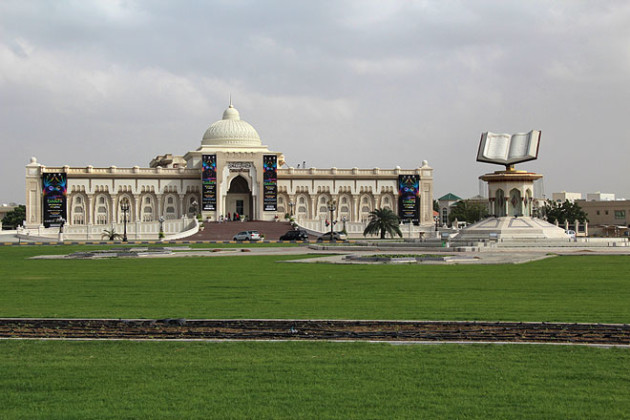 For those who simply love to look at architecture, take a 15 to 20-minute taxi ride to the Cultural Square where you'll find the Field of Culture, the Cultural Palace, and the Sharjah Library.
1:30 p.m.: Sharjah Science Museum and Sharjah Archaeology Museum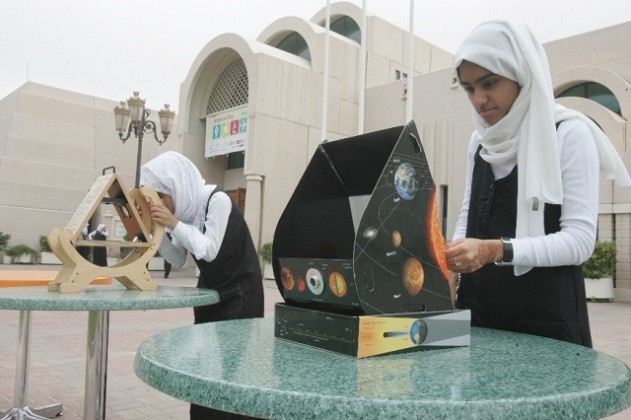 While walking through Cultural Square, go to the direction of the Sharjah Library, and you'll easily find the interactive Sharjah Science Museum. Think of it as their version of the Mind Museum in BGC where you'll learn about stuff like illusions, light, force, and electricity.
Also in the area, you can visit the Archaeology Museum which contains all of the artifacts discovered in Sharjah during the period of 125,000 years.
3 p.m.: Al Mahatta Museum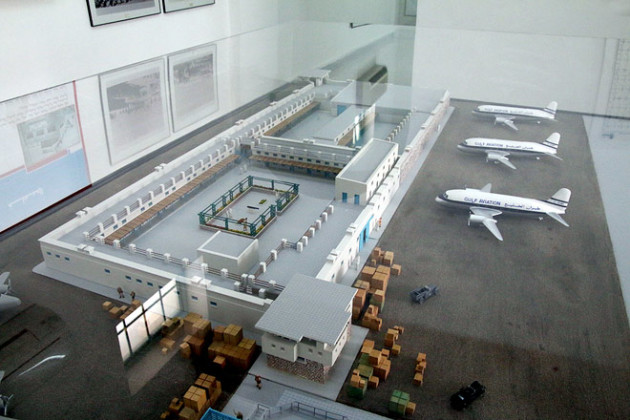 Built in 1932, this is the first airport ever built in the UAE. Apart from fully restored propeller planes, the museum exhibits also showcases countless endeavors to reach the skies, as well as a film recounting the history of the airport when it was still operational back in the `30s.
4 p.m.: Central Souq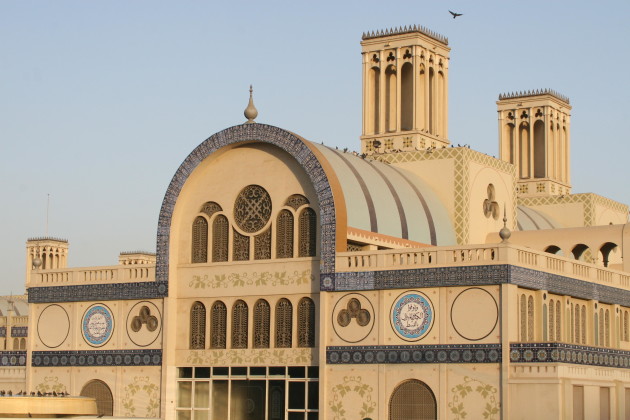 After visiting Al Mahatta, stroll along the city and stop by the Central Souq. Featured on the five dirham bill, this popular blue market has over 600 stores selling items from jewelry to carpets. But be warned as the vendors here are more assertive than those from the Heritage Area, so window shopping could be challenging.
5:30p.m.: Al Noor Mosque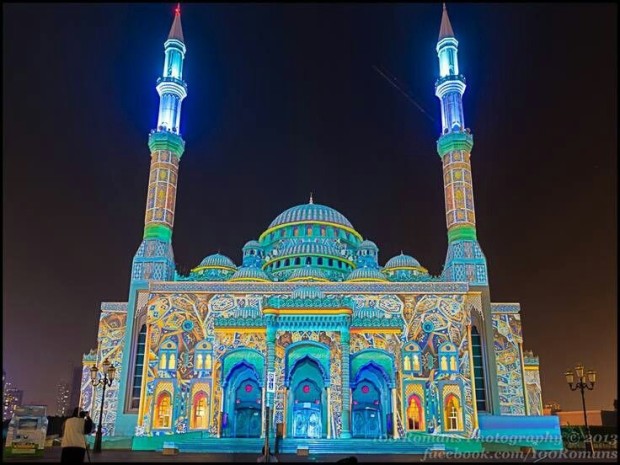 This is the most famous mosque in Sharjah, and also the first in the city to open its doors to the public with the goal of helping people learn more about the UAE National culture and religion. However, if you want to tour here, you must be here on a Monday. (Bonus: Visit the mosque at night if you arrive during the Light Festival every February.)
6 p.m.: Al Majaz Waterfront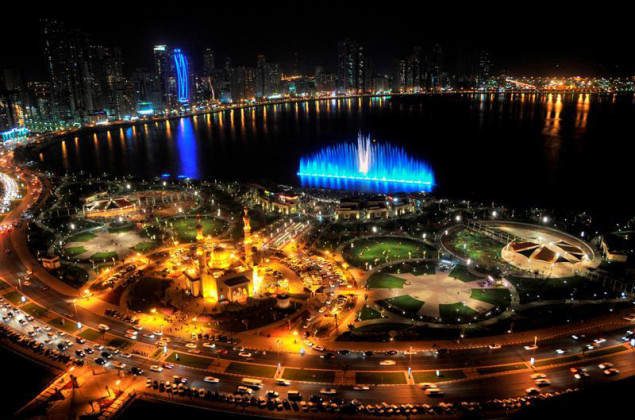 Located at the edge of the Khaled Lagoon, this place is a wonderful family area where you'll find large parks and many restaurants. Eating dinner here will also be a treat because you can watch the Sharjah fountain light show that usually starts at 6:30 p.m.
7:30 p.m.: Al Qasba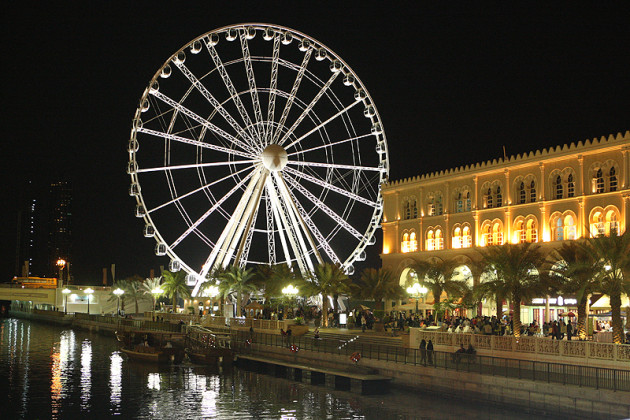 End your day at this leisure area where you can find fun activities such as boat tours, water karts, and even get the chance to ride the Eye of the Emirates to see the view of the city. You can also watch various street performers of different nationalities showcase their skills on random spots during special events such as the Sharjah Food Festival every March or April.
Art by Dorothy Guya