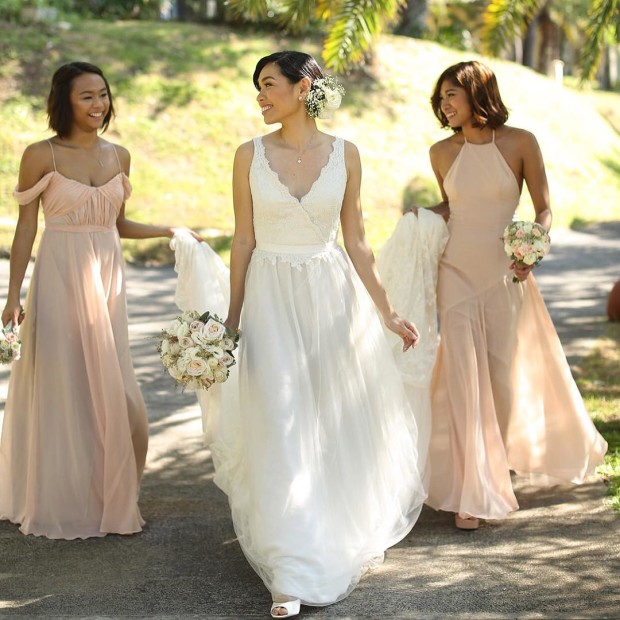 Today's the first day of June, and you know what that means? It's wedding season once again. Now we ask, are you ready for the upcoming wedding? Is your ensemble prepped for that special day?
If not, we totally understand as it can get really stressful dealing with so much details, including choosing the right dresses for your bridesmaids. So, we listed down five tips (or reminders, if you will) to help you with your dilemma. At least that's one thing you can cross out from your to-do list.
#1 Figure out a style that'll flatter all of them
First things first, you need to take note of your bridesmaids' measurements and body type, and make sure that they will feel comfortable with the style you'll choose. But don't feel pressured to get the same design for each girl―one can wear a strappy dress, the other can sport a tube. Just make sure that the fabrics and the colors match, and still go well with your gown.
#2 Consider the color scheme of your wedding
As much as possible, the bridesmaids' dresses should complement the motif, the time of day, and the season. For example: If you're having a daytime ceremony in the summer, it's best to go for light shades, pastels, or even florals. Meanwhile, if you opt for a late afternoon or evening ceremony, go for dark shades like deep blues and violets. If you're unsure of what colors match, you can consult a color wheel.
Also, according to The Knot, you should order the dresses at the same time so that they won't have different hues.
#3 Consider the location, too
Aside from what I mentioned above, the venue of the wedding and the reception should also be taken into account, especially when it comes to the style and length of the dresses. If you're setting a casual garden wedding, a tea-length dress will do the trick. And for a formal setting like in hotels, go for long, flowy evening gowns.
#4 Placing the order
Once you and your bridesmaids have settled on the dress, it's time to place an order. According to The Knot, it's best to get the bridesmaid dresses, along with your gown, at least six months prior to the wedding. The reason for this is because it'll take two to three months for the dresses to arrive, and another four to six weeks for alterations. While waiting, you can inform your bridesmaids on the schedule, and maybe plan out the rest of the wedding.
#5 Dealing with alterations
As much as possible, all your bridesmaids should be present once the dresses are ready. Gather them for a couple of fitting sessions where they can bring up their concerns and request alterations on their dresses. If some of them won't be around because of their busy schedules, you can still inform them that they can schedule their fitting on a different day. Again, alterations may take four to six weeks to finish, so make sure that they'll make time for that.
Breathe in, breathe out. We're sure things will into place on your special day.
Photo courtesy of Vania Romoff Bridal's Instagram
Follow Preen on Facebook, Instagram, and Twitter