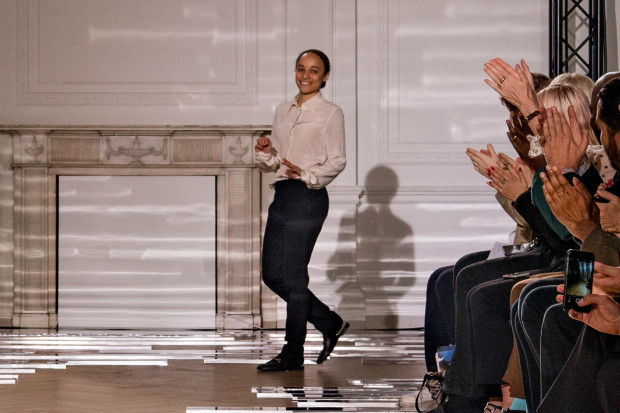 Grace Wales Bonner is the third winner of the LVMH Prize, granting her 300,000 EUR and a year's worth of mentorship from the top moguls of LVMH. It's a sweet package if you want to be fashion's next big thing.
Grace, who heralds menswear label Wales Bonner has been a breakout star since graduating two years ago from Central Saint Martins. Her political and racial views have been the main thrust of her cool, utilitarian designs and has caught the attention of publications like AnOther, Port, Dazed, Vogue France, and i-D.
A new zine from @wales_bonner explores the dialogue between African & West Indian cultures: http://t.co/LrmqMgBjhr pic.twitter.com/KN92aIff4D

— AnOtherMagazine (@AnOtherMagazine) October 15, 2015
.@wales_bonner talks to PORT about the influences in her AW16 collection #LCM #menswearhttps://t.co/Fl09n29rnR pic.twitter.com/tWH1Tl2wqH

— PORT Magazine (@portmagazine) January 12, 2016
Grace @wales_bonner proves fashion can be poetic AND political + it's what menswear needed: https://t.co/DopKwmvLXL pic.twitter.com/4DjmozWDd1

— Dazed (@Dazed) January 13, 2016
EXLUSIVE #VogueHommes talks to rising star of British Menswear Grace Wales Bonner: https://t.co/wNFl4OoksR pic.twitter.com/FpIzHThiaW

— Vogue.fr (@VogueParis) January 8, 2016
Journey down to the pink lake as @Wales_Bonner searches for Senegal's king of the ring: http://t.co/FLVppurVpk pic.twitter.com/WQvtL0n77u

— i-D (@i_D) October 15, 2015
She was chosen by a tough panel which included Karl Lagerfeld, Marc Jacobs, Phobe Philo, and Jonathan Anderson.
The LVMH Prize was introduced three years ago to reward and support the emerging talents in fashion. Its first winner was Canadian-born Thomas Tait.
Photo courtesy of The New York Times