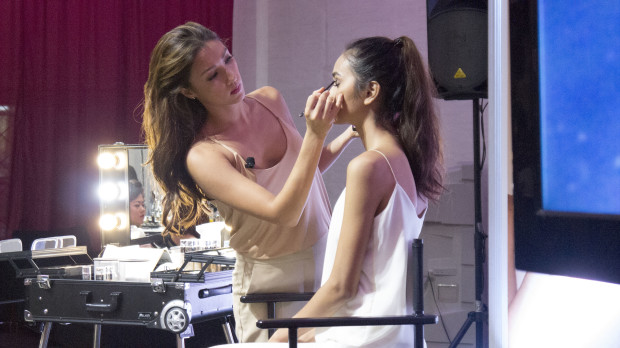 Aside from being a model, actress, painter, and recording artist, Solenn Heussaff is also a trained makeup artist. And yes, she has multiple talents.
During her live workshop as the ambassador of L'Oreal True Match,  you could tell that you can trust her with tips any woman needs when putting on makeup for any occasion. That said, we asked Solenn her do's and don't's―from choosing the right foundation to blending eyeshadow―that we can apply to any look.
#1 Putting on foundation
DO: "Just get three bottles closest to your skin tone and put it next to your face. Or, apply a small amount of those three on your chin, and you choose the shade that kind of disappears on your skin," she says.
DON'T: "People always use the wrong foundation because they want to look light. Just embrace your natural skin color. [Also,] don't blend your foundation downwards so you won't look drowsy."
#2 Dabbing on concealer
DO: "You can put small amounts under your eyes, then just dab it with a brush or your finger so it blends with your foundation. You can also use a lighter shade to highlight certain features.
DON'T: "Make sure you don't swipe the concealer because you might move your foundation."
#3 Choosing eyeshadow colors
DO: "For brown eyes, the nicer colors are like in the peachy-brown family. Or, if you want more color, you can go for natural violets. There's a way of using color without making it too striking and noticeable."
DON'T: "Blue eyeshadow, like the ones you see on department store ladies. I'm so against it!"
#4 Contouring your cheekbones
DO: "If you don't have a contour kit, you can use a concealer with a darker shade [as an alternative]."
DON'T: "If your face is long-ish like mine, don't draw the contour line diagonally because it'll make it look longer. Instead, draw a straight line on your cheekbones."
#5 Drawing your brows
DO: "When shaping your eyebrows, you must make sure that the tip is proportional to the edge of your nose. You can make it a strong brow, if you like. I've noticed in the last few years that it's been all about the strong brows [on the runway]. They never do the full look anymore,"
DON'T: "I don't like brows that look overdrawn―the ones that look blocky and you can still see the strands."
Photo courtesy of Ogilvy PR
Art by Dorothy Guya
Follow Preen on Facebook, Instagram, Twitter, Snapchat, and Viber