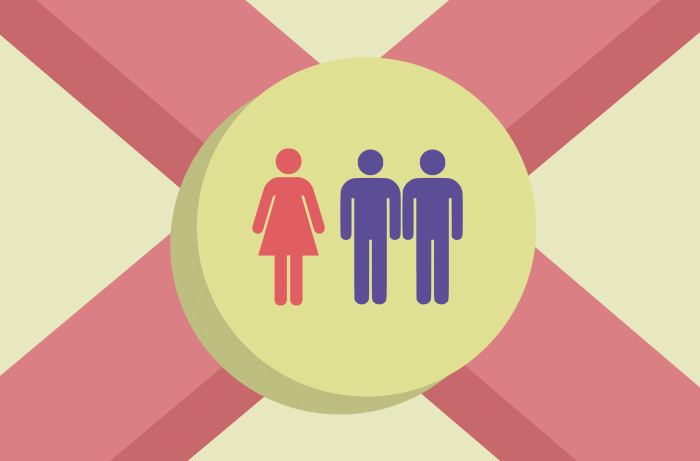 Welcome to Ask Poppy! I'm Poppy, your go-to girl for all of life's woes. And when I say ALL, I MEAN IT. I'm not an expert on anything except maybe for being me, which makes me totally qualified to do this.
Hi Poppy,
Allow me to indulge you in my crazy secret love life.
I have been in love with my college best friend for four years now. And in those years, I have professed my love for him, which he sadly declined not once but thrice. "I don't want to lose you and the friendship in case we break up." The same reasons you say when you don't really have the guts to say an outright "no." I have tried moving on by giving myself space to grieve but it was difficult given that we have the same circle of friends and take the same classes. Somehow, I managed to see it to graduation with us side-by-side smiling for the cameras as #BFFs. And sigh, I am still in love with the guy, big time.
Fast forward to present, he can still see I am affected by our friends teasing us and asked if we can talk. I was surprised when he told me that the reason he cannot reciprocate my feelings was not because he did not like me, but because he is bisexual. And he has been in relationships with men for years now.
Poppy, I don't know what to do. I know I need time off to process and absorb this information he told me but I don't want to leave him hanging unsupported given that I was the only one he came out to.
It's been days now and my feelings for him have not changed at all. My love for him transcends beyond his gender. I don't know what my next step will be as I can't rely on anyone else.
Your take on the issue would be highly appreciated. Thanks a lot for taking time to hear me out.
More power,
Maynila
Mahal kong Maynila,
It is probably for the best if I just go ahead and spill my hot take on all of this: he's not bisexual; he's probably gay. I know this is such a sh*tty thing to say, but there are a lot of labels out there and people often get those things mixed up and not everyone likes to prance around with the word "gay" or "lesbian" hovering above them, so they play it safe and stick to the medyo acceptable label: "bisexual."
Such a dick-ish thing to say, I know, but the fact that he's been in relationships with men FOR YEARS should be enough evidence. But maybe I'm missing something here. Has he been in a relationship with a woman in the four years that you have known him? Are you sure that she's not a beard? Was he sexually aroused by his female companion? Because that's pretty much what it takes to call yourself a bisexual—that you are sexually attracted to males AND females.
Saying that he was unable to reciprocate what you felt because he identifies as bisexual feels a bit lacking, don't you think? You may have to do some sleuthing in order to really find out whether he is what he says he is. Like, has he ever been in a relationship with a person who owns a vagina? If so, has he ever used his penis to mangle said vagina? Get a whiff of the word on the street about his sexual proclivities and use that information to deduce properly.
Is this guy capable of loving you and also assaulting you in ways that you will enjoy? Unrequited love is bullsh*t anyway. I mean, if you've spent the last four years pining over this dude, then you lost four goddamn years falling in love with people who are willing to give you what you deserve.
But then, my other point: what if he is? One of the buzziest things this past year was how all these female stars are labeling themselves as "gender fluid." Cara Delevingne uses this term, whereas more evident is her ex-fling Michelle Rodriguez, who seemingly just goes with the flow, frolicking in the sandy beaches of Mexico with Cara and then casually hooking up with Zac Efron, making us all jealous. Gender fluidity is Miley Cyrus breaking up with Liam Hemsworth and then getting caught putting her hand inside some supermodel's panties, and then doing more drugs with Wayne Coyne (probably) only to realize that Liam is really the one that she wants. And now they're getting married (probably).
If he is sexually fluid, or gender fluid, or whatever, then it's possible that you may keep on clinging onto that strand of hope that he might love you back. Because that's essentially what being fluid means, you may have a preference now, but that can change based on the environment or the situations that you may find yourself in.
The worst thing that you can be right now is to become the bitter bitch. By coming out to you, he's not only waving the warning signs (they spell out "He's just not that into you," in case hindi mo mabasa), but he's telling you something that he probably has never told anyone before (except for all those dudes that he's been with). This sh*t is big, Maynila. It's important that you hold onto this information and don't f*cking spill it. Because it's not your secret to spill. Because he does not deserve that. Because you're not that type of person.
Actually, alam mo you don't need to process this. You just have to accept that he's that way. It's the classic sentiment of you can't put a square peg in a round hole. Kung ayaw, di talaga pweds. It's cool that your love for him transcends his gender, pero it's medyo sad if his love isn't for your gender.
Leave all your feelings behind, but keep your love for him intact. You guys can stay friends. It's a much deeper love that doesn't have all the f*cking complications that makes us all terrible human beings. Instead, find someone who is capable of loving you—yung love na uncomplicated and real.
It gets better, Maynila.
Always,
Poppy
Got a question for Poppy? From love and relationships to weird questions you dare not ask even your psychologist, Poppy is ready to answer them all. Send in your questions to [email protected] or post your question over Twitter or Instagram with the hashtag #AskPoppy, and you just might get the answer you are looking for.
Disclaimer: The views expressed here are solely those of the author in her private capacity and do not in any way represent the views of Preen.ph, or any other entity of the Inquirer Group of Companies.
Art by Trish Rivera
Follow Preen on Facebook, Instagram, Twitter, Snapchat, and Viber