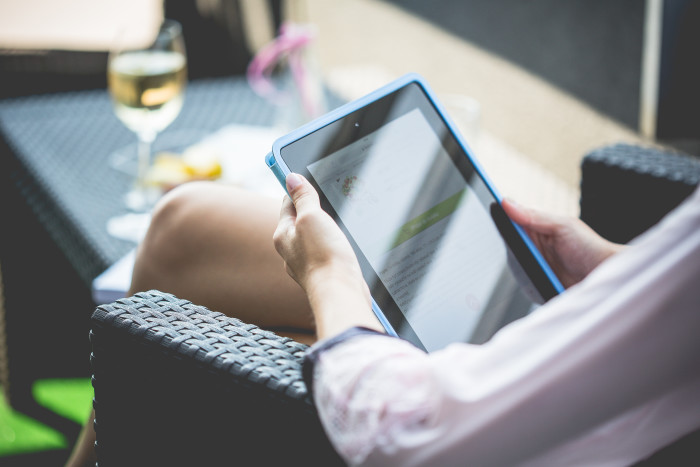 So you thought applying SPF 30 sunscreen every morning was enough to protect your skin. Turns out you're wrong. We're all so, so wrong.
Four hours of exposure to electronic devices, whether it's your phone, tablet, laptop or TV, is roughly equivalent to a day spent in the sun.
High-Energy Visible (HEV) light is reputed to be more damaging than regular old UV rays and has been known to speed up photo aging. It's also been linked to melatonin depletion and altering circadian rhythms.
According to Jeff Murad, VP of product development in Murad, our skin is exposed to multiple sources of light. "We have UV, and below that, what you can't see anymore, is infrared. All those rays are damaging to your skin."
"The more we study," he says, "the more we learn that every part of the spectrum damages your skin cells."
To combat the effects of HEV, Murad studied extremophiles, organisms known to thrive in extreme environments.
"We have evolved as humans to adapt to the environment but our evolution isn't enough to catch up to 10 to 20 years of industrialization," he says. "So we started to look in nature for organisms that can survive that type of stress."
"These single-celled organisms live in deserts, the coldest parts of the earth and they create this substance called Ectoine, which creates a water shell that keeps them hydrated in the absence of any usable water."
Murad also looked to Lutein, a naturally-occurring carotenoid, to counter the effects of HEV. "These are plant pigments, basically, extracted from marigold plants and their flowers."
"Colorful fruits and veggies have these pigments, which protect them from the sun."
Murad developed a formula utilizing these ingredients for their Environmental Shield line, a mineral sunscreen that protects from five factors that cause damage daily: HEV, UVA, UVB, infrared radiation, and pollution.
Set to debut next year in Rustan's, the Murad City Skin Broad Spectrum SPF 50 sunscreen works as a "second skin" to block toxic environmental aggressors, which means you can probably spend more hours in front of your device without worrying about your skin.
Now you'll just have to worry about your lack of human interaction.
Photo courtesy of Picjumbo
Follow Preen on Facebook, Instagram, Twitter, Snapchat, and Viber