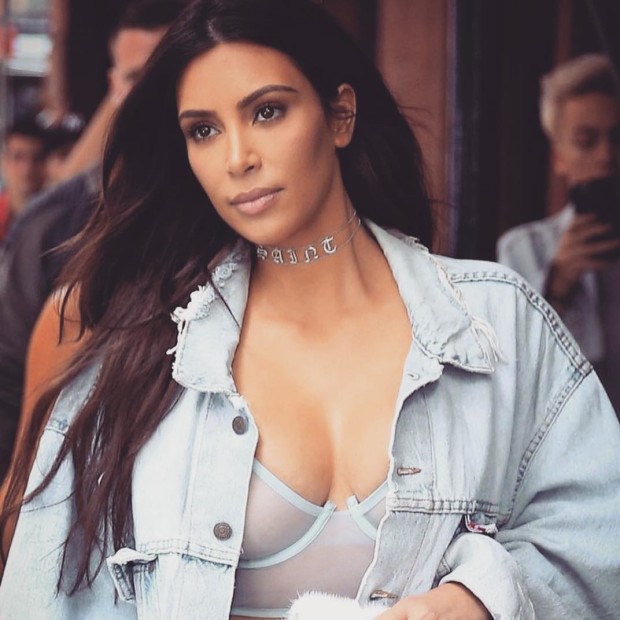 UPDATE: US Magazine gets the exclusive on more details over the robbery that happened to Kim Kardashian. Horrifying details include how five men entered her room  early in the morning at 2:25 a.m.  They tied up and locked the male concierge in a cupboard before proceeding to Kim's apartment where she was held at gunpoint before they also tied her up and locked her in the bathroom.
The robbers then proceeded to collect around 10 million euros worth of cash and jewelry, including two iPhones. Kim had just finished a FaceTime call with brother Rob when the crime happened. Police believe that the assailants are part of a highly-organized unit that carefully planned the robbery.
Kim promtply left Paris at 9:30 a.m. on a private jet following the incident.
***
CNN confirms the reports that Kim Kardashian was held at gunpoint in her Paris hotel by armed men dressed as cops.
Kim is unharmed but it still isn't clear if she's been robbed. The incident prompted Kanye West to cut his concert in NYC short, right as the beginning notes of "Heartless" began to play.
Kanye has to cut his #themeadowsnyc set short due to a family emergency and someone screams "THIS IS SO KANYE" pic.twitter.com/tdx85P8ti3

— 🌹 (@Balvinsanity) October 3, 2016
Reports have noted the silence across the Kardashian-Jenner clan on their social media accounts since the incident happened. Haters were quick to comment and joke about the incident. The Late Late Show host James Corden tweeted in defense of Kim, given the lack of compassion to the reality star.
People making jokes about @KimKardashian tonight would do well to remember that she's a mother,a daughter,a wife,a friend.Be nice or shut up

— James Corden (@JKCorden) October 3, 2016

It's been tough for Kim this fashion week as she got assaulted earlier on by a man who kissed her butt. Though thankful about her security during the encounter, Kim might consider beefing up her escorts.
Photo courtesy of Kim Kardashian's Instagram account
Follow Preen on Facebook, Instagram, Twitter, Snapchat, and Viber