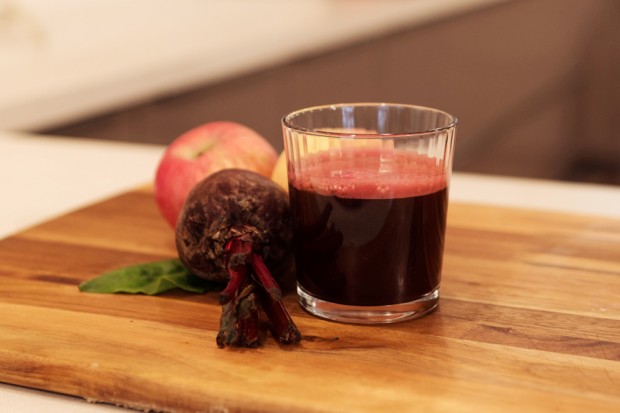 Model and entrepreneur Chelsea Robato feels you. While she regularly samples fresh produce from her juice delivery company Healthy Shots Manila, you're sitting at home wondering why these juices are so expensive.
"I look at the rates of these other juice deliveries, and I can't figure out why they charge so much! I know the cost of the raw ingredients, and it's just unreasonable," she says. The idea of making quality, cold-pressed juice more accessible and encouraging people to make it a part of their lifestyle is what prompted Chelsea, along with her boyfriend Christian Busby, and friends Princess Manzon and Harry Morris to bring the Cebu-based Healthy Shots company to Manila.
Sourcing their vegetables from farmer partners in the Marikina Watershed, where they practice organic farming and a fair-trade policy, Healthy Shots is available in seven flavors and offers a one-day detox program. "A lot of people say that you don't need to detox because your liver does that for you, but our one-day detox gives your liver a break, so it functions better," Chelsea says.
If you're still skeptical about taking the plunge, Chelsea offers another option: try making it yourself. The only caveat? You need a masticating or cold press juicer, as opposed to a centrifugal juicer, which uses blades. The problem with the latter is that the blades produce heat, which kill the enzymes and oxidizes nutrients—the same applies for blenders. On the other hand, masticating juicers extract juice by pressing fruits and vegetables without producing heat, keeping nutrients intact. They're also a lot quieter and can even be used to extract milk from nuts, like almonds or cashews.
Ingredients
1 Fuji apple
1 large beetroot
1/4 bunch of spinach
Preparation
1. Chop up your apple and beets, and wash your spinach with vinegar or vegetable wash.
2. Alternate the spinach with apples and beets, so they help push down the leafy greens and prevent clogging.
Chelsea recommends this recipe because apples are great for digestion, spinach is a superfood and a surprising source of protein, while beets improve blood flow.
Since ingredients are fresh, it's best to drink it within 24 hours, so don't make a huge batch and keep it in the fridge.
To see how to do it step-by-step, watch the video below!
Healthy Shots Manila. (0915) 789-7878. [email protected]. www.facebook.com/HealthyShotsManila.
Photos by Patrick Segovia
Video shot by Patrick Segovia and April Manucot
Edited by April Manucot