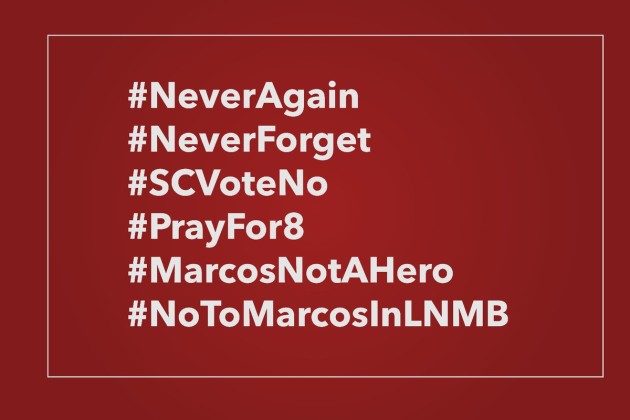 Ferdinard E. Marcos, the dictator who stole millions from the Filipino people and under his ruling saw the death and torture of thousands, will be buried in the Libingan ng mga Bayani as per today's ruling of the Supreme Court.
Nine justices from highest judicial institution of our country ruled in favor of the burial while five voted against it. Since news broke out of this blatant injustice to many families whose relatives had gone missing, rape victims, tortured journalists, indiegenous tribes, government employees, liberal students and teachers who spoke against the abusive Marcos regime, social media hasn't been so silent.
FACES OF #MarcosBurial

One who received a penny after years of suffering
One who stole trillions & caused suffering for years #NeverAgain pic.twitter.com/P4umKMp5bs

— Mars💁 The Biatch💅 (@XxMagnetifieDxX) November 8, 2016
https://www.twitter.com/KBOMolina/status/795876073963560960
Now, can schools and universities teach children about the atrocities commited by Marcos.? Equalize lang natin please. #MarcosBurial

— John Zaldua (@_johnzaldua) November 8, 2016
https://www.twitter.com/EliasSibayan/status/795841764091232256
Ang Korte Suprema mismo ang nagnanais na parangalan natin ang isang mandarambong at diktador. Nakakahiya ito at nakakalungkot. pic.twitter.com/M9wZ5PeHSA

— Kiko Pangilinan (@kikopangilinan) November 8, 2016
Marcos IS NOT a hero & will never be. His triumphs during his time can NEVER justify the death of thousands. We will not forget. #NeverAgain

— Gretchen Ho (@gretchenho) November 8, 2016
Currrently, there is a protest against the ruling in front of the Supreme Court.
It's gonna be a rough 24 hours. Pls 2016 last chance mo bumawi. #MarcosNotAHero #ImWithHillary

— job 🥲 (@jobdln) November 8, 2016
Today, our SC Justices will let the world know what they are really made of. #MarcosNOTaHero #NeverAgain #NoToMarcosBurialAtLNMB

— Bib M (@bibmacasaet) November 8, 2016
There is also a rising protest in Ateneo De Manila.
HAPPENING NOW: Participants for the mobilization against the SC decision on the #MarcosBurial assemble at the MVP lobby. pic.twitter.com/9JrZtM8Qpa

— The GUIDON (@TheGUIDON) November 8, 2016
https://www.twitter.com/ashleyperdiem/status/795865541353172992?s=09
"Ang mamatay nang dahil sa iyo"

Once sung by Filipinos to our nation, now just an expression of how justice has perished. #MarcosNotAHero

— Nathania (@PilosopoTanya) November 8, 2016
https://twitter.com/LabanMars/status/795922182077444097
https://twitter.com/_knowwell/status/795925953461436416
Now happening in Katipunan #MarcosNOTaHero pic.twitter.com/VDtfqraD46

— Lis (@lisfortun) November 8, 2016
Please go to one of the #NeverAgain #MarcosNOTaHero rallies scheduled tonight across the country. For updates: https://t.co/sBldIJSndB pic.twitter.com/SQT8QoRPXo

— Nicky ✊🏽🏳️‍🌈 (@nickyhcastillo) November 8, 2016
We express our deepest disappointment at the ruling of the Supreme Court and are in full support of the citizens stading up for what is right. #NeverAgain #NeverForget
Follow Preen on Facebook, Instagram, Twitter, Snapchat, and Viber