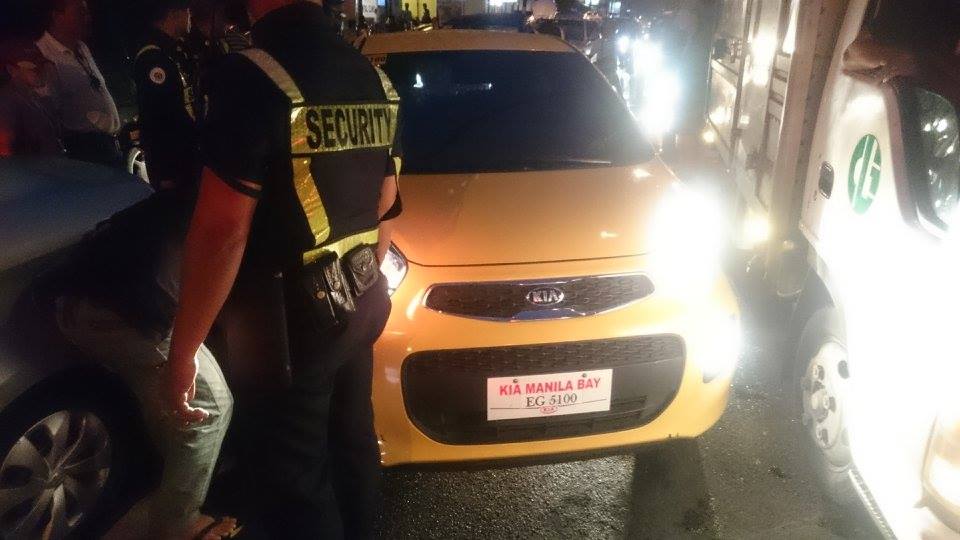 How was your Friday night? You may think it was wild but we bet it was nothing to one female driver who ran away from traffic authorities in Rockwell, Makati last night.
The female driver zoomed through Makati while being pursued by traffic authorities hey all caught up with each other due to Kalayaaan traffic, the women still refusingto cooperate. She didn't step out of her car nor did she even pull her window down at first. She only stepdown to tell off how security hit her car with his hand and did the same thing to the traffic enforcers motorbike. Once, she got back in the car, the driver performed a reckless a getaway.
She backed up, hitting the motocycle behind her so she could drive off Don Pedro Street intersection along Kalayaan Avenue away from the scene.  She continued to do so without care of how she was hitting motorbikes and dragging them across the road, baging into a street gate and even hitting a few pedestrians. A few netizens caught the last part of the adventure on tape, one from the top floor of a building near the scene of the getaway and the other on the road as the authorities were already trying to break her window. That's just how much she refused to cooperate. As onlookers stood back and took to their camera phones, the female driver soon sped off, fender bender and all waving around in the night wind and carelessly just powering through parked motorcyces in front of her.
Oh, and she was driving a small, seemingly dainty yellow Kia. Call it a true-to-life interpretation of Too Fast, Too Furious.
Photo courtesy of Kitt Lapeña
Follow Preen on Facebook, Instagram, Twitter, Snapchat, and Viber