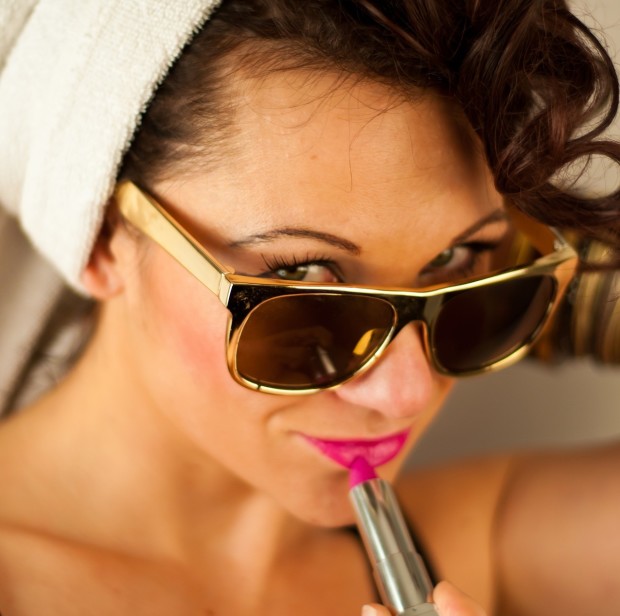 The casual misogyny that goes when a man comments on a woman's makeup, may it be a potential partner of his or not, is one that ticks me on a particular basis. I remember how it was one of the reasons I turned down a suitor's advances in college. "Don't wear too much makeup. You're fine with just powder and some lip gloss." He may have possessed a point but the fact that he would think that much of the models he had crushes on weren't caked in foundation told me that he knew nothing.
Most of the time, men don't mean any harm. That in itself is what makes it all the more dangerous. To consider a man's opinion always for the good already puts a standard to it that for some reason women's opinions don't really posses. I can tell because of the number of articles saying how dark lipstick intimidates men or how not all of them appreciate nail polish, regardless of the shade. As a friend of mine once said, "If a man cannot handle my preference for oxblood red lips, then he's definitely not strong enough to handle me."
I then went about my merry way. I would collect several shades of lipstick to match my look and even my dress. I sure didn't consider how using rose shades to make my lips more kissable for potential dates. I just got shades that I liked and felt that suited my skin tone. Although makeup was a tool to enhance and complement one's features, it's far from the reductive view of how it's yet another thing women use to charm men. Sure, I put on makeup to look good, a compliment would be nice, but sometimes makeup means so much more. "Women sometimes wear makeup like the way we need to wear clothes," I said recently to a man I had been seeing casually.
It was the tail end of a tirade of texts I sent, telling him off that as much as I appreciate him saying that I would be prettier without makeup, it's not just something he can comment on especially in that manner. He was taken off-guard. He didn't know such a comment could mean so much. I was dumb-founded because clearly this was the first time a woman, kikay kit bearing or otherwise, called him out on his no-makeup beliefs.
It then struck me how men often get to voice out their opinions on woman's appearances and think nothing of it. In a patriarchal society, such small facts go undetected but are the root of bigger issues. As men get to say what they want, women are unconsciously trained to just accept what they say as thought it was Bible verse. The flashbacks of a million commercials I had seen whizzed by and how there's always a plot of a man saying something about a woman's looks, the woman taking it to heart and doing something to fulfill the man's expectations with this one miracle product.
I was stunned when he said he really didn't think such a comment could wound so much. He sincerely thought he was handing out good advice. I said I knew that he didn't mean any harm but you know what they say about how the road to hell was paved with red lipstick kisses.
Consulting a friend later on, we concurred I was lucky the man I was dealing with in this scenario was mature. He took my advice and I take a few bits of his. My friend and I both agreed that there was a chance I wouldn't get such an enlightened experience with other men. Some of them think that once you don't take their advice or subscribe to their beliefs, you're invalidating their dominance. And to think we women are called the sensitive ones.
This simple incident tells me this: Women, it's time to speak out against the big and small things that matter to us. From sexual harassment to makeup, internalized misogyny has snaked its way into our psyche that both sides aren't even aware of. Call out the way a man (or even another woman) puts you down by criticizing the choices you've made solely for yourself. I find it funny that makeup, superficial as it may first seem, is what made me think of this. But that's the thing: makeup being so personal a choice, an intimate relationship based on your skintone and preference shouldn't be subject to any other standard than what you've placed on yourself.
Photo courtesy of Pixabay
Follow Preen on Facebook, Instagram, Twitter, Snapchat, and Viber