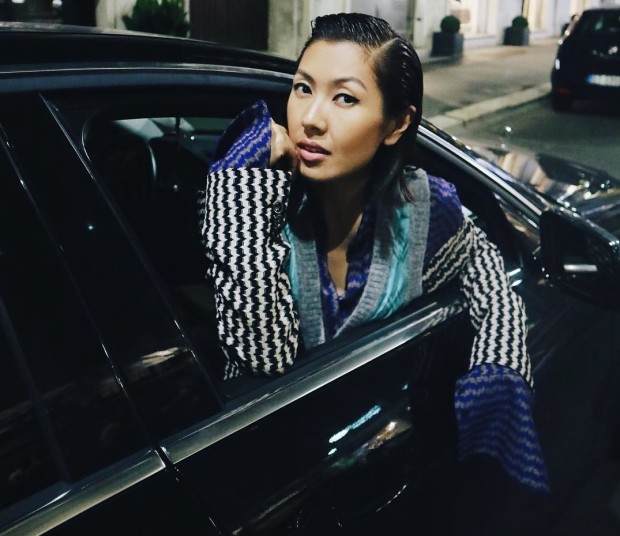 When it comes to jetsetters like Liz Uy, you are most curious about the mundane facts in their life. The coffee which gets her through late nights and early call times is just found in a sachet. "I love this UCC Instant Coffee and the Cafe Au Lait at Dolce Gusto. I have it at home and I pack it also." Between fashion shows, shoots, and tapings, she gives her spare time to new hobbies. "I've been taking cooking classes recently," she says. It's before her sixth class on making pastries is when our interview begins, a late lunch, in the middle of a payday. It's hectic much like how I imagine her life.
You also get curious about what gets left behind in the sidelines. Known for her styling work and her front row outfits, the beauty tidbits of Liz's life get a little left behind. "Every interview I have, it's 10 questions about fashion," she says with a little dismay. I also share in that shame because I want to know how she survives flights and hotel check-ins without the comforts of the vanity you leave at home.
I then snagged my chance to know how Liz manages to look good even with just a travel kit in tow. Here's what I found out.
What makeup items are in your immediate makeup kit?
Two eyeliners, one from Tom Ford and one from Benefit. Both in black, I don't wear brown because my eyes are too chinita for it. I have a highlighter from Too Cool for School. That's my primer, my base is Physiogel and also moisturizer. I then have a lip balm from EOS, then Charlotte Tilbury lipstick in Super Cindy.
Lipstick or mascara?
Sometimes I don't wear mascara. Sometimes, I forget. I do my makeup very light. I used to have a phase wherein I couldn't leave the house without falsies and smokey eyes. That was a different me, I think it was six years ago. I then realized that it's important to embrace your natural self, you don't have to look like another person. Of course, that's part of growing up.
What skincare items are your go-to for the colder months especially to help with dryness?
I use virgin coconut oil. I get it at the supermarket and put it on my skin and hair. I also use it on my body too. When I feel very dry, I mix Physiogel and coconut oil. You can also use it as mouthwash. It's really a magical oil. I use it for massages and also when I don't want to use gel. I put it on the tips of my hair.
What's you in-flight beauty routine?
Mine is very simple. I bring a facial wash, a moisturizer, and a lip balm. When I board the plane, I go to the bathroom and I wash my face and put on moisturizer and lip balm. I then sleep. I also use the Hourglass Lip Treatment Oil.
Which hotel has the best bathroom essentials?
I like the one in Upper House in Hong Kong. They have Ren and I love that brand because it's organic.
How do you solve sudden breakouts?
I just don't touch it. I'm lucky I don't break out, it just happens when my hormones are acting up. I just let it go away naturally. But I use the spot treatment of Dermatologica at times.
What's one trick you do to look more awake?
I drink coffee (Laughs). I don't have a trick like that. [Perhaps] using highlighter even though I use it every day. I love the one from Tata Harper and Hourglass.
A beauty item you've been coveting recently?
The Dyson hair blow dryer.
What's the best lip balm you tried?
I like the EOS one because it's so easy to use and you can slather it on. [The design makes] it easy
Who is the friend you always exchange makeup tips with?
Agoo Bengzon. I always ask her if she started something. When I started [my career], she used to give me so many products. She even tells me that I am really a beauty girl at heart. I read all the reviews on products.
Photo courtesy of Liz Uy's Instagram account
Follow Preen on Facebook, Instagram, Twitter, Snapchat, and Viber