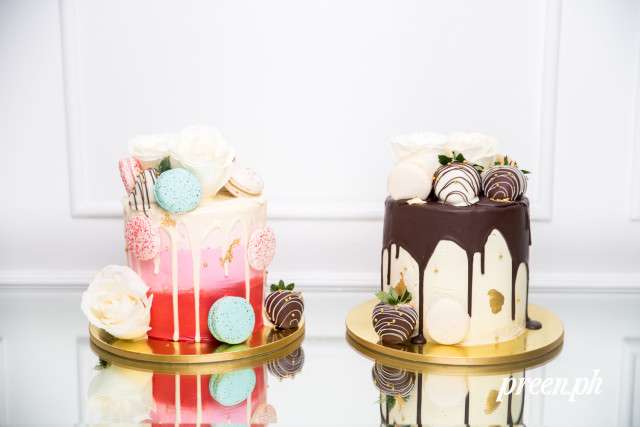 Putting in the extra effort is what often makes something good into something great. Think of that simple butter or chiffon cake you made for that upcoming dinner party. Or even that store-bought cake you found last-minute. It's not bad and it's completely acceptable to bring over. But Ange De La Cruz of The Sweet Life tells us that you can make that the center point of the occasion with just a few things that might be already in your fridge.
Known for Instagram-worthy creations like Confetti Dream Cake and Swiss Meringue Swirls, Ange let us in on how to make an ombre drip decoration for your cake. "You can make this an hour before you have to leave or have the party and your friends won't be able to tell."
Ombre Drip Cake
Ingredients
Plain Cake
Buttercream frosting in three related colors
White chocolate
Macaroons
Chocolate-dipped strawberries or any fruits you prefer
Edible gold balls
Edible gold foil
Materials
Roses or any flowers you like with strudy stems
Baking foil
Cake tray/stand
Spatula
Toothpick
Clean, food-grade plastic bag
Scissors
Procedure
1. Place your cake on a revolving cake stand.
2. Coat the cake with three different colors of buttercream frosting. Choose at least three in the same color family. You may opt to make your own or buy the pre-made ones.
3. Smoothen the buttercream with your spatula. This will help blend the colors together.
4. Place the cake in the freezer for fifteen minutes. This will help the frosting stick to the cake and hold the other ingredients you will place.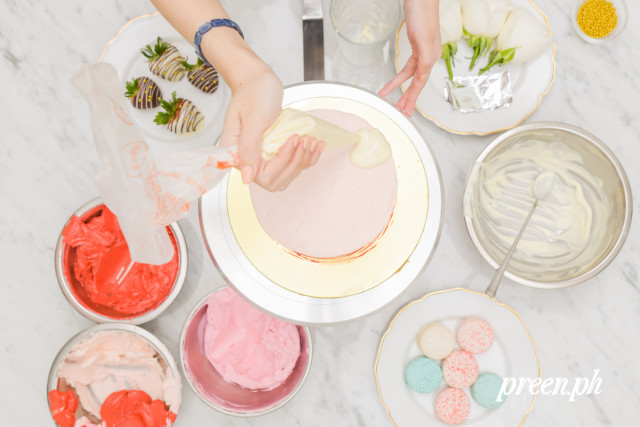 5. With a piping bag, drizzle melted white chocolate from the top of the cake. As the chocolate goes down, it will naturally create the drips. You can make your own piping bag with a plastic bag. Shape it so one end of the bag will serve as the tip where you will cut a small hole into.
6. You may opt to define the separation of the drips by cutting through them with a toothpick. Work fast before the chocolate cools and hardens!
7. Cut the stems of your roses according to your preferred length. Wrap them in foil before sticking them into the cake.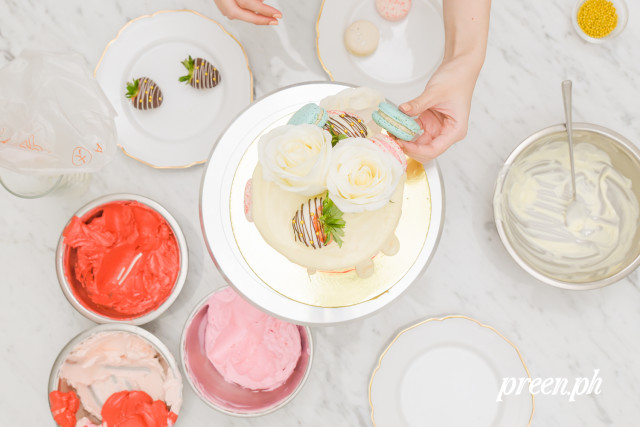 8. Place your macarons and chosen fruits. Decorate and create a small vignette as you please. You also don't have to make your macarons, you can use the ones from your favorite dessert shop or even the ones a friend might have given you this season.
9. You can go the extra mile with edible gold balls and gold leaf, sticking them where you like all over the cake.
10. You can choose to switch around the design for your next cake by just using one color of frosting and a different color for your chocolate drips.
The Sweet Life by Ange. For orders and inquiries, visit their website.
Photos and video by Patrick Segovia
Produced by Olivia Estrada
Follow Preen on Facebook, Instagram, Twitter, Snapchat, and Viber