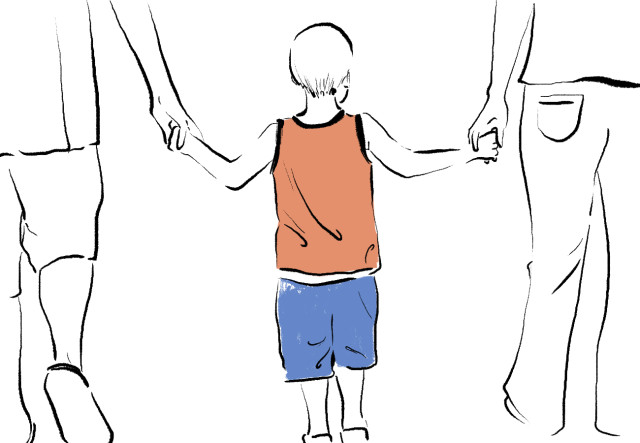 Welcome to Ask Poppy! I'm Poppy, your go-to girl for all of life's woes. And when I say ALL, I MEAN IT. I'm not an expert on anything except maybe for being me, which makes me totally qualified to do this.
Poppy,
So I had a DNA test done on my 10-year-old kid. I just passed it off as a regular check-up and I confirmed a fear that I have been suppressing for so long. He's not the son of my husband.
In the weird time before we got married, my then boyfriend and I broke up (which was really just engagement and wedding jitters), I had gone back to the guy I was seeing right before, my now husband. We had one last run until we finally realized that our ship has sailed. We got the closure we needed. I then got back with my boyfriend, confirming that he is the one for me and never looked back.
But the short time between the break-up, wedding, and honeymoon (it was the early aught so it was a little fast and crazy), I already had a sinking feeling that I was pregnant not by the man I married. With everything happening so fast and with the wave of happiness my husband felt when he saw that pregnancy test made me just suppress my instinct and allowed me to go with the easier narrative.
Still, I don't think a white lie is what my son deserves. Nor does my husband. I went with the DNA test without my husband knowing about it and here we are.
Who and how do I tell the parties who need to know? I know I screwed up big time and I know that whatever happens to me is probably something that I deserve. I just want the best for my son. My ex-boyfriend has his own family now and I am worried that if he learns the truth, his family might be ruined. I don't want that for him also. My husband will be crushed, but how long can I keep looking at him without telling him the truth? He will leave me most likely and be crushed by this. But he'll be more crushed if he finds out by accident or from a different source.
I am in such big trouble. Help!
Thank you!
—Neri
Hello, Neri
Happy New Year! It's been a crazy Holiday season for me, but MINE is nothing compared to the sh*tstorm that's coming to Neriville real soon. Technically, it's still the holiday season because we're not done yet with the Three Kings on Jan. 6. So, in the spirit of the holiday season: stop f*cking lying to everyone around you immediately.
Nobody deserves to live a lie—not your child, your husband, or yeah, you. I mean, we all know naman how lying can pretty much ruin lives and countries and friends, so for you to keep this for so long, fully aware that you got pregnant by your ex and not by your current jowa, is a big fat lie. You've been cozying up to this life and now it's blowing in your face so you just gotta be the big girl and take it with all your might.
I was partially re-reading Lolo Dostoevsky with what little time I had over the holidays and you know how in books, someone will practically explain the gist of the entire thing to the protagonist by being all wisdom-y and quotable. Anyway, that sh*t happened in the second chapter of The Brothers Karamazov Book II. The elder spiritual advisor character was making chika with the dad of the Brothers (who is named Fyodor!), pretty much giving him (and you) a taste of what's to come in the next books.
Too tired to find my copy under the pile of filth in my room, but basically the old guy, Zosima, was saying that a man who continues to lie to himself will eventually have a hard time knowing the truth around him. It can lead you to sin daw, sabi ni Dostoevsky, gurl! Tapos na tayo sa sin, because you've done it na. Na-achieve mo na that ka-gagahan of yours. Congrats. HOW DO WE GET IN FORMATION AND MOVE FORWARD??? The only answer here talaga is REDEMPTION. How do you achieve that, Neri?
Get ready to face your husband. There's no perfect time for this, but you have to come and be prepared for the possibilities. Like, one possibility is that he starts hating on you, files for an annulment, and leaves you with your kid. BUT THAT'S TERRIBLE and it's the New Year, so I have faith that your husband will find it inside the goodness of your heart that you have made a big mistake and that it happened. It's not going to be easy, but you really have to please him any way you can. I know, f*ck patriarchy, whatever, but it's medyo, kinda your mess, so you better werk on that.
The best possible scenario is that he would understand. I do not know your husband's temperament and it's hard for guys to suddenly know that his child is not actually his. Like, holy sh*t, that's not your sperm, guy. It's tough! BUT he is your husband. You made a vow that's built to last until one of you croaks or like, files for annulment. If he does understand and he forgives you, the best thing to do is to keep this thing between the two of you. Your child doesn't have to know if you two lovebirds are dedicated and committed to last for f*cking forever. Other people doesn't have to know because pake ba nila? If you can keep this secret to yourself for years, perhaps it's best to save that lie until forever and just move forward as things should be.
I know the child is your ex's, but he doesn't have to know. Okay, I know that maybe he does because he's the biological dad, but are you ready to drop that bomb on another family when you're struggling to keep yours intact. Like, leave them be na lang siguro, Neri. And while you're doing all of this, I want you to connect with your husband. He has done nothing wrong and has probably made everything possible for you.
This is a terrible analogy, but he's like… Joseph. You are Mary. The child is… you get my drift. Joseph was a pretty solid foster father and he loved Mary even though Mary got pregnant by God. I told you it was terrible, but it kind of makes sense.
If, however, your husband is having a hard time accepting the truth, perhaps it is best to separate na lang. Kung 'di na talaga kaya, Neri. I know this is going to be the toughest decision that you have to make and you have to make it quick. I hope you go towards the path of the truth. Like, if you look around you, it's so full of lies and fakery, so why not start fresh and live out your truths? It's how you grow and how you become stronger.
Take care, Neri.
Always,
Poppy
Got a question for Poppy? From love and relationships to weird questions you dare not ask even your psychologist, Poppy is ready to answer them all. Send in your questions to [email protected] or post your question over Twitter or Instagram with the hashtag #AskPoppy, and you just might get the answer you are looking for.
Disclaimer: The views expressed here are solely those of the author in her private capacity and do not in any way represent the views of Preen.ph, or any other entity of the Inquirer Group of Companies.
 Art by Dorothy Guya
Follow Preen on Facebook, Instagram, Twitter, Snapchat, and Viber