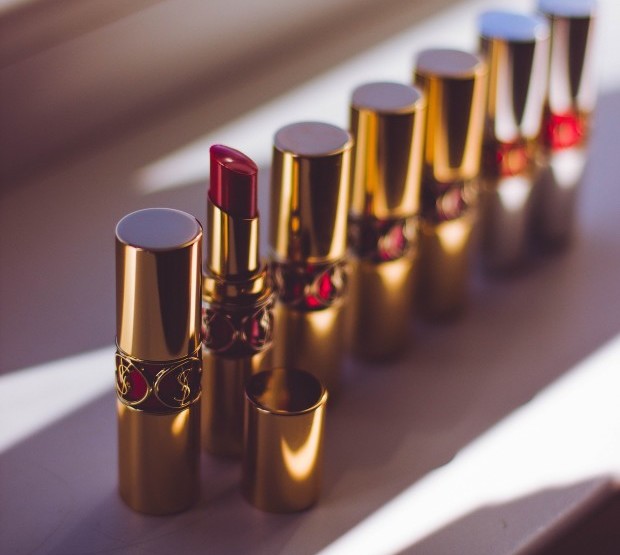 I'm not a red lipstick girl on the daily. I reserve the shade for cocktail nights or a hot date. Many of you can relate, red lipstick has earned a status in the beauty world that exudes power, fierceness, and subversion.
That connotation isn't just because red is related to fire and enthralling elements that can kill and consume us. Red lipstick's long history, from the ancient Egyptians to the modern-day icons, was always tied to something controversial. Bustle recently explored this and revealed facts and situations that gave red lipstick the reputation it has.
#1 It's a unisex color
If you want to talk about something revolutionary, remember how wearing lipstick was both applicable for men and women. Sumerians created their own shade through crushed berries and flowers. We assume that the shade range would lean towards the rich, true reds. Perhaps MAC's famous Ruby Woo or Kylie Cosmetics Lip Kit in Mary Jo K would have been a popular shade among our ancestors.
#2 It's deadly…literally
Creating your own lipstick was a trend that was passed on from the Sumerians to Cleopatra and even to the queens of England. Nevermind that they created it with white lead that would cause eventual poisoning and death. I guess they stuck to the idea that one must die beautiful.
#3 It's a status symbol
In Egypt, the red was reserved for the powerful but in Greece, the color was associated with prostitutes. Both interpretations have given red its notoriety and its association with sex. Prostitutes in Greece favored a wine red shade, something in the lines of YSL Rouge Volupte  Lipstick in Forbidden Burgundy, and were punished if caught not wearing the shade that identifies their occupation.
#4 It's the rebel's shade
In the Middle Ages, makeup was considered "a challenge to God and his workmanship, and banned their use." Paintings depicting the Devil coloring a woman's lips red were popular to emphasize this point. Queen Elizabeth I didn't care about this and made her own makeup and wore it in public. During the 1920s, Elizabeth Arden (yes, her) handed out tubes of red lipsticks to the suffragettes. To dress up and wear makeup was to prove that women dictated they way they look. Think about that as you swipe on the Elizabeth Arden Beautiful Color Lipstick in Power Red. Play some Beyoncé while you're at it.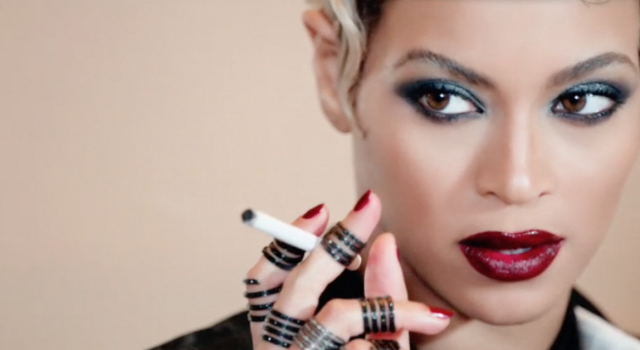 #5 It disturbed men
During World War II, Adolf Hitler hated red lipstick and banned it from being used. An acceptable reason to wear lipstick back in the Middle Ages was to "remedy disfigurement," otherwise you should confess to the priest that you wear lipstick. So much for the remorse you get when clicking "Check Out" at Sephora.
#6 It's a sexual statement
Aside from it being considered the color of prostitutes, red lipstick was related to female sexuality. One of the reasons was a big Revlon "Fire & Ice" campaign that looked for the naughty and nice girls. Icons like Marilyn Monroe and Lauren Bacall wearing the shade and making it their signature boosted red's sexual appeal. Allan Snyder, Marilyn Monroe's makeup artist, said that 
Marilyn's signature pout was made with a mixture of different lipsticks:
darker reds on the outer corners and lighter reds on the inner part, topped with a highlighter for that extra plump. For a quick fix of this trick, you can use the Benefit Double the Lip in Flame Game which combines two shades in a lipstick and lip liner duo. 
#7 It's the shade of vitality
Having pink to red lips symbolizes health and this was further bolstered by Madonna and Jane Fonda. Their talent was highlighted by their athleticism along with the use of popping red shades. Madonna's makeup artist Gina Brooke collaborated with Make Up Forever to create a red shade which would be her official lipstick for Madonna's MDNA tour.

With the makeup world continuously booming these days, red continues to be that one lipstick shade that challenges and excites men and women. So what's your shade?
Screencap from Haunted and photo courtesy of Pixabay