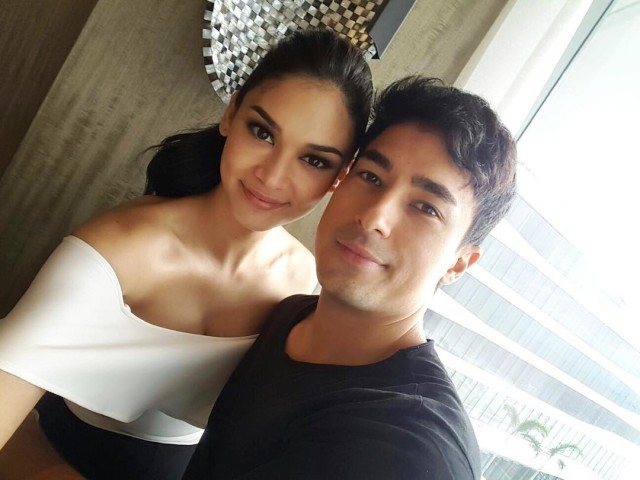 Less than two weeks before the Miss Universe pageant, and we're getting a lot more chances to catch up with reigning Miss Universe Pia Wurtzbach. Oddly enough, as we know she's incredibly busy. In a recent interview during one of the pre-pageant activities, she was able to talk about her relationship with Marlon Stockinger.
"We are together. I'm glad that I finally met somebody who's very secure with himself and who understands my job, and who's not afraid to let me have my moment such as right now, now that the competition is happening here," says Pia. It goes to show how supportive he is of his girlfriend. We noticed that way back as they were both willing to travel back and forth to see each other.
Pia gushed and talked about her boyfriend sharing that he's a very funny guy and that they have a lot of things in common, "He's very funny, like he'd always make me laugh. Hindi pilit 'yung parang dahil gusto ko siya, natatawa lang ako. He knows a lot of things about me that I probably shouldn't tell other people, but he's cool with it."
To further strengthen the fact that Marlon is very supportive, Pia's Miss Universe team is also fond of him—including the president Paula Shugart and her manager Esther Swan. "Esther (Swan) approves, that's the number one thing. Paula likes him, Esther likes him, and the Miss Universe Organization likes him. That's a huge relief on my part because, whew, I don't have to worry."
As you may remember, Marlon Stockinger already confirmed their relationship and they also went on a holiday together, so yeah, we've known that they're quite a match. But it's so cute to hear Pia gush over her relationship too!
[
Bandera
]
Photo courtesy of Pia Wurtzbach's Instagram account
Follow Preen on Facebook, Instagram, Twitter, Snapchat, and Viber