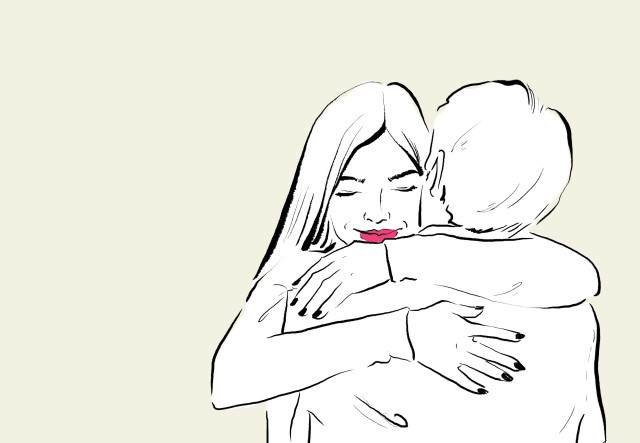 Every week, Preen tackles motherhood sans the rose-tinted glasses. Our columnists L. Juliano, Marla Darwin, Monica Eleazar-Manzano, and Rossana Unson tell their personal experiences like it is—at times frustrating, oftentimes confusing, but always enlightening.
There's a kind of change that takes marinating, the kind that blossoms from the ceaseless friction of cause and effect. And then there's the urgent change, the type that keels you over and begs for a life decision at the very moment. Life is a series of both varieties. I've come to learn that as I ease myself into 2017 and decided what to do with my marriage.
In the last quarter of 2016, I asked myself: when do you know when a threadbare bond is beyond repair, and will you know when those remaining fibers are enough to hold on and keep it from fraying? The fact that I even asked meant there must be something worth saving still. My daughter, of course, was the impetus.
My husband's probable infidelity and instances that drifted us apart made it difficult for me to even hear his footsteps at home. I packed my bags and brought little bub with me to my mom's. I desperately needed a breather. However, every time little bub asked for her daddy, it felt like a stab through my heart. At her tender age of two she knew something was up. Her dad will be on work trips for weeks and it never bothered her. Defeated, I mustered swallowing my pride and sent the first text.
"Little bub misses you."
Without a second's delay he replies with "Please come home. I miss you both terribly." I didn't have a clue what I was going home to. It was like one day, I woke up and I have no recognition of the person I've been sharing my bed with for a decade. But I obediently did go home. I had no plan whatsoever and I left it to fate to nudge us to the direction we're supposed to take.
And as fate would have it, we weren't nudged but thrusted into situations that tested the little bond we still had. Hubby had to see one of his colleagues succumb to a tragic disease, one that took his ability to walk and talk in just a little over a week. It developed under hubby's watch, and the verdict sprung from being too overworked. Hubby refused to talk to anyone about it but me. He cried day and night carrying the guilt, revealing a vulnerability that I haven't seen in years. Add to that a court case from a big client that positioned the company in delicate waters.
In our situation, adversities brought in conciliation. We realized our rooted familiarity, our intimacy despite the disputes and silence over the years, made us partners in all sense of the word. Friends. Allies. We also grasped how petty our priorities and expectations were as we grew apart. For him it was money. For me, it was to find in him an unlikely romantic lover to fill a void inside. As we reset the priorities, we knew that what we have and the little family we're tending to are what really matters.
That's the beauty of change. We're not the same people we were when we married a decade ago. Our relationship isn't the same. In every cycle and transformation, you hold the decision to fight the change or go with it. In these past months, what I've absolutely learned is to let the universe take over. It has its way of throwing you back in track despite its seemingly absurd measures. I'm just happy it worked out for the best, not just for me but especially for little bub.
Disclaimer: The views expressed here are solely those of the author in her private capacity and do not in any way represent the views of Preen.ph, or any other entity of the Inquirer Group of Companies.
 Art by Dorothy Guya
Follow Preen on Facebook, Instagram, Twitter, Snapchat, and Viber