It's safe to say that the 59th Grammy Awards was an interesting affair. The show opened with James Corden falling on his butt and suddenly busting a rhyme that Donald Trump will hate. And it ended with Adele winning the two biggest awards of the night.
But the ultimate winner was Beyoncé, who embodied her pop culture queen status throughout the show. Especially with her stunning performance.
It started off with a visual presentation of Bey portraying a goddess, surrounded by her subjects. An accurate representation of everyone who sees her, TBH.
https://twitter.com/opfavestyles/status/831058166599270403
This theme continued as Bey took the stage wearing a blinding gold dress and headpiece. (Haters, wear your sunglasses.) She obviously didn't do her usual upbeat dance numbers, but she did do a chair stunt that gave everyone a heart attack.
https://twitter.com/beyceipts/status/831266189427015684
https://twitter.com/CommonBlackGirI/status/830964471040335872
Even celebs like Chrissy Teigen, John Legend, Zendaya, and former Destiny's Child co-member Kelly Rowland couldn't handle the performance.
https://twitter.com/chrissyteigen/status/830961209201471488
I'm not even by a tv and I'm crying 🙌🏽😩 https://t.co/UAcN6UM8nQ

— Zendaya (@Zendaya) February 13, 2017
🐝🐝🐝🐝🐝🐝🐝🐝🐝

— KELENDRIA ROWLAND (@KELLYROWLAND) February 13, 2017
Later that evening, Bey won Best Urban Contemporary Album for Lemonade. Her acceptance speech addressed the message of the album's short film, and was also a message for all women and young girls.
"Wow. This is so unexpected. I'm so unprepared." – Beyoncé, with her speech written on gold paper matching her outfit and award #GRAMMYs pic.twitter.com/erMP1KEUq5

— Alex Goldschmidt (@alexandergold) February 13, 2017
"We all experience pain and loss, and often we become inaudible. My intention for the film and album was to create a body of work that would give a voice to our pain, our struggles, our darkness and our history. To confront issues that make us uncomfortable," she  said. "It's important to me to show images to my children that reflect their beauty, so they can grow up in a world where they look in the mirror, first through their own families—as well as the news, the Super Bowl, the Olympics, the White House and the Grammys—and see themselves, and have no doubt that they're beautiful, intelligent and capable. This is something I want for every child of every race."
She may have lost Album and Record of the Year to Adele, but Bey still got a shoutout from the singer for inspiring her. Heck, Adele even broke her Album of the Year award and gave half to Beyoncé. [cue scene from Mean Girls]
Adele professes her love for Beyoncé and Lemonade while accepting her award for Album of the Year #GRAMMYs pic.twitter.com/8J9uWKV195

— BuzzFeed (@BuzzFeed) February 13, 2017
https://twitter.com/adkinsupdates/status/831008385042677760
Beyoncé wasn't the only Knowles that stood out. Her sister Solange won her first Grammy for Best R&B Performance and showed up in an equally blinding gold dress.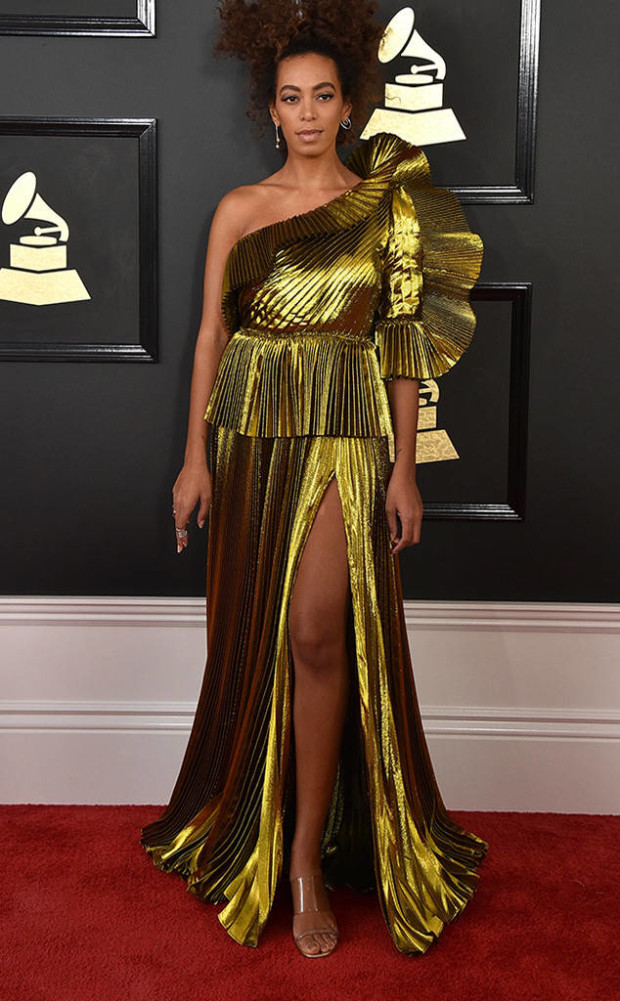 Baby Blue Ivy also stole the show in her Prince-inspired pink tuxedo and joined James Corden's "Cardboard Karaoke."
https://twitter.com/girlposts/status/830965725846188032
And can we talk about this photo of Beyoncé with Blue and mom Tina? It's like a sneak peek to a new Destiny's Child album.
https://twitter.com/lovebscott/status/830966079639810050
After everything we learned two things: first, if Beyoncé can perform in the Grammy's, then she can definitely do Coachella. Second, it's official that everything this family touches turns into gold—or a headline.
Now excuse us while we wait for the Grammy's re-run.
Photo courtesy of E! Online
Follow Preen on Facebook, Instagram, Twitter, Snapchat, and Viber