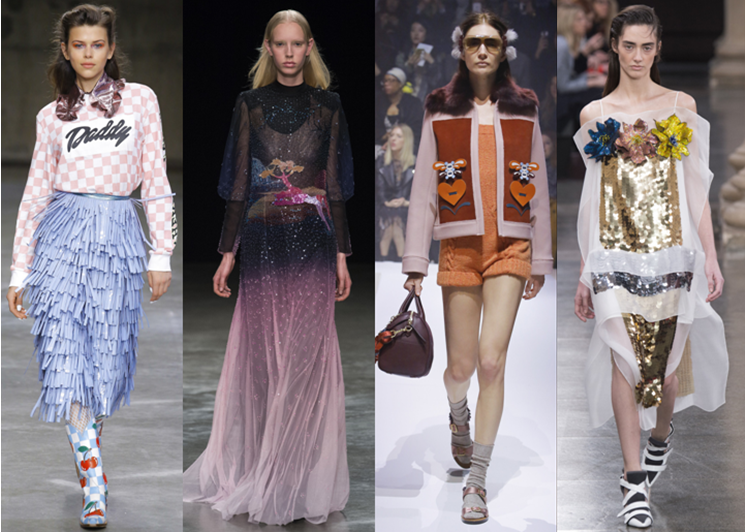 An agnostic teen's first sweet dream is the perfect visual innuendo for London Fashion Week's F/W offerings for 2017. The idea that fashion is a dreamer's way of transgressing the harsh actualities of life has been reworked by designers this season. For fall, the Brits have managed to weave a romantic realization of every desire one could conjure, and even squeezed in a heavy dosage of gritty humor for those militant with their pragmatic life principles.
Android Fantasies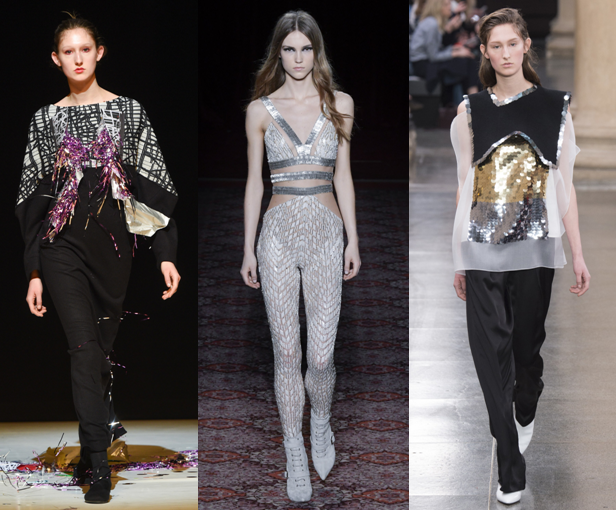 To dismiss this trend as just "metallic" is like using a Mean Girls reference for one of your daily Facebook rants—tired and predictable. Fall runways see metallics become undertones to a more compelling concept: technology. If creative translations of a bot's entrails are your thing, then Chalayan has you covered. The god of sartorial robotics made his models RIP off patches of poplin from their chests to expose chrome-finished streamers in a gamut of bright shades, his way of simulating wires from the inside of a robot. Other iterations of the tech trend include Julien MacDonald's elegant approach to the tech trend—geometric details etched on silk chiffon that seemed to mimic robotic elements—while Christopher Kane's graphic visualization of pixels, payettes in either bronze or silver, from a desktop running on a Windows '98 operating system.
Bedtime Stories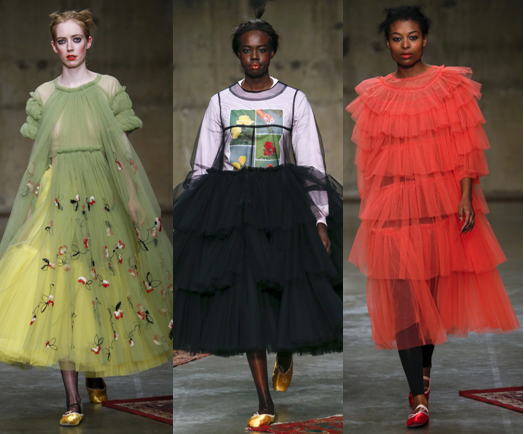 Fairytale books are the escapist's bible, and tea parties are its form of religious ceremonies. "Life is but a dream" appears to be the motto for Molly Goddard's fall compendium, also known as "a suffocating amount of pleated tulle," that had girls looking like they came out of a toddler's boudoir with voluminous look after voluminous look making the size 0 models appear a size "-1."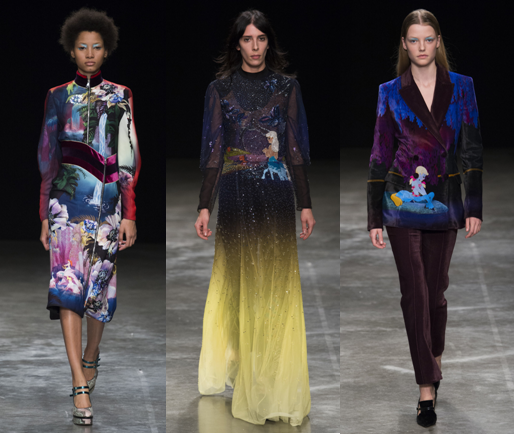 Posen did the mouse ears, Tisci had Bambi on sweatshirts; so what was next for the Disney narrative? Mary Katrantzou says Fantasia.  The movie's Centaurette was seen adorning tulle dresses with beadwork speckled across its entire length. The 1940 Disney classic might have been the focal point of the collection, but other animated classics—landscapes from The Little Mermaid and Tiger Lily's pond from Peter Pan—saw action on velvet separates and 3-D embellished cocktail dress.
Transnational Homage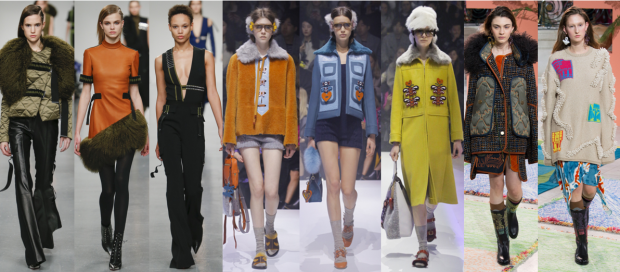 Orange-piped details along the hems of a karakul-trimmed coat, tribal markings printed on shin-grazing riding boots, and chunky knits with patches of sacred totems―that's Peruvian designer Peter Pilotto's vision of the penultimate hiking gear to the Machu Picchu—with a llama in tow of course. Georgian designer David Koma also had his hometown as his muse for his Fall compendium. Koma lived the warrior fantasy with prosaic-colored leather dresses and quilted nylon jackets, both with shagged out fur hems, inspired by Georgia's traditional war dresses called chokha—nothing says war gear like an ammunition belt innocently draped on a lady's sloping shoulders. While she may not be Scandinavian, designer Anya Hindmarch had the Norwegian folk art of kurbits to play around for her Fall offering. Hindmarch's three dimensional cutouts of kurbits flowers were just the right toppers for fur jackets and leather ponchos cute enough for your chance encounter with a yeti.
A Study on Kitsch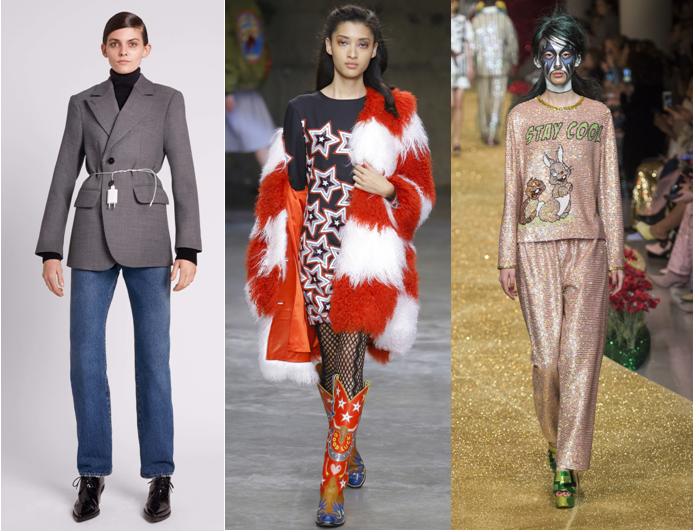 Three words sum up the practical approach MM6 Maison Margiela had for fall's "living the fantasy" narrative: USB cable belts. What could be more thought-provoking, boundary-pushing, and unique as a diffusion line styling their models with charging cords as waist cinchers, paper cups to supplement stiletto heels, and vinyl plastic acting as a receptacle for a proper lady's valuables?
Meanwhile, both House of Holland and Ashish lent a tinge of whimsy to their broody concept of gaudy cognisance by using Americana references. On one hand, the former had the western state of Texas as its focal point of inspiration with fringe trims and flame-emblazoned cowboy boots taking part in its Fall presentation. On the other hand, the latter looked to the L. Frank Baum classic The Wizard of Oz, an allusion to the current state of American politics on equality and acceptance, with its yellow brick road runway and its rainbow palette.
Follow Preen on Facebook, Instagram, Twitter, Snapchat, and Viber