I know, I know. While we are just about to face the warm humid months, Milanese designers are already busy serving us with a fashion buffet for the cold 'ber months of the year. To their defense, I'm sure they're just giving us the ample amount of time to save up for when the clothes and leather goods hit the market. And should you decide to visit a fall and winter travel destination come end of the year, I've rounded up five trends straight from the runway for your reference.
Be Brocade
Nothing screams luxe and winter-appropriate than a rich fabric such as brocade. Favored mostly by designers for their opulent aesthetic, this rather dense material comes in various colors and textures like velvet and metallic threading.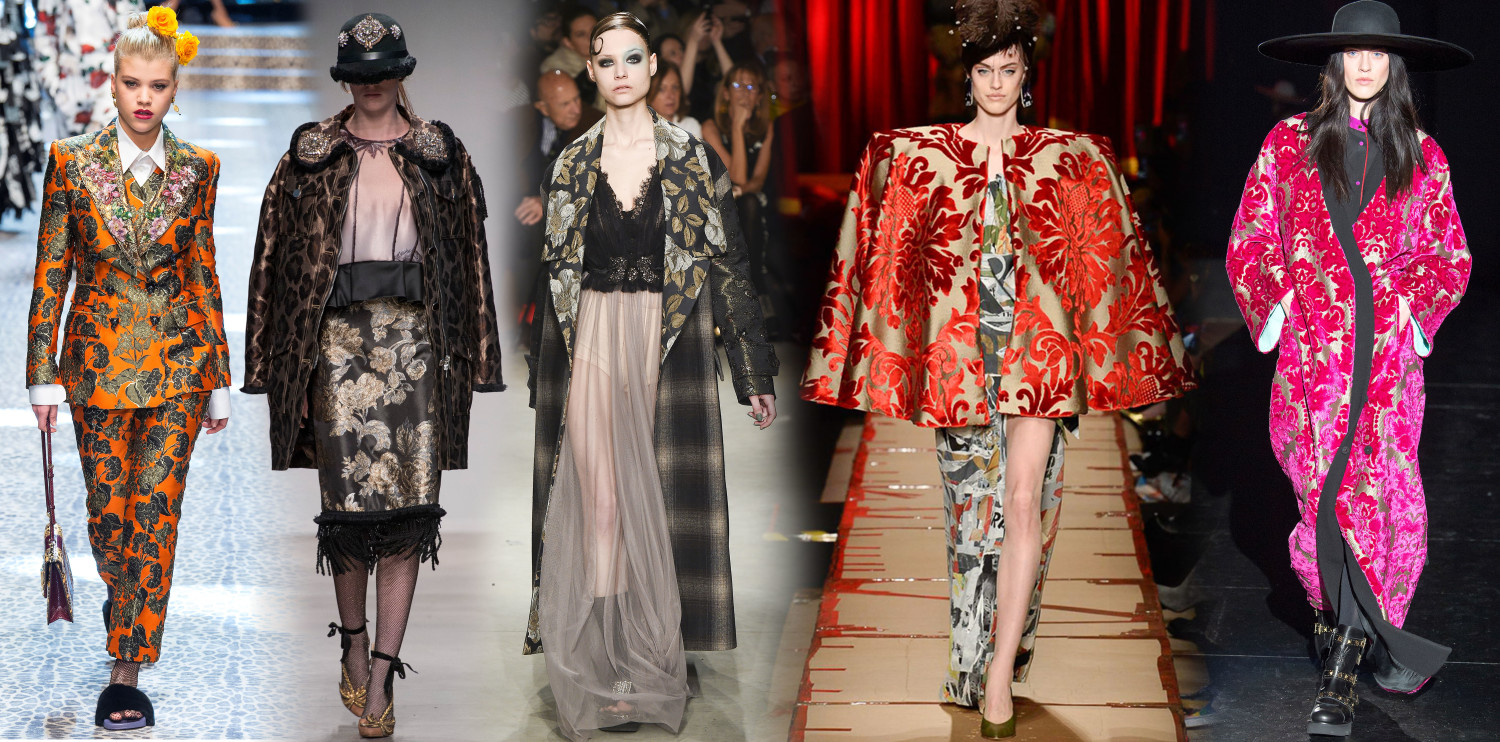 Dolce & Gabbana, who celebrated the age of millennials by sending out worldwide famous social media personalities on the runway, did not fall short in their signature "more is more" philosophy with their orange and gold brocade suit. Christian Pellizari and Antonio Marras show us how to match brocade skirts and coats with other opulent fabrics in their black and bronze scheme. For the bolder of set—go big or go home with an oversized Moschino cape and Fausto Puglisi show-stopping robe.
Think Pink
Remember when Lady Gaga foresaw how mint green will be the next IT color in the prelude of her "Marry the Night" video and boy, it did really happen? Her latest Joanne album in its feminine pink label is surely picked up by some designers to be the prominent color in their collections.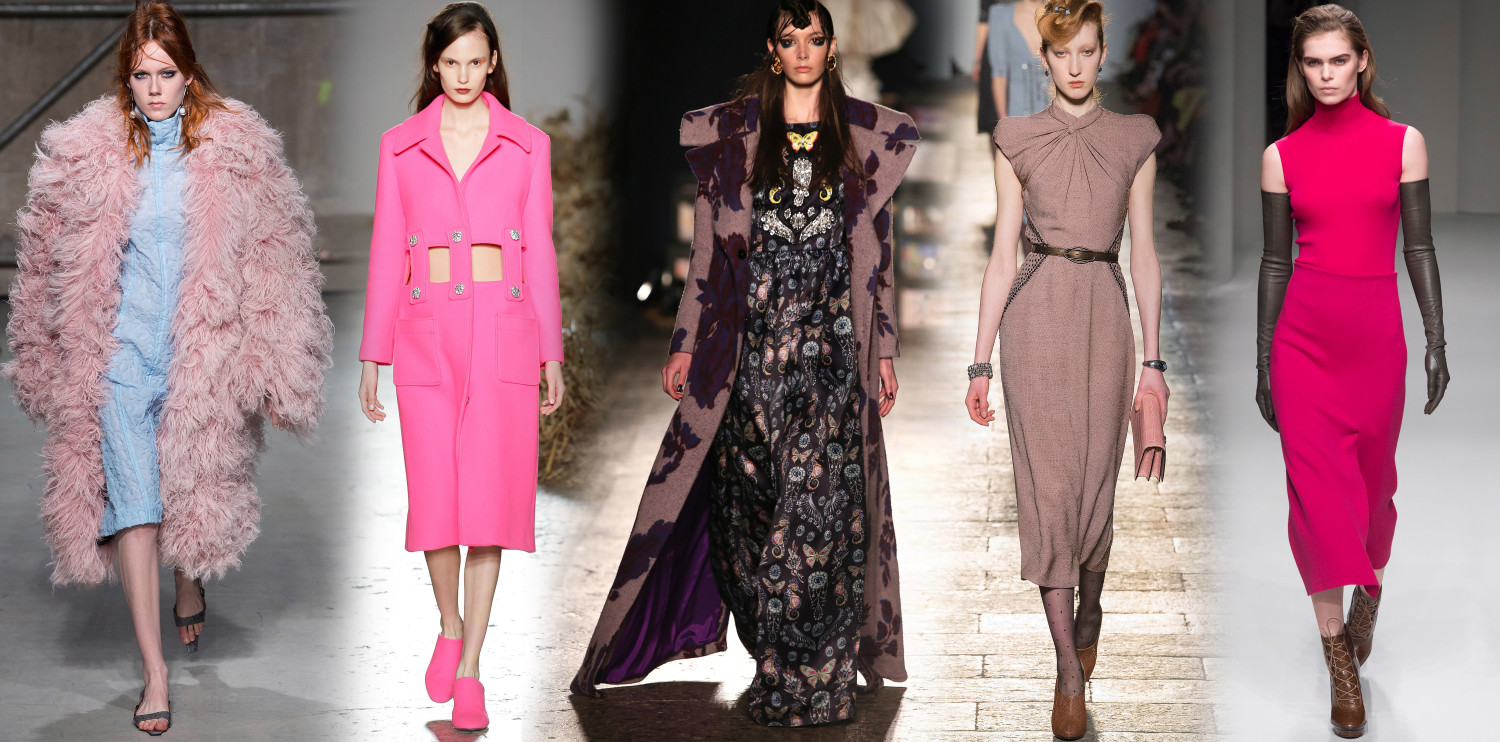 For outerwear, Marni uses light pink shearling and complements it with another pastel shaded dress; Au Jour Le Jour makes a carnation pink coat with cut-out detailing and Leitmotiv sets indigo and plum flowers against an old rose opera coat. Cocktail dresses also come in pink: Bottega Veneta goes for a dusty pink shade highlighted by a flattering décolleté detail and rounded shoulder caps with a complimentary baby pink clutch in one of their looks while Salvatore Ferragamo, who is a pro with striking colors, delivers in a magenta body hugging sleeveless dress and brown nappa arm-length gloves.
Wear the Anti-Christmas Sweater
Ever seen those ugly reindeer and snowflake sweaters for Christmas in some of the movies in the '90s? While that kind of sweater can remain in the past, designers are showing us how to wear more fashion-forward knitwear. They're perfectly comfy without looking too slouchy.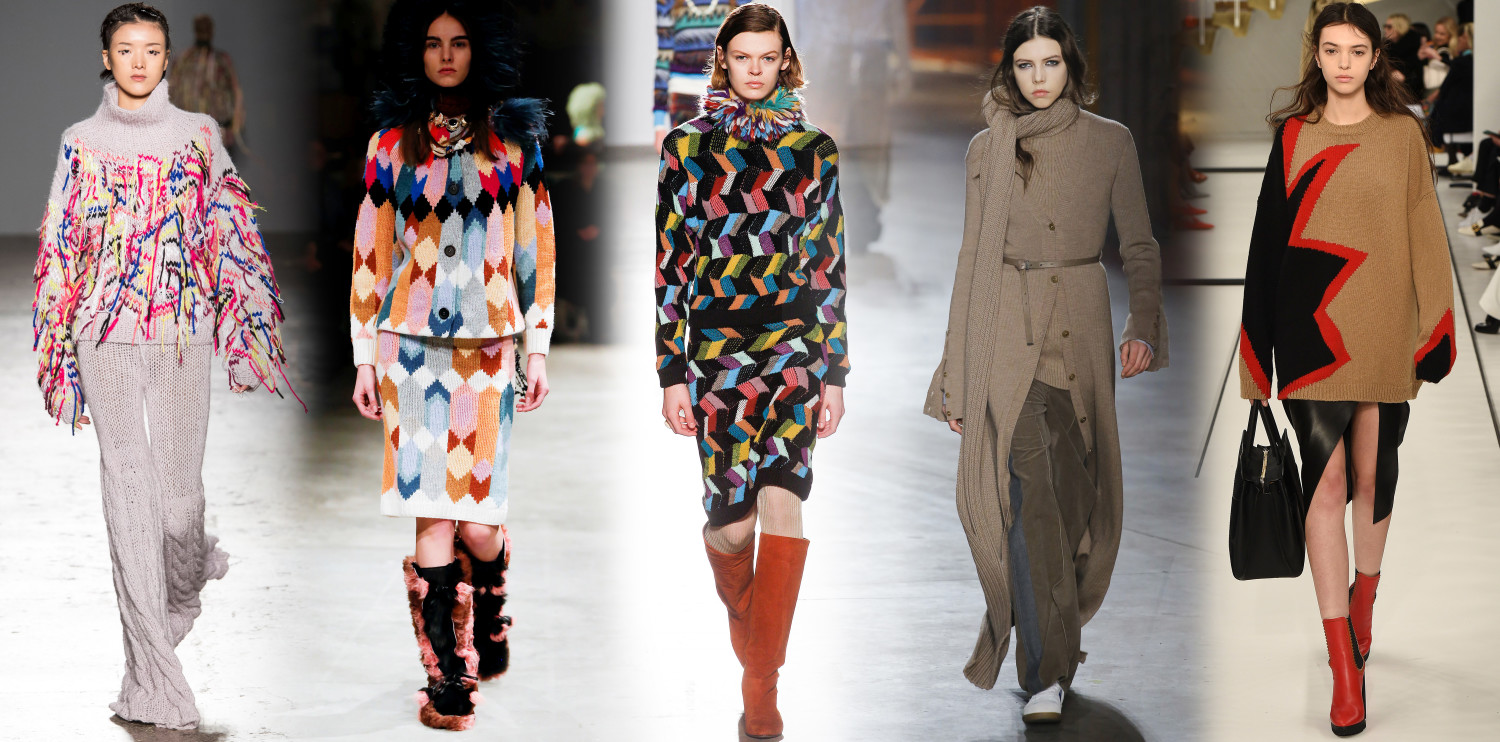 It might be a major risk to do knitwear on knitwear but Cristian Burani with its playful materialization is quite convincing that it's actually doable. Notice how Prada and Missoni designed a colorful and graphic coordinating top and skirt ensemble paired with knee-high boots. Who said you cannot be chic in knitwear? And finally, if you're more attracted to neutral tones, Diesel Black Gold plays with length and layering as reflected on their khaki floor length cardigan while Tod's adds a graphic explosive punch to their pull-overs.
Spice up the Sportswear
For the ladies who continue to fixate on sportswear designs, fashion houses are still incorporating athleisure pieces in their collections. Designers are pushing boundaries to make active gear look elevated and high contrast.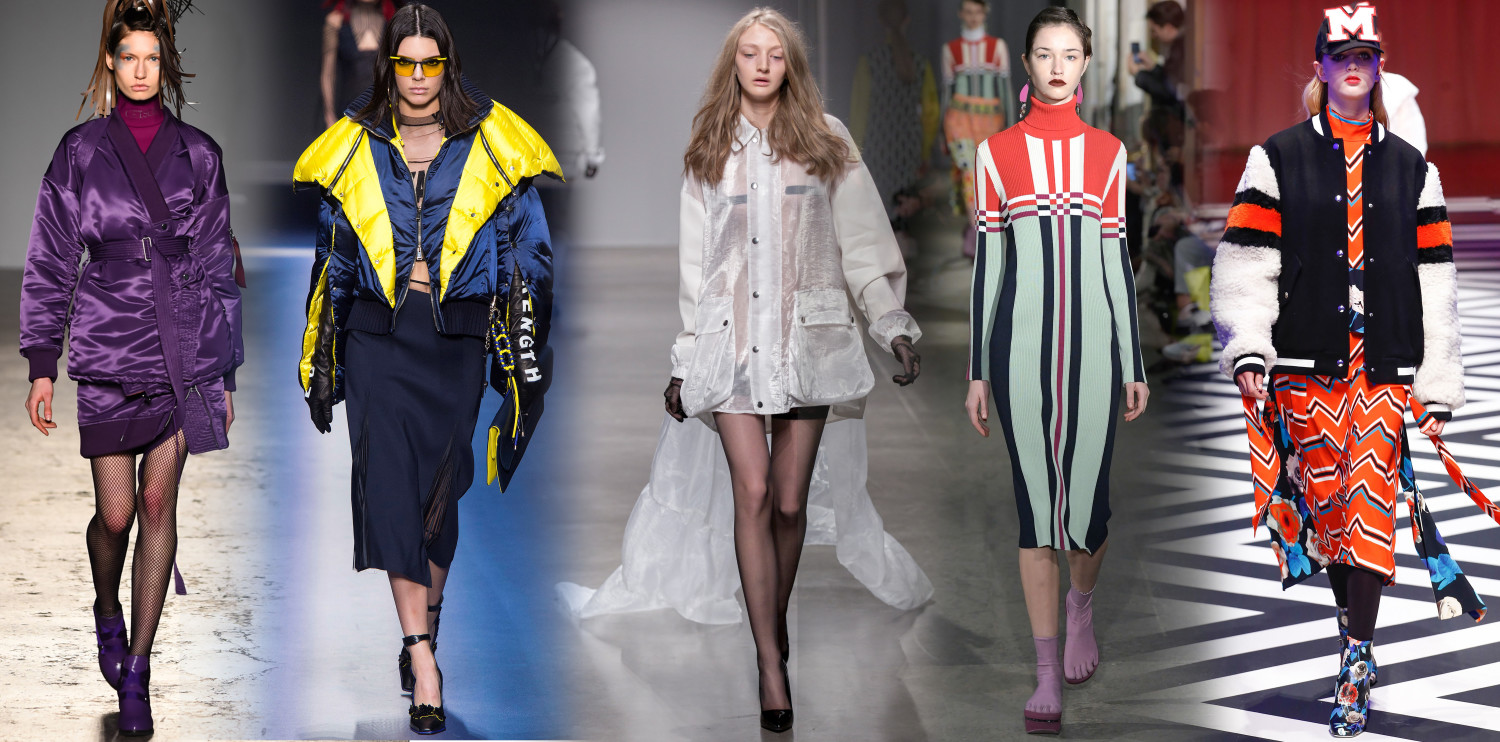 Atsushi Nakashima invents a creative bomber and kimono hybrid in royal purple while Versace makes sure that puff down jackets have never been sexier. Malibu 1992 plays with experimental parachute-like fabric in his sports jacket with an airy train for that dramatic look. Arthur Arbesser incorporates moto-vibe streamlines in his jersey knit pieces while MSGM glams up a university jacket with mink fur sleeves complete with striped detailing.
Play with your Prints
This is the epitome of styling as prints can sometimes be tricky and dated. But when done right, it can surely give you a visual feast. From geometric prints to floral patterns, the designers have made sure to suit diverse preferences.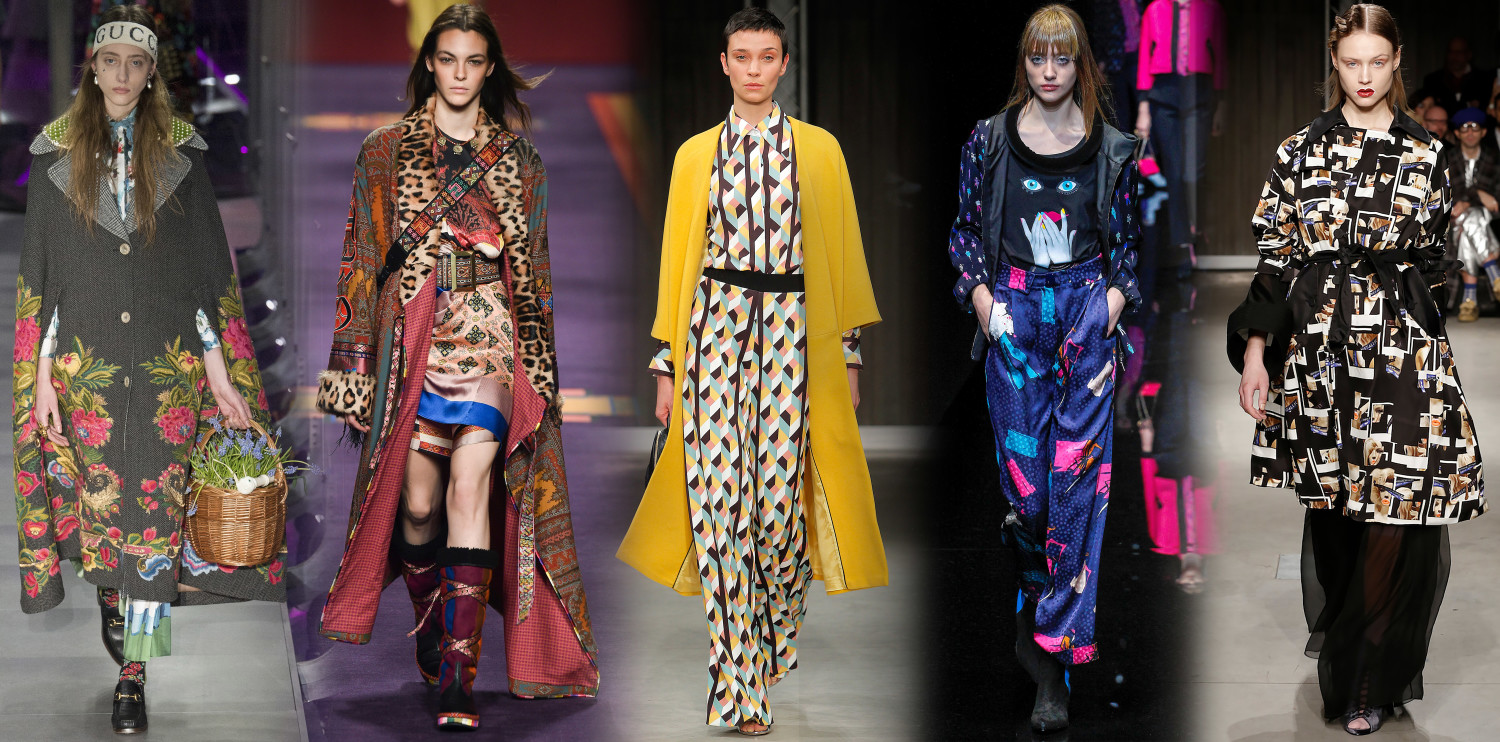 Gucci, who devoured its audience with a highly applauded 119 fall/winter collection, sends out capes with floral embroideries while Etro makes printed layering so colorful for a mountain-inspired traveler. Carlos Gil on the other hand uses geometric prints for his jumpsuits while color blocking it with a bright yellow coat. For light wear pieces, Emporio Armani tickles the eyes with his quirky purple printed jacket and suit pants while Alberto Zambelli takes polarioids as the main pattern for his striking trench coat.