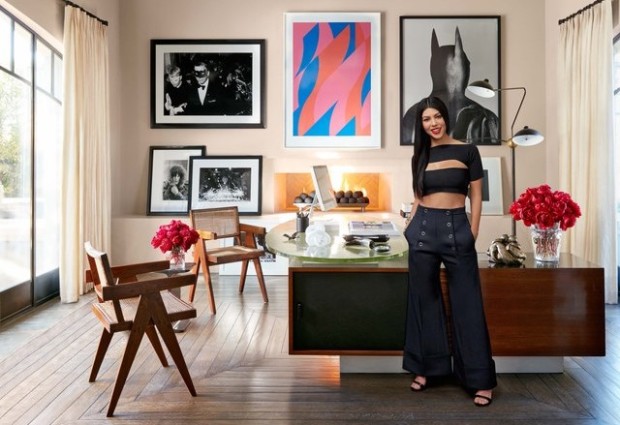 Keeping up with the Kardashians involves keeping track of their homes. Between mansions and posh addresses, the Kardashians like to keep their new money in real estate. It shows by the way they buy mansions to turn them over for upselling or to simply insist on their status as a family who earned money by simply making their lives everyone's business.
Not counting their vacation homes in Costa Rica and Mexico among others, here's how the Kardashian-Jenners live as reported by E! Online. MTV Cribs, what?
Kylie Jenner
When you're Kylie Jenner, you've bought four mansions before reaching 20, three of which are currently in the market. (Just in case buying a lip kit is just too passè for you.) After three tries, Kylie decided to stay in a $12 million eight bedroom, 11 bathroom house in Hidden Hills, California. The current space also has a game room and a massage room to serve as a refuge from all the drama. We all know Kylie is never without that.
Kris Jenner
Since 2010, Kris has stayed in a $4 million home in Calabasas. Comprising of six bedrooms and eight bathrooms, it served as Kendall and Kylie's house until they moved out. This allowed for some space for Kim and Kanye to move in while the couple had their Bel-Air house renovated. The documented issues that arose because of the space and privacy problems Kim and Kris had with each other was summarized when Kim said "Kanye feels like a struggle rapper living in his baby mama's mama's house."
Khloe Kardashian
After the complicated time Khloe had with Lamar Odom, she found her fresh start in a $7.2 million mansion near Kourtney's house. The house comes with six bedrooms, seven bathrooms, mountain views from the master suite veranda, outdoor entertaining space, a pool, formal living and dining rooms with French doors leading onto the patio, a theater plus a wood-paneled office. It also used to belong to Justin Bieber.
Kim Kardashian
After a year of renovations, Kim and Kanye West decided to settle in their Bel-Air mansion, seeing as to how close it was to Kris' place. The house has a makeup and hair salon, two pools, a gym, and a movie theater. The Wests copped the property for $11 million, not counting how much they spent on renovation.
Kourtney Kardashian
Kourtney was so proud of her home especially when it got featured in Architectural Digest. Elaborately decorated, the 1.86 acre estate has six bedrooms, nine bathrooms, a playroom, a chef's kitchen, an elevator, a theater, a pool, spa, sauna, outdoor fireplace, and a sports court. Yes, an elevator.
Rob Kardashian 
https://www.instagram.com/p/BLl47eUgek5/?taken-by=robkardashian
For a time, Rob and Blac Chyna were renting the six bedroom and seven bathroom house of his little sister, Kylie. Read: Kylie was housing the baby mama of her current flame Tyga. With things in disarray, Rob tends to find refuge in the $2.3 million house his mother bought for him.
Kendall Jenner
Kendall is known for being the only Kardashian-Jenner sibling without a mansion. As Vogue pointed out, she likes to tear away from the pack in her $1.4 million high-rise condominium unit. The two bedroom digs boasted of full service because who has time to clean when you're touring the world modeling? Kendall eventually did find a mansion, something she's probably keeping for investment. It's a $6.5 million mansion with six bedrooms, five bathrooms, a media room, a gym and a rooftop deck that's formally owned by Emily Blunt and John Krasinki. Cool beans.
Photo courtesy of Architectural Digest
Follow Preen on Facebook, Instagram, Twitter, Snapchat, and Viber