On day three of Manila Fashion Festival, I asked myself where I get the motivation (real answer: coffee and deadlines, boss-friendly answer: sheer love of my job). At this point, we have been sleeping late and waking up early to get the albums of the previous shows up and to write our experiences from the front row and backstage.
Day three is when you feel tired at best. It's when you ask if anyone is reading your work, if the designers appreciate how you are documenting their collection, and if this really helps Philippine fashion in general. You know, the big noble cause of this desk job. (Note again to my boss: I love my job sincerely.)
I shouldn't speak about motivation. The designers behind each show should be the ones to talk. How do you put out something new every season? How do you get yourself to sit down and draw up new ideas despite both the praise and criticism? Praise adds pressure, criticism pushes goals forward.
Since the early 2000s, Chris Diaz has delivered bankable pieces carrying his signature aesthetic. "It's the innate thing of a designer. You need an outlet for your creative juices," he says as I asked him what motivates him to produce piece after piece. His collection Flourish was a mesmerizing show of spring-colored men's and women's wear set to a slowed down version of Alison Moyet's "Only You." He said that he made some mistakes in styling a few looks but he didn't mind. "You have to move on and let go."
Another amazing thing about Chris, apart from his drive to continue forward, is how he doesn't drink coffee in the morning. "I'm more of a hot water in the morning type of person."
It's funny how the go-to drink of preference also reflects a designer's personality. Brit Tripudio, whose pumped up collection inspired by the streets of Japan, drinks more coffee than recommended (his words, not ours) "I like it with lots of milk and sugar." He claims that his collections are inspired by different cultures. "I use this platform to represent different subcultures. All of the collections have been inspired by different subcultures: indie, LGBT, and now Japanese Harajuku fashion."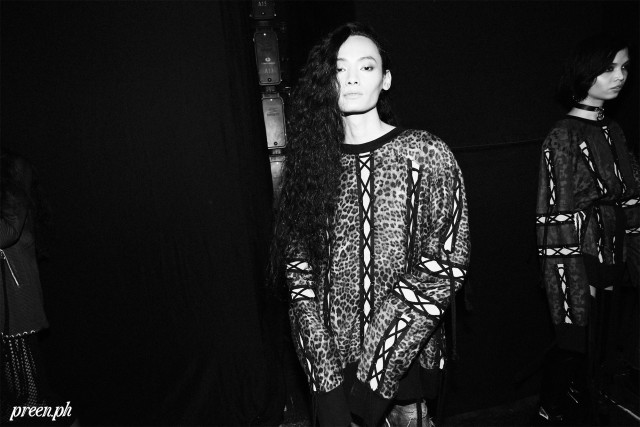 Sassa Jimenez previously told us how she likes her coffee black. Sassa is a go-getter and doesn't bother with anything else but to get the job done. This month she put out two collections. "I think not doing anything makes me more tired," she shares. "The show keeps me motivated." Unlike her delicate and romantic pieces, Sassa is quite hard on herself. The one thing she tells herself when she's about to give up? "Nakakahiya ka!"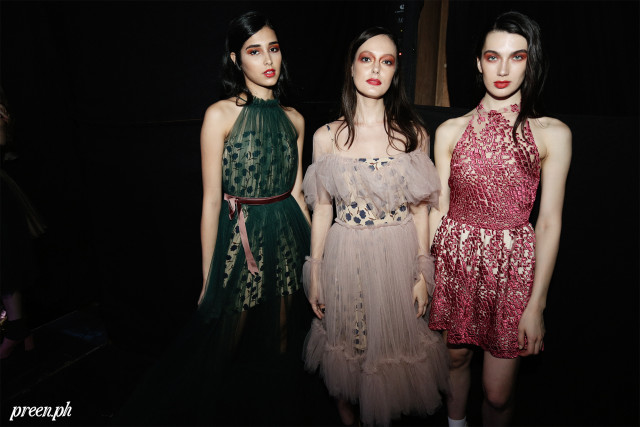 With the reception and the consistency of Sassa's designs, I feel it take a while before she finds a reason to be embarrassed by her works.
For Jun Jun Ablaza, a new item in his resume is a plus to try something other than he's used to. As an accessories designer, he debuted his first fashion collection for Manila Fashion Festival last night. "The promise of something new keeps me going," he says. I ask him what he tells himself when he's about to give up. "I don't think I have reached that point yet," he says with a laugh.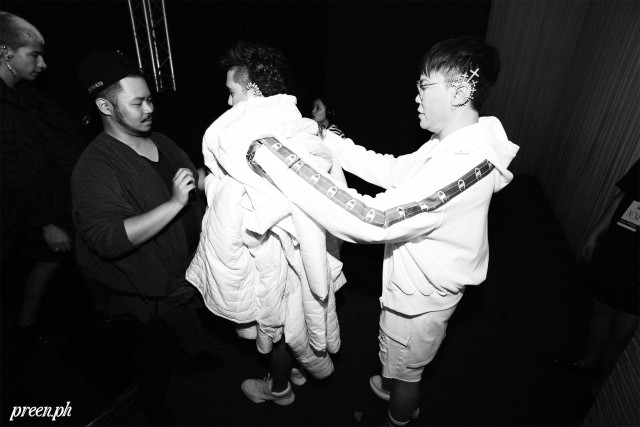 On the other hand, Renan Pacson loves the challenge. After putting down one collection, he looks forward for the next one. "I like to show what I have been experimenting on for the past six months. I like to share my ideas in this way and how else I can change them." Renan's pieces always lean to the dystopian side of streetwear. For him the challenge isn't to create the clothes you see now but to foretell of what's going to come before others can see it. Quite a tall order.
As I sat and watched in the front row, I realized that it's true how people are motivated by different things. Fashion shows allow us to see how these motivations are made into actual clothes. And those clothes help other people get to find their own motivation. Our work uniforms, party outfits, and casual pieces are made by people who are moving forward in life constantly. And as we wear these, we in turn accomplish the goals we've set for ourselves.
Photos by RG Medestomas 
Follow Preen on Facebook, Instagram, Twitter, Snapchat, and Viber