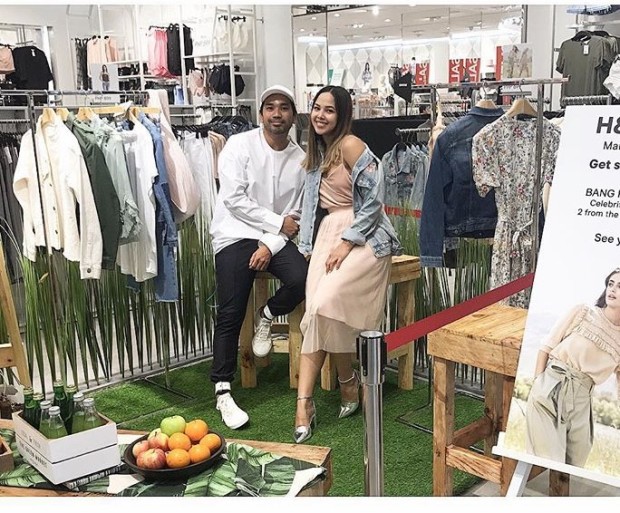 On a Friday payday afternoon, we decided to accept our faith. We were in the mall for a good amount of time, in search of great style and fashion ideas. Good thing we got to catch up with blogger Patricia Prieto and celebrity stylist Bang Pineda.
Both of them showcased just how varied fashion is. Patricia started out before fashion bloggers were taken seriously and the word "influencer" wasn't created yet. From posting her outfits and giving earnest ideas on how to dress, Patricia is now a celebrity of sorts. But a blogger she'll always be. "I'll always stick to who I am. I won't force myself to change or to adapt because people will notice and will call me out. It won't feel natural to me," she insists.
On the other hand, there's Bang who makes other people look good for a living. As a stylist, he gets to work with a few big names like Marian Rivera, Sarah Geronimo, Matteo Guidicelli, and Piolo Pascual. He's also a menswear designer, going for edgy pieces that show he has good trend sense.
Together, they make for a good duo for fashion advice. No wonder they were featured in H&M's recent Style Talks, where they got to discuss how one can pull off the latest spring/summer collection. It's here that Preen got to pick their brains for some fashion tricks and today's trend scene.
What's one current trend anyone can rock?
Bang Pineda: White and denim. Especially this summer. You can do so much. People think white is so basic but it can be trendy.
Patricia Prieto: The neutral tone trend. I don't know if that's what you really call it. There's a neutral tone for every person.
What do you think of millennial pink? 
Bang: It's not my color. Pumipili siya ng skin type. Try to look for the right shade of pink. Wear it more as a top than bottom or as an inner shirt.
Patricia: I like it. I'm not a pink person. I don't like neon. Millennial pink is a nice shade I can go for.
Key pieces that have never failed you in your career?
Bang: Jeans. You'll see I have a lot of them in my closet. Boots. And basic shirts.
Patricia: I can't think so much of pieces but brands I go for H&M and Topshop. Also, all my designer pieces. I'm proud to say I bought all of them with my own money.
Best career advice you've received?
Bang: Whatever you do, enjoy, love it, and everything will follow.
Patricia: Don't give up. Surround yourself with good people. Learn to be with people who care about you and will tell you the truth.
Best fashion advice you've received?
Bang: Career-wise, it's a different thing. I didn't study fashion, I made it on my own. There was this one person who told me I didn't belong here. I then was motivated to prove that person wrong.
Patricia: In our whole group, we used to dress alike. (Laughs) We show each other what we will wear and even the photos we will post and we're always honest to each other. It's not about dressing alike anymore.
Styling tricks you should master?
Bang: I mix sportswear with casual or formal pieces. Today, I'm wearing joggers and sneakers with a more formal top. It's all about putting a few details and key pieces together.
Patricia: The front tuck or the mullet tuck. I always do it.
Accessories that you think are worth the money?
Bang: I am not so much into accessories, [both] for myself and for my clients. All I have now are rings and a hat. For Sarah Geronimo, for example, I only make her wear lot of accessories when she's onstage performing. When she goes to an event, I just make her wear one statement piece. You want to differentiate from the Sarah onstage from the one who will attend the event but still the same persona.
Patricia: The Céline Nano bag. I don't have it but I know of people who own it and it fits a lot [of stuff]. If money were coming out of my ears, I would buy it. (Laughs)
An outfit that always makes you cringe?
Bang: There's this one outfit from Vetements I really want but I don't think is practical. It's just a t-shirt that's floor-length but it's [worth] P100,000! Nakakainis but I still want to buy it. (Laughs)
Patricia: I have two! My first one is the cropped top and leggings look. Unless you're Kendall Jenner and Gigi Hadid, don't do it. The next one is "excess-orizing." I used to do it. Dear Particia of 2008, what were you thinking? (Laughs)
Best purchase you've made?
Bang: Recently, it's these Gucci sneakers encrusted by pearls. I haven't worn them.
Patricia: Green Pandora bag from Givenchy. I use it always especially when I travel.
Photo courtesy of Bang Pineda's Instagram account
Follow Preen on Facebook, Instagram, Twitter, Snapchat, and Viber