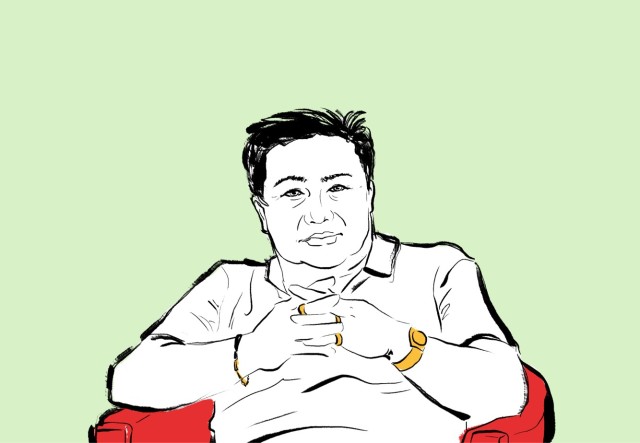 This column may contain strong language, sexual content, adult humor, and other themes that may not be suitable for minors. Parental guidance is strongly advised.
Boys will indeed be boys. Another week, another member of Congress unapologetically flaunts double standards to proudly become misogyny's poster boy du jour.
"My God, who doesn't have a girlfriend these days!" exclaimed the erstwhile-married congressman, currently embroiled in a very public controversy pitting not just himself against another philandering congressman and former friend, but their respective girlfriends.
Ladies and gentlemen, presenting the finest specimen of Filipino masculinity, the man who can do whatever he wants with impunity: shoot, kill, steal, curse, plunder, take a mistress or five, sire a multitude of children, without really giving a hoot about the consequences of his actions might have on the fabric of his family, if not society at large, how they shape and perpetuate prevailing attitudes that are dangerously outdated, not to mention insidiously demeaning to women, yet accepted as completely normal.
When, in the early days of his scandal-ridden presidency, Joseph Estrada's latest paramour—a flight attendant, I believe—was revealed, I recall reading in the papers how the young woman's friends and even parents had encouraged the liaison, believing that her being the nth mistress of a powerful, albeit morally dubious, man would elevate her social status and guarantee her and subsequent children from the relationship a measure of financial security.
One could argue that a certain opportunism is necessary, even smart, in order to break through the lack of social mobility that still exists (perhaps to a lesser degree these days) in our society. But what about the much-vaunted Filipino values, which, based on the comportment of the current president and his band of sycophants and enablers, appear to be rooted in myth more than in reality? Those values are constantly being eroded and subverted every day, which makes one wonder if they ever really existed.
What exists, however, is the continued sense of entitlement that men in the country enjoy, and the complicit participation of women. Congressman Alvarez dismisses the fact that he is cohabiting with a girlfriend while still legally married to his wife in a country that does not allow divorce, saying it's not grounds for disbarment, and carries on in the House of Representatives like it's no big deal. Senator Leila de Lima—whether you like her or loathe her—sleeps with her driver and she is publicly shamed, branded a woman of questionable morals, whose sexual history becomes fair game and fodder for all who devour scandal with finger-licking delight like it was salted egg potato chips.
Alvarez will no doubt be hailed by many as an example of a man who has it all—political power, financial resources, and women, much like Erap was idolized by many for being a man's man. While De Lima will be held up as a cautionary tale about a woman who dared to not only challenge a man in power, but also have a sexual relationship with—for want of a better word—the help, and was punished spectacularly for doing so. That same old double standard: what is acceptable, even admirable, behavior in a man is immoral and unconscionable in, and damaging to, a woman.
(Incidentally, one way to address this double standard is to legalize divorce in this country. Yet who are the ones in Congress impeding a serious discussion of the divorce bill? Mostly men. Mostly married men, some estranged from their wives, openly flaunting their girlfriends and mistresses.)
One doesn't need a national political scandal to bring this point home. Last week, I moderated a discussion on Feminism for Men and Women featuring Maritina Romulo and Art Acuna, actors and activists who happen to be partners, too. What was interesting was listening to Art, who spoke about feminism from the point of view of a man, emphasizing that real men should not be afraid to be feminists. In fact, as the example of his own father proved, a man does not become less of a man by believing in—and fighting fo—equality between men and women, which is the objective of feminism. Only an insecure and unenlightened man would feel emasculated and threatened by feminism.
Equality between men and women applies to everything, Art said, including—and especially—sexual matters. A typical mindset among Filipino men was that the less experienced a woman was sexually, the more desirable she would be as wife material. Conversely, it was expected that a man be far more experienced than the woman. In fact, in an ideal situation the less sexual curiosity a woman had, the better.
Not only was this glaringly unfair, according to Art, it was stupid and shortsighted. It reduced men to sexually voracious beings and forced women to affect a lack of sexual curiosity, if not desire altogether, in order to appear virginal and inexperienced, which in turn would make a man feel like the world's greatest lover because his wife doesn't know any better. In addition, it does little to encourage healthy and open communication between both partners in the bedroom.
"It's natural to be sexually curious," he said. "As much as it is praised in a man, sexual experience shouldn't be seen as a negative thing in a woman. It's a turn-on when a woman knows what she wants in bed, and, frankly, it's a great feeling when such a woman is with you because she chose you. And that's empowering for both the man and the woman."
He concluded by saying, "A man, side-by-side with a woman, multiplies the strength of both."
Boys will be boys? Come on, men, who would you rather be—Pantaleon Alvarez or Art Acuna? If you had to think about it for even a second, you need to come to our next discussion and take a crash course in Feminism for Men and Women. Watch this space.
B. Wiser is the author of Making Love in Spanish, a novel published earlier this year by Anvil Publishing and available in National Book Store and Powerbooks, as well as online. When not assuming her Sasha Fierce alter-ego, she takes on the role of serious journalist and media consultant.
For comments and questions, e-mail [email protected].
Disclaimer: The views expressed here are solely those of the author in her private capacity and do not in any way represent the views of Preen.ph, or any other entity of the Inquirer Group of Companies.
Art by Dorothy Guya
Follow Preen on Facebook, Instagram, Twitter, Snapchat, and Viber