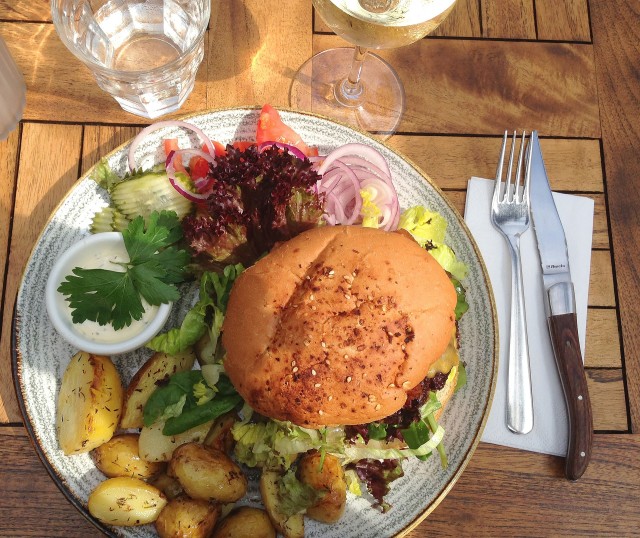 Yesterday, as you were stalking Instagram for the latest on Baby Archie's christening among many other lazy activities, Pia Wurtzbach whipped up a burger. In fact, she got into a cook-off with her sister Sarah.
The Miss Universe 2015 revealed a burger secret you might have not known about: cooking the patties in bacon fat. Her pan-fried creation looked good and filling. It got us craving for some burgers as well. Instead of heading out and scouring for some quarter pounders in some hip joint, only to be a bit disappointed, we looked for tips of food experts online. What makes a good burger according to the entertainment's favorite chefs? It turns out, each has their own secret. All you have to do now is determine the one best suited for your taste.
#1 Keep it sauce-y
Gordon Ramsay starts off with prime sirloin. So now you're thinking: of course it's going to be good. But the meat is as good as the marinade. Gordon combines Worcestershire sauce, Tabasco sauce, and honey mustard into the patties themselves. The flavor is right there as you bite into it, no need to pass the ketchup!
# 2 Crack it up
If you want a little more bite and crispness to the burger, go for the Jamie Oliver route. He starts off his burgers by smashing crackers as finely as he can in a bowl. He then mixes in parsley, minced beef, egg, salt and pepper to make the thick and filling patties. If you fry them right, you'll even get them extra crispy.
#3 Don't be afraid to be a little cheesy
Bobby Flay likes to combine two kinds of cheese on top of the burger patty as it's cooking. He uses a slice of white cheddar and American cheese. For pan-fried burgers, he places the cheeses on top of the patty, splashes a bit of water, and then covers the pan. This creates steam that covers the burgers and will make the cheese melt all over. He even shared how there is a sign in all his restaurants that say, "Bobby Says Melt the Cheese Completely.
#4 Get them cold
For the chefs at YouTube food channel SortedFood, chilling the patties is important for it to hold its shape. Chilling them for 30 minutes before frying the patty makes sure the burger doesn't fall apart. The stark contrast between a cold patty and the high heat of the oil makes them cook faster so you don't end up with a soggy patty.
#5 Mix the right ratio
Ina Garten's juicy burgers are courtesy of a good selection of meat. She works with ground chuck for the fat and sirloin for the meaty bite. This creates a juicy patty. She also adds a small piece of butter in each patty so the meat is encased in the butter-y goodness.