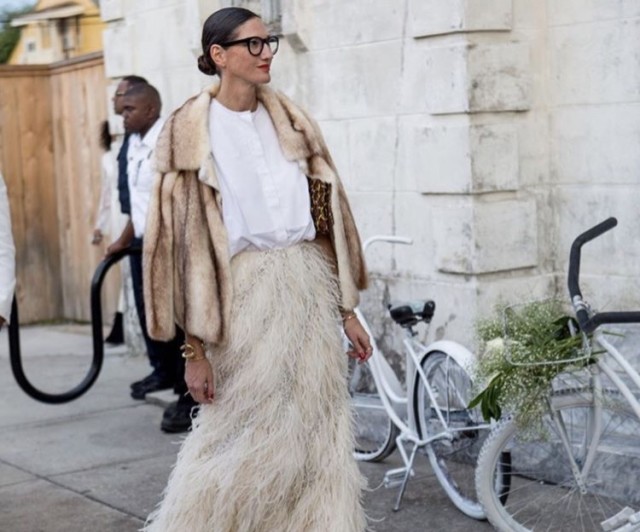 After 26 years at J. Crew, Jenna Lyons announced that her time with the American clothing brand is coming to a close. Major publications and a few industry personalties across the fashion world were quick to jump on the news.
J. Crew's Jenna Lyons was the rare successful designer-street style star. https://t.co/2RMINeZMZU pic.twitter.com/rEENFo7r0J

— W magazine (@wmag) April 3, 2017
Jenna Lyons is stepping down from her position as President of J.Crew. https://t.co/jyIgzErMbP

— Vogue Magazine (@voguemagazine) April 3, 2017
Jenna Lyons exits J.Crew after 26 years of influencing American fashion: https://t.co/394EmzJyo9 pic.twitter.com/cZtD6oNzo3

— PAPER Magazine (@papermagazine) April 3, 2017
Wow! Jenna Lyons Exits J.Crew https://t.co/mvjTzdLVGr

— Nina Garcia (@ninagarcia) April 3, 2017
In an exclusive interview with Business of Fashion, Jenna says she's grateful for everything the company has given her, including being able to work closely with J. Crews' chief executive officer Mickey Drexler. "It has been beyond my wildest dreams to work with such an amazing team of people at such an incredible brand and alongside Mickey—one of retail's most talented visionaries."
Slate breaks down the significance of Jenna's impact in the industry as the creative director and president of J. Crew. They cite how she gave the label its cool factor, "bringing a colorful, chic edge to what had been a preppy catalog brand." A feat that is only second to how Jenna also translated the revamp to growing sales in a time when a lot of J. Crew's peers were suffering major losses.
Slate also pointed out how Jenna solidified the brand's status as she got the admiration of Michelle Obama. "For one brief shining moment, there was a first lady who wore accessible American fashion and accessible American fashion that was actually stylish!"
But just like trends in fashion, things come and go quickly. Jenna's departure from J. Crew puts her successor in the spotlight. Somsack Sikhounmuong will be taking over the creative director spot. Somsack has been with J. Crew since 2001 and previously worked for Madewell.
Follow Preen on Facebook, Instagram, Twitter, Snapchat, and Viber