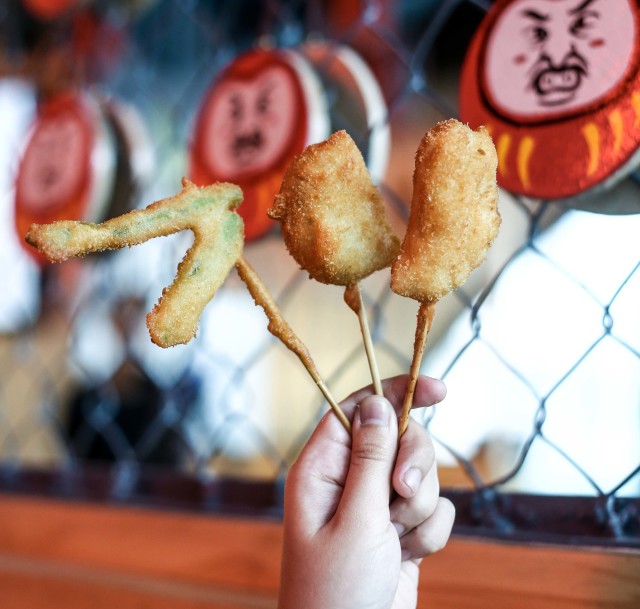 Street food differs in each country, and it's a good glimpse of what their culinary culture is like. In the Philippines alone we have savory options like grilled pork barbecue and fried quail eggs, as well as sweet ones like mais con yelo and turon. Meanwhile, in Japan, specifically in Osaka's Dotonburi area, they have fried skewers called kushikatsu.
This is another Japanese delicacy I was not familiar with until I got to try it at Kushikatsu Daruma—a new restaurant found in Uptown Mall, BGC.
The resto first opened in Osaka back in 1929. Charlie Paw, the entrepreneur behind Wrong Ramen and Hole in the Wall, visits it often when he's in Japan and decided to bring the franchise here in the Philippines. "What I like about it is that it serves simple food that also happens to be highly addictive. One or two sticks is never enough," he says.
As you enter, you are greeted with colorful wall decor containing the restaurant's mascot Mr. Ueyama. His fun yet stern expression can also be found on the signs that say "NO DOUBLE DIPPING," as if he was ready to scold you if you do.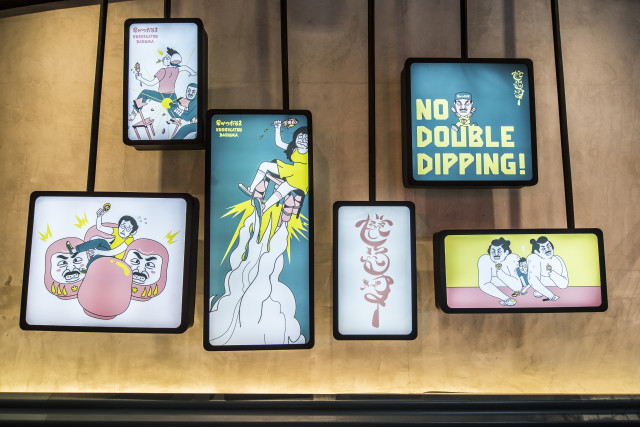 The fried skewers are made with several meats and veggies which are deep fried with panko bread crumbs for three to five minutes. You can order individual sticks of traditional kushikatsu for P39 to P59 each, while the special Japanese Oyster and Foie Gras cost P129 and P199, respectively. Not to mention that there are 30 kinds of skewers to choose from.
While waiting for my order to arrive, I picked at a bowl of boiled edamame beans (P155). Then I was served the Beginner Level set (P480), which included nine sticks: classic kushikatsu (beef), tsukane (chicken meatballs), prawn, chicken with garlic, tonkatsu (pork loin), chikuwa (fish), leeks, potato, and camembert cheese. As you bite into them, the meat is soft and the coating has the right crisp to it sans the oiliness. My personal favorite was the chikuwa because of how juicy the fish was and the gooey camembert cheese. Mmm.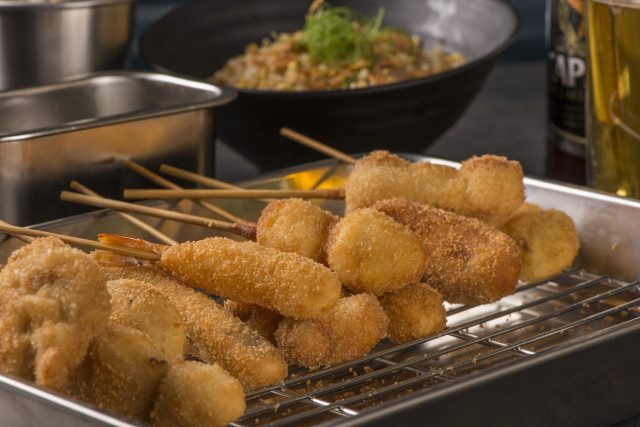 There's also the Advanced Level set (P480), which comes with 11 sticks: classic kushikatsu, chicken heart, chicken instestine, pork intestine, chicken gizzard, garlic, lady finger (okra), gyoza, white onion, leeks, and tonkatsu.
But this dish is also famous for their special umami sauce where you dip the fried skewers in. The only rule is that, as mentioned, you can't double dip. A tempting challenge because it's savory and tart, and it's difficult to not dip just one time.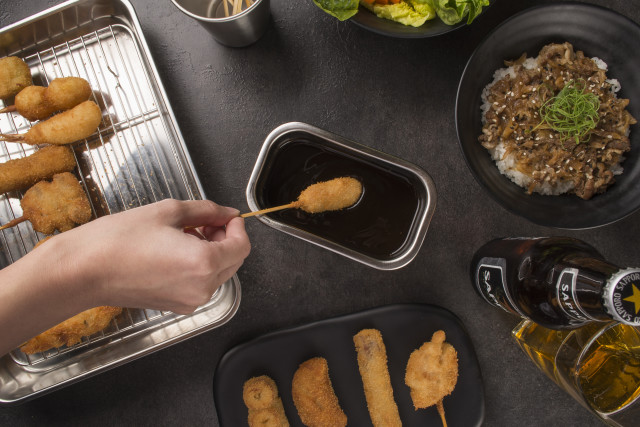 According to Kushikatsu Daruma President Katsuya Ueyama (also the inspiration for the mascot), kushikatsu started out as food shared by workers in Sakai, Osaka. For hygienic purposes, they weren't allowed to double dip. This tradition was passed on to the next generation of foodies who'd enjoy kushikatsu in the streets.
Now, you're constantly reminded of that whenever you eat here since the sauce will also be used by the next customers. Seriously, the servers will tell you every time. There's even an illustration featuring (a very angry) Mr. Ueyama to emphasize it further.
Katsuya's tip so you won't double tip? Make sure to coat the whole skewer with the sauce. Simple as that.
Meanwhile, those with big appetites can also order plain rice (P60), garlic rice (P100), and chahan rice (P150) to pair with the kushikatsu. There's also a selection of local and Japanese beers, and cocktails since it's best eaten with an ice-cold beverage. Plus, it's a good excuse to ask your friends to eat and drink at the restaurant instead of going to a club on a Friday night.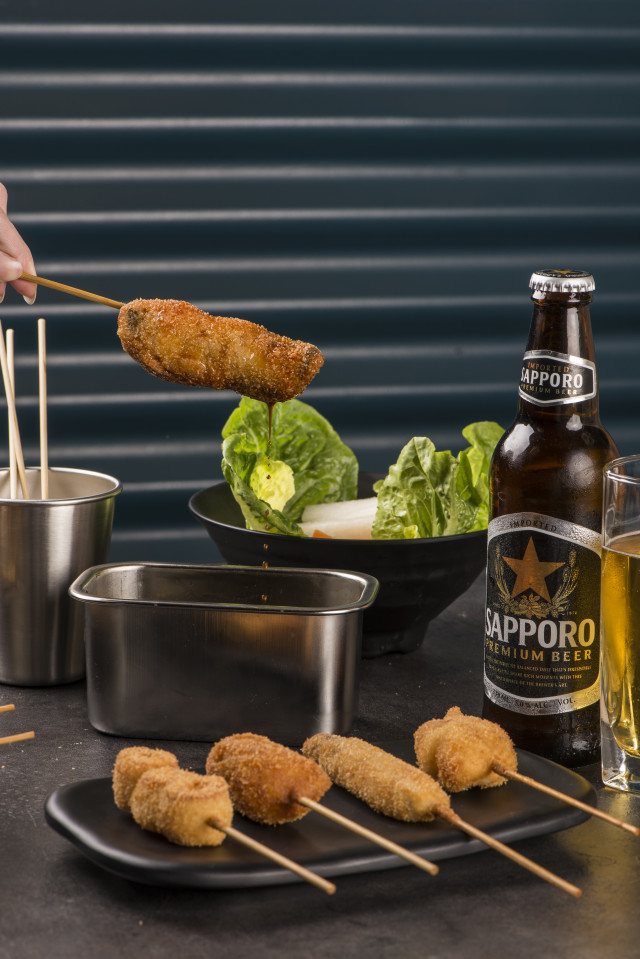 If you're looking for an affordable place for your Japanese food fix, you should stop by Kushikatsu Daruma and familiarize yourself with their fried skewers. As Katsuya puts it, "Ramen is [already] well-known everywhere. We want the Philippines to know more about kushikatsu and taste it."
Kushikatsu Daruma. 2/F Uptown Mall, 36th Street corner 9th Avenue, Uptown Bonifacio, Bonifacio Global City, Taguig City. Open from 5 p.m. to 11 p.m. (soft opening hours). For more information, visit their Facebook page.
Featured image by Danica Condez for NoliSoli.ph
Photos courtesy of Kushikatsu Daruma
Follow Preen on Facebook, Instagram, Twitter, Snapchat, and Viber