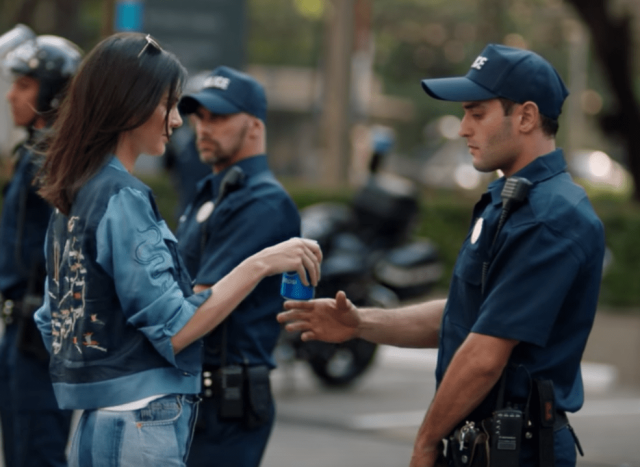 Oh, Pepsi. You messed up big time with your latest ad.
In case you haven't seen it or just want to be infuriated again, Pepsi came out with an ad featuring Kendall Jenner. It also featured a vague protest, encouraging spectators to "Join the conversation." (Whatever that is.) Kendall joins the rally, and somehow manages to end it by offering the riot police a can of soda. Peace on Earth, y'all!
Seriously though, what a tone-deaf way to vie for unity and peace. It was sugarcoated, and made protests look like a fun street party tailor-made for an Instagram post.
Pepsi was instantly criticized for putting out the ad and borrowing imagery from the Black Lives Matter protests, including Ieshia Evans' widely-shared photo. People also accused Pepsi of trivializing the protests, as well as the struggles of the black community.
Bernice King, daughter of Martin Luther King Jr., said it best when she tweeted this photo of her dad amid the controversy.
If only Daddy would have known about the power of #Pepsi. pic.twitter.com/FA6JPrY72V

— Be A King (@BerniceKing) April 5, 2017
Other sarcastic memes and tweets followed Bernice's lead to call out how ridiculous it is to think that a can of Pepsi can stop police brutality.
that's it, kendall just fixed all social injustices. bless.

— Dog. Water. ® (@MissngLnk) April 4, 2017
(Cop pulls me over)

Officer: "sir is that weed I smell?"

Me: "no I spilled some Pepsi on the seat."

Officer: pic.twitter.com/rFTyZiw5Sk

— LispyJimmy (@UnitedgamerzHQ) April 6, 2017
If I had carried Pepsi I guess I never would've gotten arrested. Who knew?

— deray (@deray) April 5, 2017
Wonder why Pepsi's original ad got binned? pic.twitter.com/tsqPQOgnto

— Ink Tank Media (@InkTankMedia) April 6, 2017
https://twitter.com/BRANDONWARDELL/status/849371484128673794
https://twitter.com/jedrlee/status/849902148863143936
https://twitter.com/KirillWasHere/status/849778255402082305
Celebs like Lena Dunham, Madonna, and Stephen Colbert also expressed their disapproval of Pepsi's move. Late Night host Seth Meyers also made an alternate, possibly more realistic ending to the commercial.
This Pepsi ad is so unrealistic. Those protesters would have been Dr. Pepper Sprayed. https://t.co/oNjjtm6eFu

— Stephen Colbert (@StephenAtHome) April 5, 2017
Assuming everything that can be said about faux-test Pepsi ad has been said so I'm just gonna go with this: it didn't make me want Pepsi

— Lena Dunham (@lenadunham) April 5, 2017
If you love @ambermruffin you'll love her response to the Pepsi ad pic.twitter.com/7bUfmxVAbs

— Seth Meyers (@sethmeyers) April 6, 2017
https://twitter.com/JessicaConnelly/status/849901668661477376
I could spend the rest of my life trying and not even come close to making something as funny as this Pepsi ad. https://t.co/C5qG1trHKg

— Judd Apatow (@JuddApatow) April 5, 2017
I suppose this is why the Pepsi commercial is a bit troubling, from Micheal Meade. pic.twitter.com/A5HqEtP2XQ

— Russell Brand (@rustyrockets) April 5, 2017
News outlets such as Fusion and The Washington Post also couldn't handle the controversial ad, and straight-up tore it down.
PSA, Pepsi: The police state isn't pretend, the fight for social justice isn't glamorous—and this movement isn't yours to sell: pic.twitter.com/Mnqc7k24yg

— Splinter (@splinter_news) April 6, 2017
Meanwhile, Pepsi realized that they "missed their mark" and decided to pull out the ad. They apologized to everyone affected, including Kendall. The model hasn't said anything yet about the controversy. This also sparked a debate on whether Kendall should be complicit of her involvement.
— Pepsi (@pepsi) April 5, 2017
https://twitter.com/SidayaSherwood/status/849719145079992320
I'd actually like an apology from Kendall Jenner. She could've easily let Pepsi know that ad was a bad idea.

— Touré Ali 🖤 (@TourexAli) April 5, 2017
https://twitter.com/thekylestevens/status/849716656779649024
Let this be a lesson for Pepsi and other brands to be mindful of what they put out. Remember: there are better ways to show unity and support for causes like Black Lives Matter—a sugarcoated protest is not one of them.
Screengrab from YouTube
Follow Preen on Facebook, Instagram, Twitter, Snapchat, and Viber