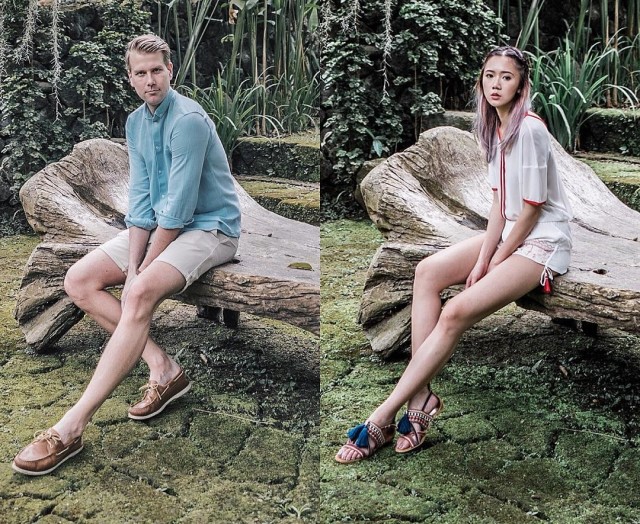 It's no secret that Instagram Husbands are the unsung heroes of the social media sphere. There's even an Instagram account that captures them in action as they take photos of their partners. But what if they're given a platform where they can hilariously express their hardships, even copy how their ladies pose in every photo?
That's what Blogger Jowas Instagram shows everyone. The account features the beaus of local bloggers Camille Co, Laureen Uy, Kryz Uy, Lissa Kahayon, Patricia Prieto, and Nicole Andersson. It's a funny feed to follow, especially if you're curious about the BTS of your fave bloggers' like-worthy shots.
We'd like to end the work week on a lighthearted note, so here's how these guys are making Blogger Jowas funny and relatable to other Instagram Husbands.
#1 The struggle for the perfect shot is real
If the photos above look familiar to you, it's because Camille recently posted it on her feed. What you didn't know is that Laureen's boyfriend Miggy Cruz was the one who arranged the floaties. You can see his struggle while aligning them in the pool, even swimming underwater.
This is the same when you see guys standing on their tiptoes or squatting in the middle of the street. Because in order to get the perfect shot, you better be ready to exhaust all methods.
#2 Grab important pointers from your gals
It's obvious that these Instagram Husbands have been doing this for a long time now. So long, in fact, that they already know how their girlfriends pose for the camera. Joni Koro thought of giving everyone a "blogger pose tip" by imitating Camille. "Point them toes," the caption reads.
Slater Young also has pointers to share when it comes to seamlessly showing off a product in a photo.
At least we know that they're paying attention.
#3 Know when to steal the spotlight
Instagram Husbands deserve the photo limelight too. For Marc Schulze and Kako Cojuangco, they know how to make a #groufie more interesting. The moment's so cute that Nicole and Patricia looked like they were photobombing. Looks like they can beat these women at their own craft.
#4 Traveling isn't easy
Especially if it means lugging around several suitcases from the airport to the hotel, and vice versa. It's okay, Slater. We're sure Kryz looked good in her #OOTDs.
#5 Bromance is inevitable
The bloggers travel a lot together with their boyfriends, so it's not a surprise if a budding bromance or two starts to brew among the guys. Santi Cua and Slater wore almost matching clothes while playing in the snow.
Meanwhile, Joni and Miggy made a cheesy dialogue among themselves while donning Louis Vuitton Twists. Awww.
Follow Preen on Facebook, Instagram, Twitter, Snapchat, and Viber