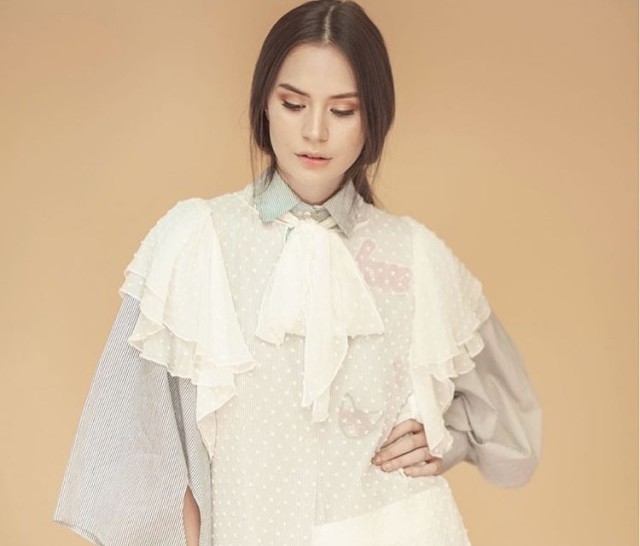 When you're a force to reckon with on social media, brands tend to just go to you, hoping you include them in your next outfit post. But digital curators always say they don't just post whatever they are sent. It's also choosing what they genuinely like and what they'd personally recommend to their friends. But the power of one post isn't just a word of mouth kind of thing as followers can reach a million people in a few seconds. So you gotta hand it to today's influencers when they put out something they can stand by to the test of a thousand judging eyes.
What I want to say here is this: Pay attention to the things tagged in these people's photos. The extra effort to tap will lead you to cult faves, new labels and revamped brands. Think of it as a different kind of online shopping, with A+ user review.
Looking through the 'grams of a few celebrities and influencers, we found six new lables we're dying to get our hands on.
Alex Gonzaga
Australian label Finders Keepers carries pieces that can be used for power meetings in the office and for fun dates out. Sticking to a lot of solid colors and interesting cuts, they are easy to pull off even on ordinary days or even on camera. Just look at Alex Gonzaga. (Oh, and the label is available in the metro at ShopLCP, so no need to worry about shipping costs.)
Renee De Guzman 
For trendy pieces that can take you stylishly through your next trip, Renee sems to favor Exhibit. This Singaporean brand creates clothes under their androgynous and minimalist aesthetic. The products are some killer pants and pleated shirt dresses.
Jessica Diaz Wilson
UNAROSA recently revamped their branding to reveal collections that are for the trendy but practical woman. A perfect example would be Jessica Diaz Wilson, who loves the lacey pieces along with the fool-proof denim jackets.
Iza Calzado
If you need sexy, daring, and one-of-a-kind styles in a shoe, go for high-end label Gianvito Rossi. A relatively young brand in the fierce shoe market, it's caught the attention of a lot of fashionable stars. It seems like one of the go-to labels of Iza Calzado for her dressed to kill ensembles.
Martine Cajucom 
If you're living the life of a dreamer, Majorelle is for you. Think of private beach getaways, the best music festivals, and endless days in tropical settings when you look at this brand. No wonder Martine took a piece from their collection for her Balesin trip.
Jasmine Curtis-Smith 
When you're a cool girl, you just don't have the usual pajamas. You pick out chic pieces that wouldn't be embarassing to be caught in even midday. Private Storey offers up loungewear and sleepwear in silk and charmeuse aqt prices that won't break the bank.
Follow Preen on Facebook, Instagram, Twitter, Snapchat, and Viber