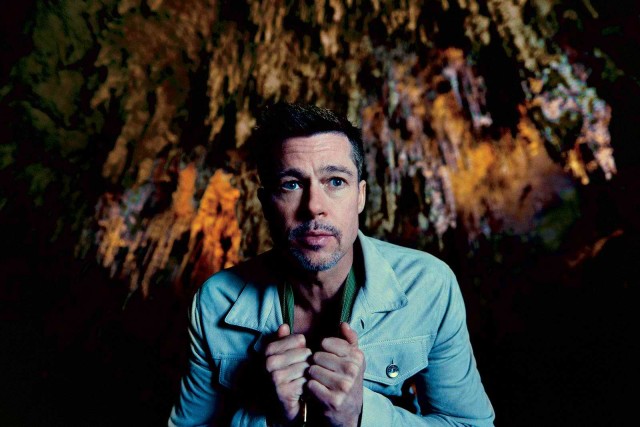 Almost nine months after headlines read of his divorce from Angelina Jolie and alleged child abuse, Brad Pitt gives a introspective interview of his life with GQ Style.
As the current cover story of the latest issue, Brad is painted in a solemn and somber state: alone in a house that used to be filled with a family. Now he spends his time with his dog Jacques and how he makes a fire every night to make the place feel more alive. It seems Brad has taken a hard look at his life, "For me, this period has been about looking at my weaknesses and failures and owning my side of the street."
He also opens up about how fighting for custody was just "an investment in vitriolic hatred." He said,"I was really on my back and chained to a system when Child Services was called. And you know, after that, we've been able to work together to sort this out. We're both doing our best. I heard one lawyer say, 'No one wins in court—it's just a matter of who gets hurt worse.'"
Brad also admitted to crashing in David Fincher's house last September, at the height of the news, and of a certain news outfit being able to hack into his friends computer.
The actor, however, looks forward to getting his life back together, taking up a new hobby. He also maintains that family is still important. "Family first. People on their deathbeds don't talk about what they obtained or were awarded They talk about their loved ones or their regrets—that seems to be the menu," he answered when asked what kept him going through the difficult time. "I say that as someone who's let the work take me away. Kids are so delicate. They absorb everything. They need to have their hand held and things explained. They need to be listened to. When I get in that busy work mode, I'm not hearing. I want to be better at that."
[
GQ Style
]
Photo courtesy of GQ Style
Follow Preen on Facebook, Instagram, Twitter, Snapchat, and Viber