In my head, it usually takes a short period of time for a man to get ready. Actor JC Santos sits right in the middle of the grooming spectrum—he's low-key with his routine, but at the same time he knows how to address his skin and grooming concerns. Heck, this guy can even put on a proper makeup base, thanks to his background in theater.
It was a Sunday when we came over to his place, it's a time usually reserved to recharge, but JC did not mind having us over. We spent the whole day talking about his upcoming projects, his plans to probably move apartments, a television series, and the importance of eye masks. "You want some? I have a lot since I just bought," he said as he was showing his stash of collagen eye masks. JC uses it on the regular because he tends to get really deep eye circles especially when he shoots until the early morn. I actually accepted his offer and took home a few pairs. Right after that, he urged me to try those black peel-off masks and I obliged. I realized I'm taking beauty advice from JC Santos. Not bad at all.
JC has a love-hate relationship with malls, he hardly ever goes and if he does, it's just to get groceries. It's not a stereotype because I really asked him about it—first of all, he doesn't have time to go and they're almost always too crowded, so he sticks to online shopping instead. "I know what I want, so it's easy to just buy online," he shared and I nod in agreement. He shops most of his skincare and grooming must-haves online—his facial wash, eye masks, body soap, hair mousse, pomade, and so on. He even bought a few gadgets too. His most recent acquisition is a VR mask, which, again, he made me try. Not related to beauty, but I agreed anyway.
In the end, his routine is simple and straightforward. Something we should all take note of. Get started and read on about JC and what's currently on his vanity.
Describe your approach to grooming?
My work requires meeting with people, so I make sure I smell good and clean everyday. I cleanse my face with facial wash and make sure to put moisturizer. Fix my hair to always look presentable.
What's the best grooming advice you've ever received from your mother?
Take a bath every day, so that you always smell good.
When did you feel your most confident?
I felt most confident when I got in for Universal Studios Singapore—not just because of my talent but my personality. [Laughs]
Which product is your latest discovery?
Kiehl's Daily Reviving Concentrate and Midnight Recovery concentrate, and the Gold Snail Wrinkle Plumper for my eyes.
If you had a signature grooming trick, what would it be?
Sea salt spray for my curly hair
What's your guilty pleasure?
Long cold showers
Name one grooming faux pas that men should stop immediately.
Do not exfoliate every day.
Who do you ask grooming advice from?
Ms. Celeste Tuviera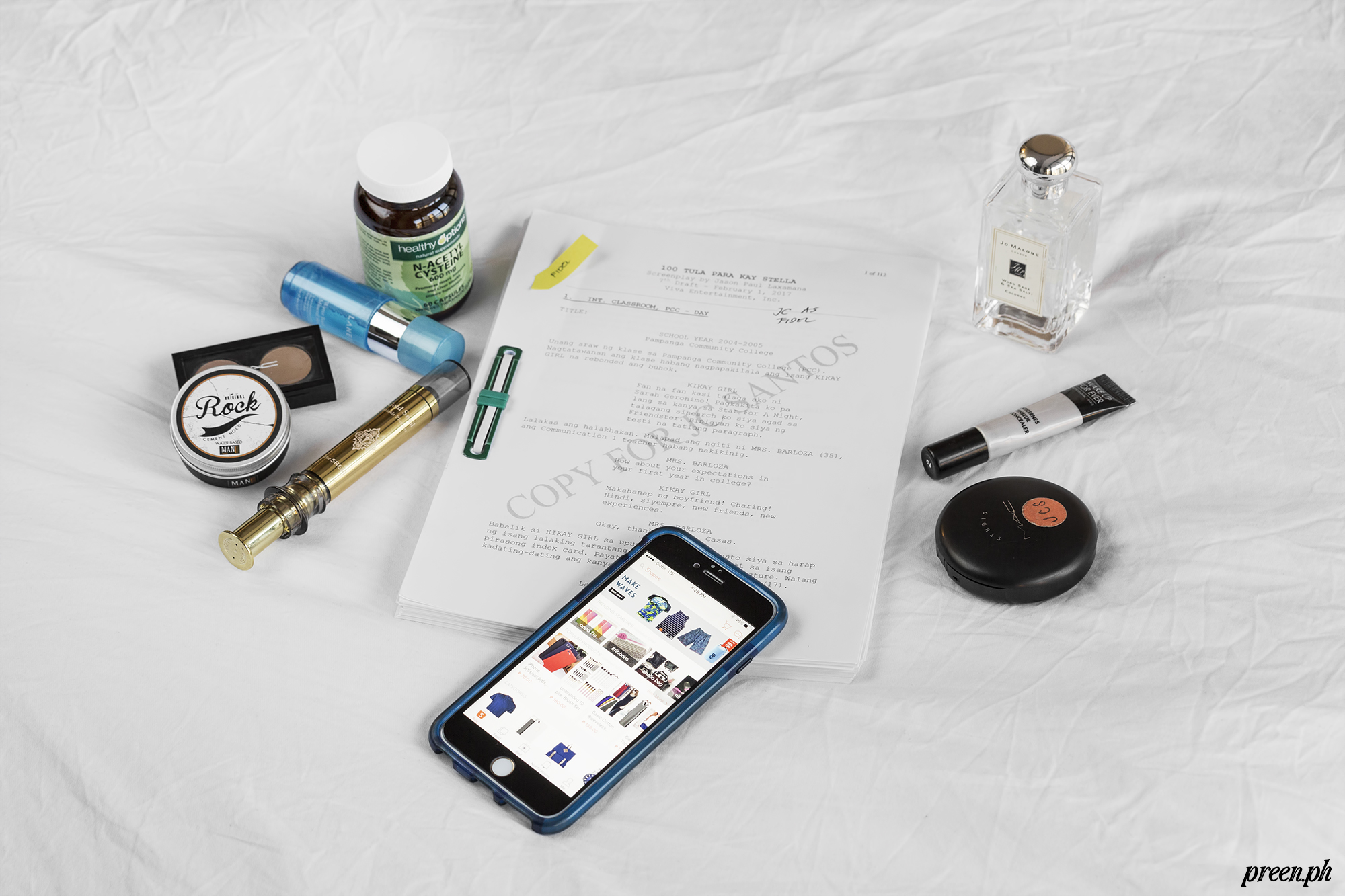 What was your first skincare or hair care purchase ever?
My first skincare purchase was when I lived in Hong Kong for two years and had to adjust because of the weather change. I remember using a lot of SKINFOOD toner and moisturizer.
You woke up late in the morning, how do tweak your skincare routine?
I don't. [Laughs] I have a fairly simple routine.
How long does it take for you to fix your hair?
Five minutes, flat.
Facial cleanser you recommend?
I recommend Cetaphil Gentle Cleanser.
What skincare items would you often use when pampering yourself?
SK II facial mask.
Favorite shops—online or offline.
Shopee and Amazon because I don't usually have time visit stores to check the latest fashion trends or new gadgets. My work schedule doesn't give me a lot of free time to go to the mall. With online shops like Shopee, I can just use my phone to browse and shop anytime, anywhere. It's super convenient!
Favorite vacation spot.
La Union.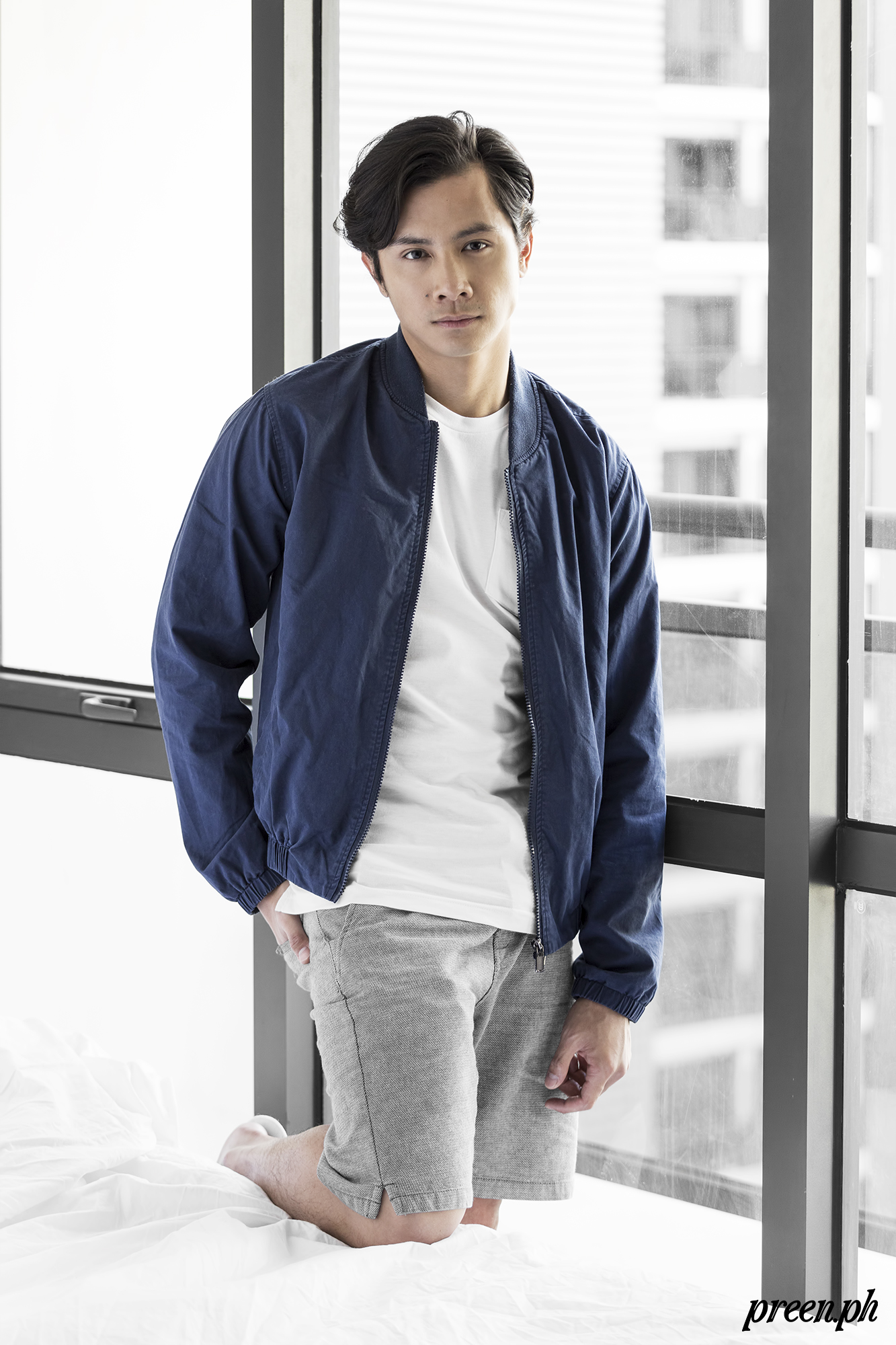 Favorite dish and restaurant.
Dimsum in Crystal Jade High Street. Mmm.
Favorite person on Instagram.
Jared Leto
Favorite person, period.
Teetin Villanueva
Threading or shaving?
Shaving.
Do you have your nails professionally cleaned?
What? No.
Top five hair products?
It would be Finesse mousse, Gatsby hairspray, Gatsby hair gel, sea salt spray, and Man pomade. In any order.
Photos by RG Medestomas
Video by Two Fold Media
Produced by Jacque De Borja
Assisted by Olivia Estrada and Yayie Motos
Grooming by Vinnie Valenzuela
 Follow Preen on Facebook, Instagram, Twitter, Snapchat, and Viber