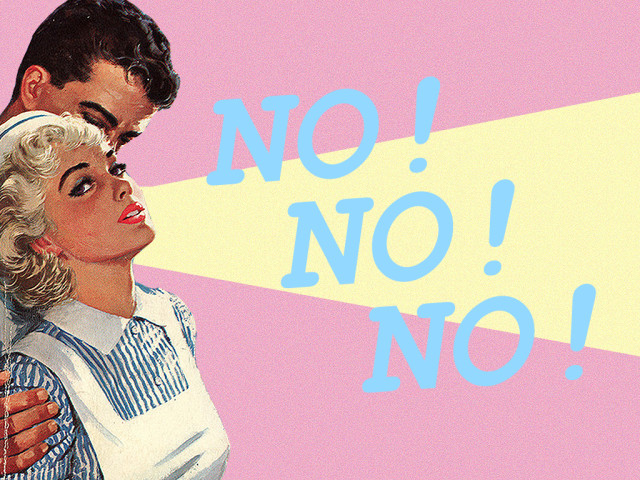 It Can Happen to Everyone
Over the weekend there was a post that quickly spread throughout my feed—a post that shared an incident of lewdness involving a photographer and his female assistant.
On Thursday night, the assistant helped out a photographer during an event and on their way home, he made sexual advances by touching her thigh, flicking her top, and eventually grazing her left boob twice. And as if that was not enough, as he dropped her off and as she bid him good-bye, he bit her neck. She firmly said "no," but he seemed to think it was a joke. But guess what? No one is laughing with him. Not me, not the assistant, not any other woman.
We found out that this was not the first time it happened. The said photographer allegedly slapped and groped the assistant's butt while working on a previous project. She didn't make a sound because she was frightened by the implications. How would people react? What would happen to her career?
If you were in her position, what would you do?
The story went viral when she posted about her experience on Facebook as a warning to future assistants and possibly collaborators. "You have every right to speak out," she says. "If someone did something to you and you know deep inside that you're not okay with it, speak out. If you feel you've been forced to do a sexual act and you already said 'no,' speak out. If you feel something is taken against your will, speak out."
"It is not your fault," she emphasizes. "Fight for yourself first and, then second for those who can't."
The assistant resolved to take action against the photographer, reaching out to family and friends, and even consulting with former mentors for legal advice.
Sexual Harassment or Acts of Lasciviousness?
"Sexual harassment only happens in a work, education or training related environment," said the lawyer we consulted. "Usually, the offender is an employer, employee, manager, supervisor, agent of the employer, teacher, instructor, professor, coach, trainer, or any other person who, having authority, influence or moral ascendancy over another in a work or training or education environment. In this case, the photographer does not qualify under any of the above classifications."
The offense may be Acts of Lasciviousness and not sexual harassment.
In concept, an Act of Lasciviousness is described as "the act of making a physical contact with the body of another person for the purpose of obtaining sexual gratification other than, or without intention of, sexual intercourse."
Given the circumstance of them being both freelancers, the assistant can file a civil suit for damages or criminal action for Acts of Lasciviousness.
As of press time, the assistant is well on her way to file a complaint. We reached out to both parties, but their respective lawyers and family members have declined to give further statements.
If there's one thing I want, it's for the perpetrator to get his fair share of justice.
For more information and assistance, you can also get in touch via the VAW hotlines:
1. Department of Social Welfare and Development (DSWD), (02) 931-8101 to 07.
2. Philippine National Police (PNP), (02) 723-0401 to 20.
3. DSWD-NCR Ugnayan Pag-Asa Crisis Prevention Center, (02) 734-8639, (02) 734-8654, (02) 734-8626 TO 27.
4. PNP-Women and Children Protection Center, (02) 410-3213.
5. NBI-Violence Against Women and Children Desk (VAWCD), (02) 523-8231 to 38, (02) 525-6028.
 Art by Grace De Luna
Follow Preen on Facebook, Instagram, Twitter, Snapchat, and Viber