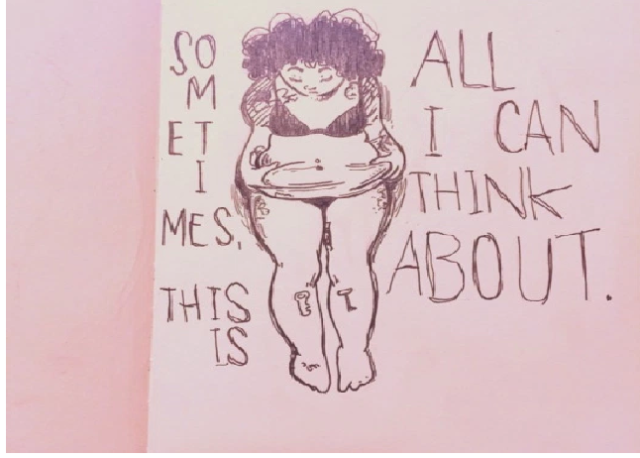 As we close out another work week, another essay has gone viral on social media and it's causing a positive stir. Erica Dawn posted a blog entry entitled "Let's Talk About Body Shaming in the Philippines." And it's got women nodding in agreement at this micro transgression that's sadly been so deeply ingrained in Philippine culture.
If you haven't read the piece, here's a little summary: Erica shares the all too familiar story of having your relatives comment on your weight every time they see you. "Ang taba mo na!" may be a well-meaning comment but it never really leaves a good taste in the mouth of the receiver. Erica writes about how these comments hurt her and her sister, how older relatives say one shouldn't be so "sensitive" and that they should just accept it because it's part of our culture. Luckily, she still got through to her family and was able to create a fruitful conversation, one we should also have in our own homes: "One conversation was all it took to make a change within my family, so maybe all we need is for more people to speak up and call this behavior what it is: body shaming. The sooner we all realize that this language is toxic, the better."
So far, Erica just expressed what every other woman has had to live with for the longest time. Most comments on the blog page support Erica's stand. There are even some thanking her for writing about her experience.


On social media, the entry has received a lot of love. Most notable of which was from Lea Salonga.
Thank you for writing this! https://t.co/ArpxME9Abu And oh, I have the perfect response to anyone that calls me fat. Pero huwag na.

— Lea Salonga (@MsLeaSalonga) May 18, 2017
Gasp! It's amazing how even a woman who is often idolized is also not spared from this treatment. We really wish she divulges what she retorts when people call her fat.
Others have commented how body shaming is reflective of a sick structure that has prospered for a long time. See, having a certain kind of body is neither good nor bad.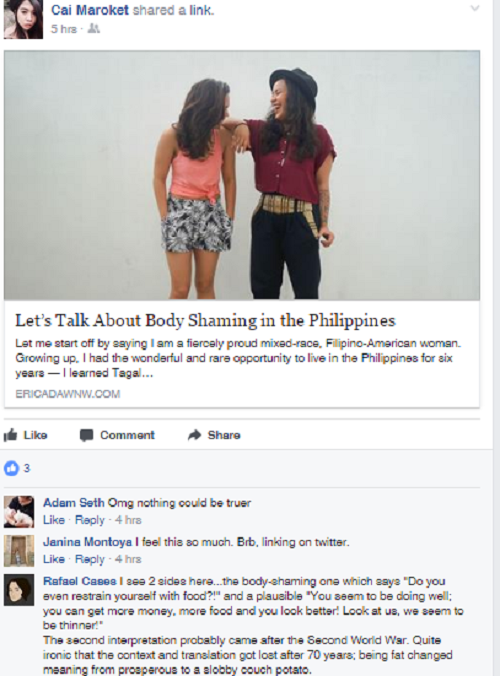 Women are also pointing out that being called "too thin" is just as bad. We need to call out how there's this need for other people to dictate what to do with our bodies.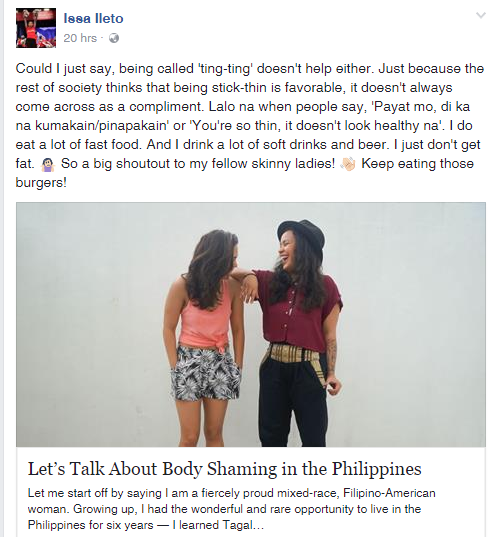 Some women are also sharing their own stories and how this type of language has haunted them early on.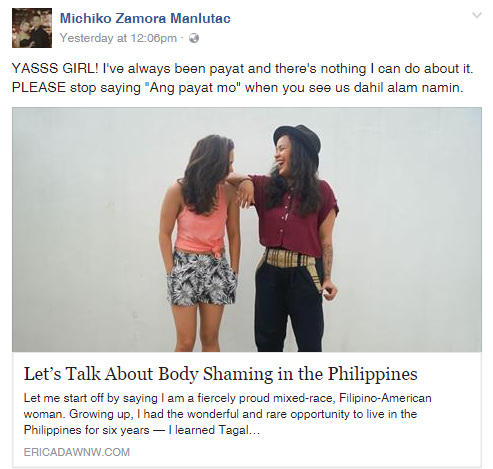 As more and more women unite to share their own stories of body shaming, we've seen how it's a phenomenon that has gone on too long. What's worst is it's something we've been subjected to since we were young and impressionable—giving us the idea that it's the norm and it's acceptable. This also invalidates our feelings. But with this, we know we can change the status quo. Ladies, keep speaking out against body shaming!
Catch the second leg of #PreenSessions happening on May 21, Sunday, 2 p.m. at the SM Makati Ground Level Concourse.
We'll be talking about the highs and lows of loving your body with amazing women like Iza Calzado, Iya Villania, Riki Flores, Lexi Gancayco, Coco Quizon, and PLUMP's Danah and Stacy Gutierrez.
Illustration by Niki Waters, courtesy of Erica Dawn's website
Follow Preen on Facebook, Instagram, Twitter, Snapchat, and Viber