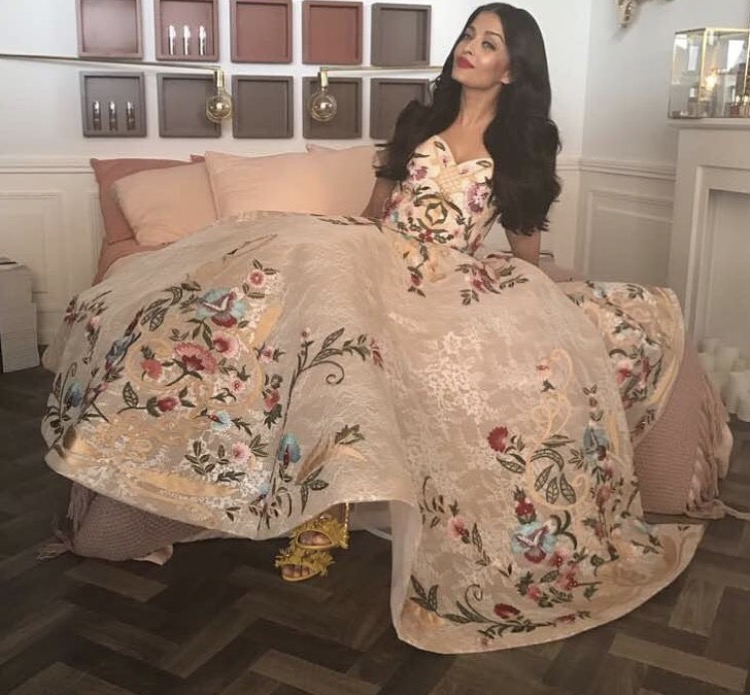 Bollywood actress Aishwarya Rai Bachchan stuns at the Cannes Film Festival 2017 in dresses by Filipino designers Mark Bumgarner and Michael Cinco.
https://www.instagram.com/p/BURgX7kjkr2/?taken-by=vogueindia
Aishwarya twirled in her Mark Burmgarner creation "for the second round of media interactions" at Cannes. Preen.ph got to talk to Mark a little bit more about the dress and he tells us that it's custom-made for Aishwarya as requested by her stylist. "I believe Anisha, her stylist, found my Instagram account and showed her dresses from my collection," says Mark. "Luckily, we just finished with our lookbook and Aishwarya liked a few dresses. We told Anisha which looks they wanted and started working on them right away. We had a very short time to work on the dresses."
Sitting pretty and living the #LifeAtCannes 💕 #CannesQueen #AishwaryaAtCannes #CannesFilmFestival pic.twitter.com/oTeNrIklQV

— L'Oréal Paris India (@LOrealParisIn) May 19, 2017
The particular dress that's caught the attention of Vogue India is made from laminated French lace with floral embroidery and is encrusted with Swarovski crystals.
Mark feels very happy over the reception of his gown. "It feels amazing. I wasn't expecting my gown to be chosen knowing all the other international designers she can choose from," says Mark, showing off how he stays humble even though he's accustomed to dressing celebrities. "I know from the start they usually have big name designers as options. To be worn by the Queen of Cannes is a milestone for me as a designer. I'm happy as well because the Indian press knows I'm from the Philippines. It's a proud moment."
Aishwarya seems to be having quite a love affair with Filipino designers. After wearing a Mark Bumgarner creation, Aishwarya chose a Michael Cinco dress for her red carpet appearance. The blue creation is even touted as something that would make "any Disney Princess jealous."
Marie Claire also gave the dress high marks.
https://www.instagram.com/p/BUSQvaqA2Eh/?taken-by=marieclairemag
On Instagram, Michael reveals that the dress is from his Impalpable Dream of Versailles collection. Quite fitting for Bollywood royalty!
Aishwarya has been attending for 16 years. This year, she is one of L'Oreal's ambassadors to the event and she will also be presenting her 2002 film Devdas, as part of the sideline event for the 70th year of Cannes Film Festival.
Follow Preen on Facebook, Instagram, Twitter, Snapchat, and Viber