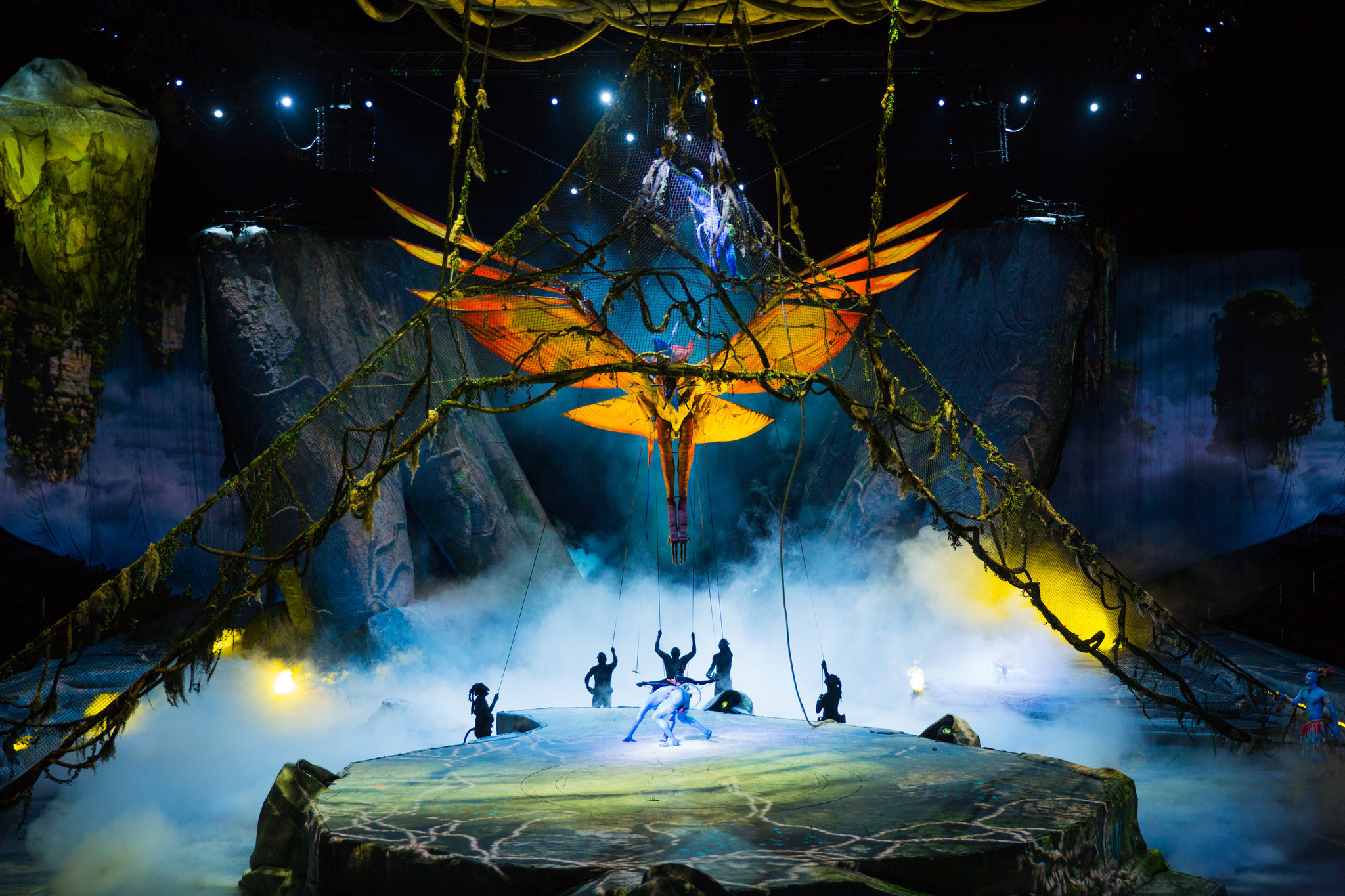 As a kid, I remember seeing glimpses of Cirque du Soleil shows on television. At that time, the command over technology on stage wasn't impressive as it is now. But that didn't matter to Cirque, the world famous troupe which showcases amazing shows which combine acrobatics, light, and sound to make you believe that anything is possible with the power of the human spirit.
I'm getting a little cheesy but that's when you know it's too good. I then got nervous when I was assigned to interview a few members of Cirque du Soleil. They stopped by Manila as part of their press rounds to promote their upcoming show Toruk The First Flight. On a rainy Friday afternoon, Preen.ph shared some coffee and tempura (a weird combination, I know) with head coach Michael Ocampo, puppeteer Rob Laqui, acrobat Daniel Crispin, and Cirque publicist Janie Mallet to talk about life backstage and anecdotes that are unique to members of one of the world's most famous entertainment company.
What are pre-show rituals the cast always does?
Michael Ocampo: Not [a ritual] for me personally, but I give a group class of pilates almost every single day basically. Sometimes the class will have one person, two persons, three, but sometimes there will be 12. It's there for them if they feel like coming to the class that day. That's part of my ritual before. If it's a single show day,  I'll be there for the trainings. I generally have some sort of administration documentation I do after the training. Any ritual I would have wasn't necessarily for me but for the artists in assisting them.
Rob Laqui: We all come from different backgrounds, artistically. We have people that came from athletics or people who went to the circus specifically, thespians, and musicians. So it's a really broad range of what people have to do to get ready for the show. Also, as you can see, with Mr. Daniel Crispin here, there's a very extensive makeup process that we have to do.
I always like to find in every arena sort of what I call the "secret bathroom." [Laughs] A lot of times all the artists will be in one locker room all the time so it gets kind of busy with 20 of us using the same facilities. But it's an arena so there's always what I call the secret bathroom. You just keep walking, going up a level or something [to find it.]
How long do you do the makeup?
Daniel Crispin: It takes about an hour to an hour and a half, which is a good ritual in itself because you can either sit there and put headphones on and not be there with any of the other cast and get your mind in the game or it takes two and half hours [because] you're having too much fun. Because you get so used to doing it, it's just fun and you don't really have to think about it step by step. You just have fun with it. So that's probably the most common ritual ever.
Does the Cirque feel the burden of art and humanities to keep people grounded in universal good?
MO: I don't know if they feel the burden of that but allowing people to step into the space, and to be able to forget their worries and the rest of the world for two hours is something that I would say Cirque strives for and does pretty well. I think they're proud of it. They want to entertain and they want people to be able to come in and immerse themselves in the show and to be able to forget those. It sounds silly but forget their worries.
RL: I've been saying this a couple of times where I think the duty of an artist is to incite some kind of change within people. That change can be across many levels. With our show particularly, which is a strong narrative show, there's an example of what I call positive globalization. [As] storytellers [it's about] really showing the possibility of what we can do or what we're capable of collectively as a group and individually and how we can affect positive changes in the world. I think that's actually reflected in the story we have in our show and also by example of what we are. We as a company, Cirque de Soleil, is a global community it's made up of so many nationalities, countries, and ages [so how] we can come together as this group and make something that is stunning and beautiful and technical and life changing is an example of what is possible of humanity at large.
That's coupled with what we do and being able to say, "You know what also you can just watch for two hours this transcends the current conflicts of wherever we are and be a part of the story that we're telling and hopefully remember some of those things to be able to affect change in your own personal life."
Has social media wiped out the power of live performance or has it strengthened it?
MO: Back in 1994 was when we started our show that sort of thing didn't happen. But now I always tell the artists how lucky they are that they get these amazing pictures from Instagram that some audience member posted. [What I had] were really grainy pictures where you can't really see me and these videos that were terrible. Social media is a wonderful tool to get our shows out there and to entice people to come and see them. Because they might see a little video and go, "Oh that is something interesting." Aside from the publicity that we put out.
RL: With what we do, It's like watching something from a child's perspective. To have that kind of wonderment is so rare in a cynical world that social media can create. In fact, I think social media highlights how impressive this is live and what you are seeing. Every day is what you create. This is something that someone creates for you. And it's live. You're seeing feats and acts of wonder in front of your eyes and it's not CGI, it's not fake―it's viscerally in front of you.
MO: And that's the key word. The experience is live. You can [say that as well to] the people who say that cinema is going to die because you can watch something on your tablet. But it hasn't died, there's still that experience of going to the movie theater being immersed in that sense. It's not necessarily live like theater production, but is theater Going to die? I don't think so because that has its own special intimate feeling that no matter how amazing technology has become, that live experience will always be there.
RL: I think there's something cool about Cirque that's continually redefining what circus is. I think that it's been doing that since the beginning. I think the show particularly is another example of redefining what circus is. [We have] also embraced the idea of technology. We have more projectors that are state of the art and they're incredible and they enhance the story, they enhance the acrobatics and the artistic expression. They also embrace utilizing interaction through having an app that's interactive with the show. And so, as opposed to saying, "No we're going to try to block interacting with what we do," let's embrace it and see what this technology can actually do to add to what we do.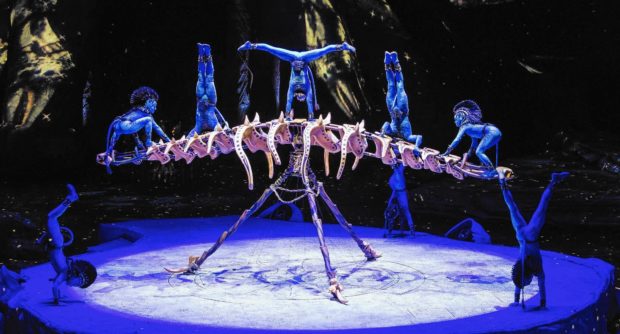 One thing audience members do that gets under your skin?
MO: Nothing! They're all amusing especially when they buy tickets. [Laughs]
RL: For us puppeteers, we all wear reflection shadow versions of the blue people so we're all in black velour [and] we're basically invisible. The nature of our costume makes it next to impossible to take a picture of it. Something that always happens, especially if you're next to a person, [they want to take a photo.] And I'm like in my brain I just wanna say, "It's not going to work. Don't watch me, there's a lot happening over there." Out of the corner of my eye I always see [someone take photos] and it takes about three or four times before they finally [give up] and [watch the show.] Usually in the show, having your phone out and interacting in that way is frowned upon, and I think this one is an interesting one. If you want to watch the show through your phone, that's your choice. Maybe not the best choice cause hey look, it's so much better to see it. It's huge in scale [and] you'll get a better sense of it. Another pet peeve of mine is when they are late.
MO: That was mine. I was going to say it. It's not necessarily just our show. This is for me personally, even when I'm in a movie or a theater or a show, when people are late I find it disrespectful to the people who arrived on time.
DC: I think the only time I've ever been really annoyed in the show by audiences was when the characters were going around at the edge of the stage and someone was eating strawberries and throwing the leaves onto the stage. I looked at the guy [doing it] and he just made eye contact. I couldn't believe it.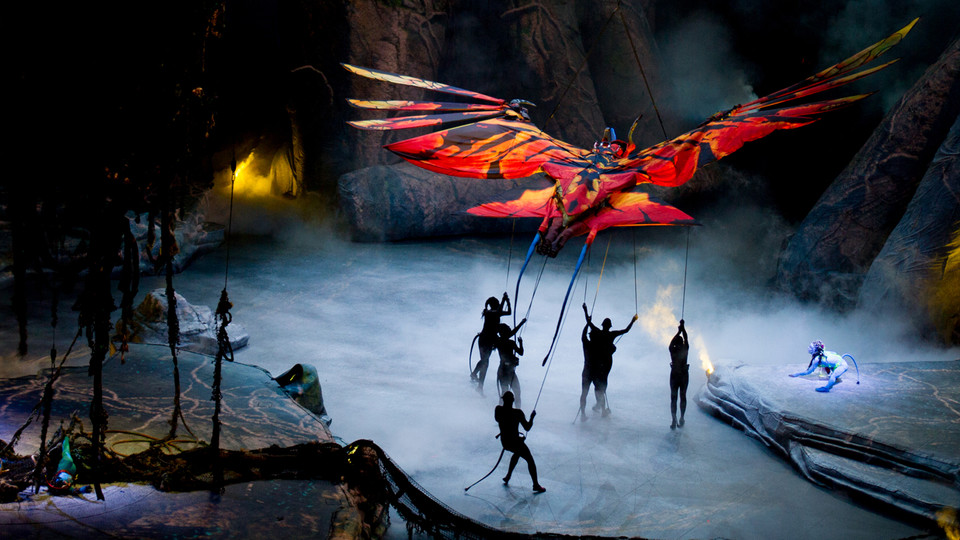 How long does it take to put together an entire production?
MO: It takes years. Let's say normally you have two to three years for pre-production and brainstorming with the conceptors. They were talking about it for years [before] putting the show together, even before they started to hire acrobats and cast. There's all of that pre-production that can involve meeting after meeting after meeting and brainstorming [until they end up] creating a story. And then they cast from there.
It involved a certain amount of time in the studio in Montreal. Then a couple of months in an arena in Louisiana because we needed that arena to set up the stage and the training there. And then we had pre-shows. That's actually a short creation period because we didn't have to do so much researching about the world [of Toruk].
What draws Cirque back to the Philippines?
Janie Mallet: It's been five years so it was about time that we came back. There's already a connection here with fans of Avatar and Cirque du Soleil. So it's a great fit to have this show here at this time.
Does the pressure of being a world famous group add to the excitement of making another show?
RL: Thinking in that sort of scale puts a weird pressure on yourself. For me, that kind of approach is more individual. It's not necessarily how can the show that I'm in top the last [one.] It's more of how can I grow as an artist and improve as an artist and increase my skill set and increase my expressive nature to be able to be better. I think that attitude is very prevalent in the company. That's why shows become more and more innovative. As technology becomes more available and better, that attitude growing individually sort of increases ten-fold with a company.
DC: I have to agree that it's about the personal challenge of self-improvement when you have the privilege of performing with a company like this. It's great to encourage and continue to grow. There's the personal pressure you put on yourself. You could be complacent if you wanted to but I don't think anyone gets to that level when they're traveling constantly around the year.
What's the diet like for the performers?
RL: We have caterers that Cirque employs. These caterers are given nutritional guidelines to be able to offer everyone. It's like a buffet.
MO: Your diet course is very individual. It depends on what you do. Some people really need to be conscious of what they're eating and some people just eat whatever they want. It's so individual.
What makes watching a Cirque show unmatched by others?
MO: Cirque is always striving to innovate and do something different. Toruk is a really excellent example of that in taking an idea of performance art and circus arts and doing something different with it. I'd like to explain it as something in between circus and theater. We're not necessarily theater and we're not necessarily a traditional circus. It's always blended that idea of a more artistic aspect to circus arts. But this is really bringing it to a new level. Cirque du Soleil is always trying to innovate and do something different and see where they can go. Each show that they bring out is different.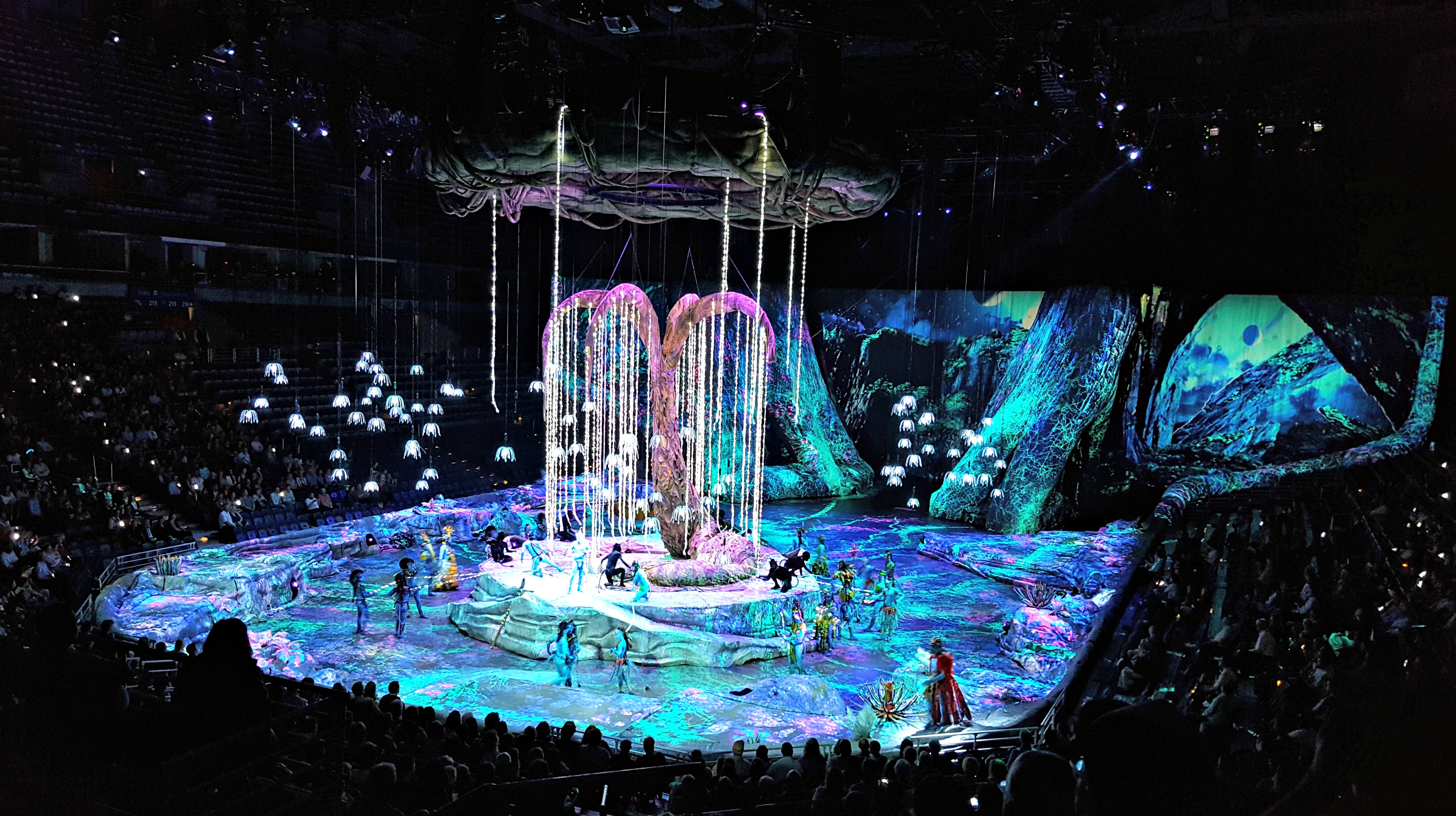 Who came up with the idea to explore Avatar's story via Toruk?
RL: James Cameron has always been a huge fan of Cirque ever since he saw them. His vision of Avatar and that concept just matched very well with the  the aesthetic of Cirque and the excellence in terms of acrobatics and performance that is a very good match in that regard. James Cameron and his team at Lightstorm were thinking of doing the sequels but also thought it was a good opportunity to be able to explore and expand the canon with Cirque. This takes place 3000 years before Avatar. When they pitched this idea as a prequel to the arc of the movie, that sort of what sparked James Cameron's imagination to say, "Yes, let's go down this road."
What makes Toruk different from the other Cirque shows?
DC: It follows a specific narrative. We have a storyteller that says what's happening. That and it's an interactive production with live projectors that changes the set. It's not just lighting but it's like the world changes in front of your eyes and the set will evolve and change right in front of you. It's spectacular because you really do enter a world that changes. There's the interactive app that you can download on your phone so the audience becomes a part of the show as well. They vibrate and say hold your phone up so glowing eyes will come up from the phone. That's a very risky thing to do because they have a reason to hold their phone but they become a part of the show.
Toruk The First Flight will run from June 23 to July 2 at the SM Mall of Asia Arena. Tickets are available online.
Follow Preen on Facebook, Instagram, Twitter, Snapchat, and Viber