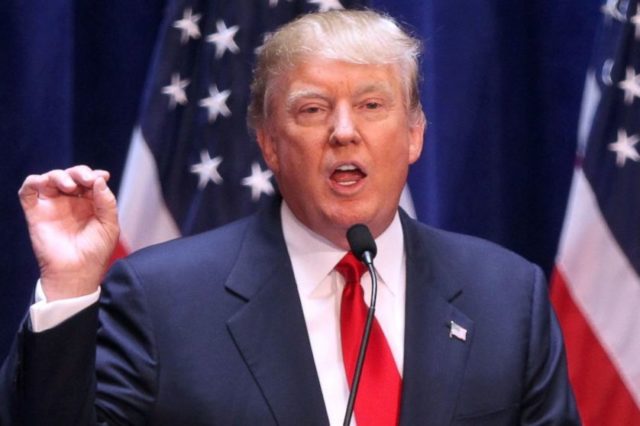 God bless, Donald Trump. And I really mean it this time, as he sent social media on a frenzy to gold mine the possible meaning of "covfefe."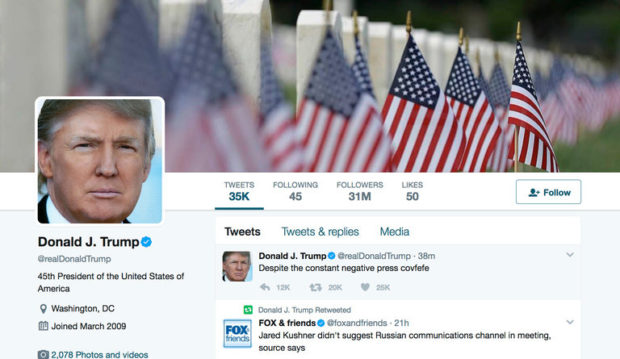 After the gaffe, the US President tried to save face after the typo. His dare for us to figure out what it means has been taken seriously.
Who can figure out the true meaning of "covfefe" ??? Enjoy!

— Donald J. Trump (@realDonaldTrump) May 31, 2017
You know it's significant when even The New York Times puts out a timeline from the time of the gaffe until it was taken down. Forty minutes, they counted, by that time, memes were born and a pop culture reference that would haunt the President…until he does something equally, uhm, unpresidential.
Of all the things he said which are often outrageous, (See: ISIS, Obama, Obamacare, Russia, Meryl Streep, Alec Baldwin, and golf)  "covfefe" is the one which has the world trumped. (Yes, I finally got to use that one!)
Merriam-Webster, long-time arbiter of words and new professional troll also couldn't handle it.
Wakes up.
Checks Twitter.
.
.
.
Uh…
.
.
.
? Lookups fo…
.
.
.
Regrets checking Twitter.
Goes back to bed.

— Merriam-Webster (@MerriamWebster) May 31, 2017
For a few people, it's a place. A place that only Donald Trump can locate. Remember, he's a real estate tycoon. And we actually still don't know where he really comes from or where he stands when it comes to policy-making.
People in covfefe houses shouldn't throw covfefe. https://t.co/M7oK5Z6qwF

— Hillary Clinton (@HillaryClinton) June 1, 2017
Getting ready to hit the old #Covfefe

— ashton kutcher (@aplusk) June 1, 2017
Conde Nast Traveler managed to map out the fictional place. To be fair, the reviews seem great.
10 reasons you need to travel to #Covfefe right now: https://t.co/YIWO8AEgFY pic.twitter.com/vPWzBC4mPi

— Condé Nast Traveler (@CNTraveler) May 31, 2017
Some have concluded that it is a state of mind. It is who Trump is in essence. It is both fleeting and present. It's a zenith of understanding only one like Trump can achieve.
Y'all I don't have what it takes to even laugh at Covfefe

— Lena Dunham (@lenadunham) May 31, 2017
My favorite scene in Friends. #covfefe pic.twitter.com/juIuWJYjQz

— Foxon Silverfur (@FoxonSilverfur) June 1, 2017
#Covfefe: A French term for a candidate that wins the Electoral College but loses the popular vote, as in "Macron is certainly no covfefe."

— Tea Pain (@TeaPainUSA) June 1, 2017
Hillary Clinton jokes that Donald Trump's #covfefe tweet was a "hidden message to the Russians" https://t.co/31bSLlpw1W pic.twitter.com/Bz8ZpFBsdd

— CNN (@CNN) June 1, 2017
Confirmation
Of
Vladimir's
Foreign
Espionage
F*****g
Everywhere#covfefe

— czarnyz (@czarnyz) June 1, 2017
https://www.instagram.com/p/BUyBIXRgLzc/?taken-by=straycat_1974
Others are giving The Donald the easy way out, saying that covfefe could mean coffee or conference.
Join the dark side, we have covfefe…

— President Palpatine (@PalpatinePOTUS) June 1, 2017
Trump was chocked full of Diet Coke,ambien and Big Macs when at mid-night he was finally able to put his phone down on the covfefe table.

— Muckmaker™ (@RealMuckmaker) June 1, 2017
For Pharrell Williams, it might betray Donald's preference for dinner.
https://twitter.com/Pharrell/status/870108109410140160
Covfefe is so versatile, it can be noun or an adjective. Nevertheless, it doesn't seem to mean anything good.
https://twitter.com/rejectedjokes/status/870076999225581568
#Covfefe Finally a curse word that offends everyone! #everybodycurses

— Carrie Keagan (@CarrieKeagan) June 1, 2017
the year is 2036. twilight seeps into the kitchen. the aroma of a fresh roast wafts through the house. "covfefe," i call, "dinner's ready"

— hari nef (@harinef) May 31, 2017
THE THEME FOR THIS YEARS MET GALA IS COVFEFE

— John Early (@bejohnce) May 31, 2017
I've heard dark, whispered rumors that Cthulhu the Great Old One has an even more terrifying brother, Covfefe.

— George Takei (@GeorgeTakei) June 1, 2017
But one thing is for sure, the word (Is it safe to call it that now?) has made Jimmy Kimmel re-think their ability to crack jokes or make things up.
what makes me saddest is that I know I'll never write anything funnier than #covfefe

— Jimmy Kimmel (@jimmykimmel) May 31, 2017
But before one uses such a term, how does one really pronounce it?
How is Covfefe pronounced though? 🙂 pic.twitter.com/WGUKDNDdCn

— Marina (@MarinaDiamandis) May 31, 2017
Covfefe is whatever you want it to be. That's why it is a blessing. In less than a day, it has certainly done more to unite people than the person from which the word came from.
Photo courtesy of ABC News
Follow Preen on Facebook, Instagram, Twitter, Snapchat, and Viber