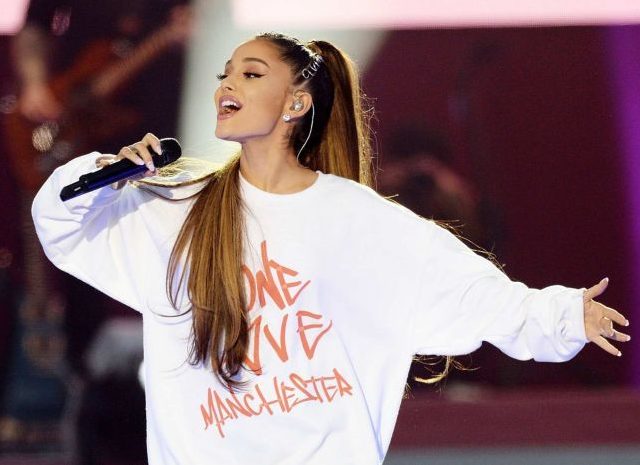 Last night (Philippine time), 50,000 fans showed up at the Old Trafford Cricket Ground for the One Love Manchester show, a benefit concert for the victims of the Manchester bombing and their families. This included performances from Ariana Grande, Justin Bieber, Miley Cyrus, and more, and was attended by 50,000 fans.
Whether they were watching live or just tuned in to the livestream, fans put #OneLoveManchester on the top trending spot with tweets of their favorite moments. One look at the thread and you'll see a lot of Ariana videos. The most popular ones were her emotional performance of "One Last Time" and singing "The Way" with boyfriend Mac Miller.
https://twitter.com/ArianaDailyWW/status/871525438253711360
https://twitter.com/FRAUDYONCE/status/871452595180535808
There are also clips of Ariana collaborating with Miley for a rendition of "Don't Dream It's Over" and with Coldplay's Chris Martin for "Don't Look Back in Anger."
https://twitter.com/ArianaDailyWW/status/871509088651296768
https://twitter.com/bestcoverss/status/871504146985357312
Coldplay also brought everyone in tears with "Fix You."
https://twitter.com/wonderlandfthes/status/871509628361822208
Justin shared a heartwarming message, showing love to the people who've lost someone during the bombing.
https://twitter.com/bizzlesreign/status/871509001204146177
Probably one of the most talked-about moments were the security guards dancing along with the fans.
These security guards at #OneLoveManchester are everything. So loving and special ♡ pic.twitter.com/1MWv3kDr9G

— Ivan Toledo (@ivanfromtexas) June 4, 2017
People are so touched by this policeman who danced with kids during the #OneLoveManchester concert https://t.co/nbDdlo5vdf pic.twitter.com/RYp1kCv0DK

— BuzzFeed (@BuzzFeed) June 4, 2017
Shout out to the Security guard in Block C at #OneLoveManchester stole the show, did not stop dancing all night ❤️ pic.twitter.com/d7vylNyMOt

— Luke McGarry (@LucasMcGarry) June 5, 2017
Meanwhile, many emphasized that the concert is proof that love will trump fear and hate.
Hate didn't win! LOVE ALWAYS WINS ❤️we love you #OneLoveManchester pic.twitter.com/8hWFQRZOvW

— andre (@gladlyarianas) June 4, 2017
God bless you @ArianaGrande . And every single person involved. Such a beautiful, POWERFUL night. My love is with you!!! #OneLoveManchester

— Ally Brooke (@AllyBrooke) June 4, 2017
55,000 united. The sound of our unity will ALWAYS be louder than the voices of those who would divide us #OneLoveManchester pic.twitter.com/qEJEiT1ZNu

— Team Ariana (@TeamAriana) June 4, 2017
Overall, the concert was a huge success. According to The Telegraph, early estimates showed that One Love Manchester raised over £2 million.
Congratulations to everyone involved in the concert—from the performers to the audience.
Photo courtesy of ABC
Follow Preen on Facebook, Instagram, Twitter, Snapchat, and Viber