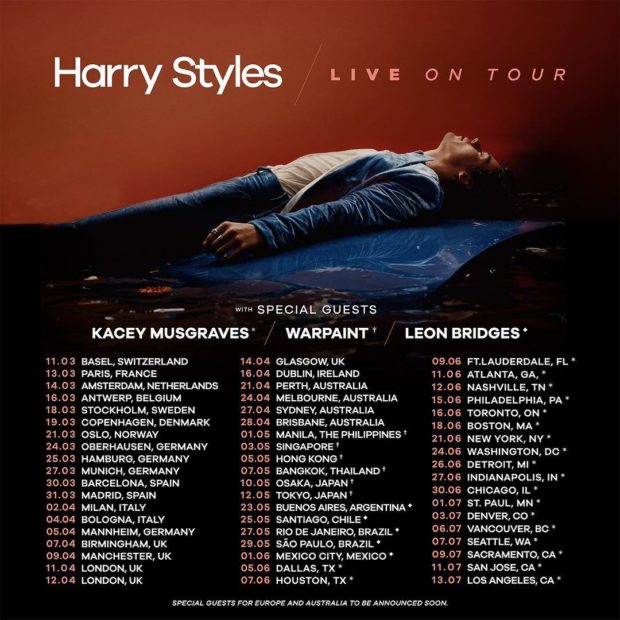 Around 12 hours ago, Harry Styles tweeted the poster of his world tour and part of that list was Manila. The concert will be held at the SM Mall of Asia Arena on May 1, 2018.
/ / MORE TOUR / / https://t.co/H3YK0AB1qo pic.twitter.com/V46Q49vjJ3

— Harry Styles. (@Harry_Styles) June 8, 2017
Since the announcement of the concert, #HarryStylesMNL has reach the number one trending spot on Twitter in the Philippines. Netizens had a lot to say when they heard about the concert, the ticket prices, and the selling dates.
#HarryStylesMNL TICKET PRICES: pic.twitter.com/d9fz5jSpzF

— MMI LIVE (@mmilive) June 8, 2017
Some even swear that they'll die if they don't get to see him live on tour.
OMFG IF I DON'T GET TICKETS THIS TIME I SWEAR I'M GONNA DIE!!! #HarryStylesMNL #HarryStylesLiveonTour pic.twitter.com/4tR6hVnTqh

— ||Mira|| (@Miralindz) June 8, 2017
Fans are also thinking of ways to save up for their tickets.
*ticket selling 11 days after announcement*

me trying to figure out how am I going to save money #HarryStylesMNL #NOCHILLPHILIPPINES pic.twitter.com/1TNjpj4iJ5

— kate (@iceblastniall) June 8, 2017
The biggest reaction so far? How the tickets are going on sale on June 19, just 11 days after the announcement and Harry Styles fans are freaking out.
"Selling of tickets is June 19th!"
"sElLing oF tIcKeTs iS jUnE 19tH!"#HarryStylesMNL pic.twitter.com/MZkf19KS97

— sophia ? (@pinkprinceharry) June 8, 2017
"Tickets go on sale on June 19"

Me: #HarryStylesMNL pic.twitter.com/uN6Z26rO7a

— monique luvs tae! ? (@riseofkth) June 8, 2017
Before and after knowing the ticket selling #HarryStylesMNL pic.twitter.com/3PF5KyZi6P

— jamiE is voting (@___oceanarry) June 8, 2017
Do you think the ticket selling date should be moved? Are you excited to see Harry Styles live in concert? Whatever emotions you're feeling right now, we're wishing you luck in getting those tickets.
I NEED YOU #HarryStylesMNL pic.twitter.com/UtYpSanHwe

— — (@whatislane) June 8, 2017
Photo courtesy of Harry Styles' Instagram account
Follow Preen on Facebook, Twitter, Instagram, Snapchat, and Viber
Related Stories:
See All The Reactions to Chris Martin's Arrival in Manila
Isabelle Daza and Her Instagram Stories: Should She Stop?