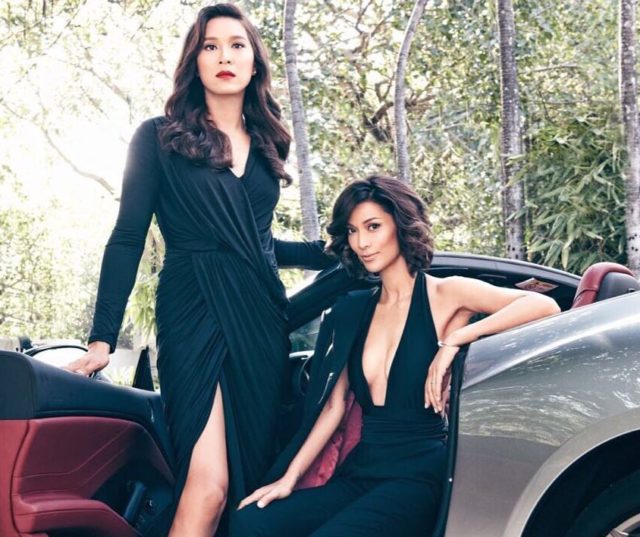 The term #couplegoals has been overused by now whenever you see a happy couple. But you just can't help but think that while looking at Joey Mead and Angelina King's relationship.
We all know Joey as a model and host for Asia's Next Top Model and HBO in the past. Her marriage came into the spotlight last year when her spouse, businessman and Car Porn Racing owner Ian King came out as transgender on Instagram. Since then, there was a whirlwind of support from their friends, family, and fans.
Several people loved seeing their relationship grow and how they bond over similar interests. Others—mostly bigoted haters—seemed confused by it, but that didn't faze either Joey or Angie much. This is also what they wanted to show in their TLC feature The Kings.
We watched the 40-minute feature and picked up a few things about Joey and Angie's relationship that we didn't know about. (If you haven't seen it yet, go watch it here and come back.)
#1 Joey proposed to Angie
Talk about breaking gender norms. Angie revealed that after lots of prodding to propose, Joey did it herself. "I remember you looking at me and pointing at me and then your [ring] finger," Angie said. Awww.
#2 Their beauty secrets divulged…kinda
"When people ask me what my beauty secrets are, I always say, 'I don't know how to answer that,'" Joey said. They even joked that the secret to having good skin and refined pores is steam from their cooking. "When people ask me next time, I'll say, 'Moisture.' And for you (Angie), it's stir-fry."
#3 What shopping is like
Throughout the feature, Angie repeatedly expresses how she's thankful that Joey's her model mentor, makeup artist, and shopping buddy. Joey noted that ever since Angie's transition, she feels like she's "taking care of a teenage daughter who doesn't have her style quite figured out yet." She also divulged that Angie used to own a lot of corsets before.
The shopping segment also showed how Angie doesn't want to enter the men's section anymore. "Now that I can shop in the women's section, I won't go in the men's again." This is also despite Joey's insistence to keep her options open because men's polo shirts can be comfortable too. But hey, at the end of the day, Angie looked happy with what Joey picked out for her.
#4 Meeting Caitlyn Jenner
Remember when Angie met Caitlyn Jenner? They talked about that over dinner with friends in the feature. "She was super nice. Surprisingly," she said.
https://www.instagram.com/p/BNDWvNKh1ov/?taken-by=hailtothe_queen_
Apparently, Caitlyn noticed Angie's purple Porsche, which is the same model as hers, and asked who owned it. From then on, they instantly clicked and talked about their love for cars. "Hollywood portrays people in different ways. Here she is, a famous Olympian, talking to me," Angie said.
#5 Joey hates the sound of drifting cars
During a local car event where Angie was racing with Car Porn, Joey was happily distracted with goats. "Anywhere that's away from cars, I'm good," she said while taking photos. It was so cute to see her trying to be friends with the goats. But who can blame an animal lover like her, right?
#6 Don't be mean in the comments
There will always be people who will comment nasty things about anything. After Angie came out, her comments section were filled with encouragements and insults. While she ignored most of them, Joey will usually answer back. "I will get back at someone but I don't make it hateful. I also try to make it fact-based," she said. She also admitted how she needed to calm down sometimes and not lash out on people.
https://www.instagram.com/p/BUPCqnXFhUh/?taken-by=hailtothe_queen_
#7 The struggles of being trans
Just like every trans person's story, there'll be bumps in the way during transition. For Angie, it's using public restrooms. We saw how they had to drive to a nearby gas station away from the racing event just so Angie can use the unisex restroom. Angie also noted how she'll often look for handicap restrooms just so she'll feel safe.
Joey also brought up an important point of not exploiting Angie's transition because "trans is in." She reminded her to only do public events and interviews when she's ready, not when she feels forced to do it. Good advice!
Photo by Mau Mauricio via Joey Mead King's Instagram account
Follow Preen on Facebook, Instagram, Twitter, Snapchat, and Viber
Related stories:
Joey Mead King's Husband Ian Is Now Angelina Mead King
Angelina Mead King Comes Out to Supportive Friends and Family
Angelina Mead and Caitlyn Jenner Meet Up For Some Coffee
Five Fashion Hacks from Joey Mead King