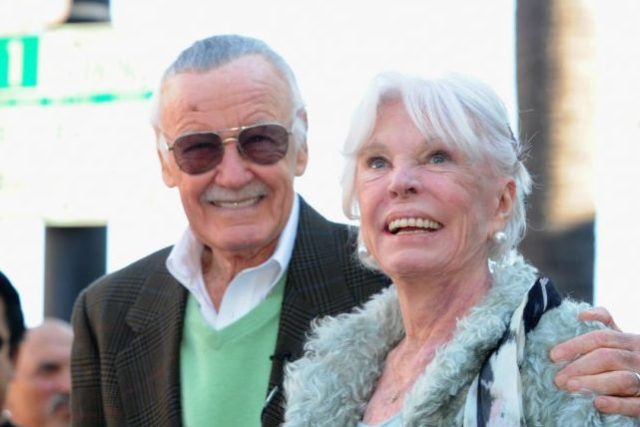 Marvel fans are mourning the death of Joan Lee, Stan Lee's wife, today. According to Variety, she was reportedly rushed to a Los Angeles hospital after suffering a stroke. She was 93.
You may not know it, but Joan contributed a lot for the creation of our favorite superhero comics, shows, and movies. In an interview with The Hollywood Reporter, Stan recounted how she was the "perfect woman" he was always drawing while he was still in the army. "When I was young, there was one girl I drew; one body and face and hair. It was my idea of what a girl should be. The perfect woman," he said. "I took one look at her—and she was the girl I had been drawing all my life."
When he co-created Fantastic Four in 1961, he thanked Joan for being his inspiration for the project. At the time, Joan helped Stan out of his depression and pushed him to continue his career in the comic industry. "Before you quit, why don't you write one comic you are proud of?" she told him.
She also did voice acting for Miss Forbes in the comic's TV adapatation, as well as Madame Web in Spider-Man in the 1990s.
And you know how Stan always cameos in every Marvel movie? If you watched X-Men: Apocalypse, you might've seen Joan there too.
In 1987, Joan also wrote a novel titled The Pleasure Palace, which is about a man who's striving to build "the most luxurious ocean liner." According to their daughter, she still had three unfinished novels.
It's really true when they say that behind every great man is a woman who's egging him on. Rest in peace, Joan. Thank you for inspiring everyone's favorite comics.
[
Variety
and 
The Hollywood Reporter
]
Photo courtesy of The Hollywood Reporter
Follow Preen on Facebook, Instagram, Twitter, Snapchat, and Viber
Related stories:
Meet the Woman Who Will Play Marvel's First Female Superhero: Brie Larson
Barbara Kruger, Laura Mulvey, Black Widow, Wonder Woman, and The Male Gaze
Hold On! The Outrage Over Gal Gadot's 'Wonder Woman' Paycheck Isn't Worth It