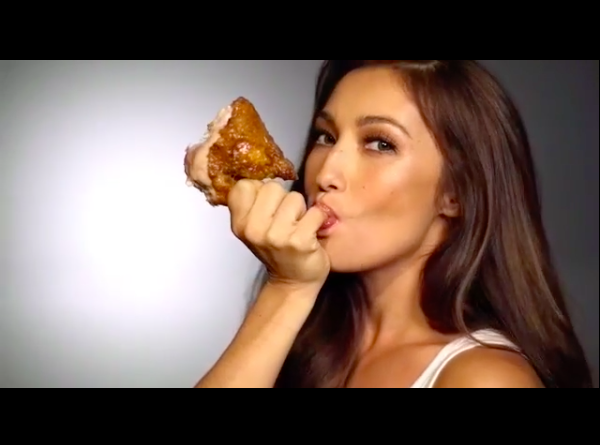 It's the classic "sell sex" ploy of every lazy advertisement. Get a hot girl, put her in skimpy clothes, and eat the product like you're having sex. French-Filipina multi-hyphenate Solenn Heussaff posted recently on her Instagram and Facebook fan page a teaser video of what it looks like her fellatiating (and eating) a piece of chicken. With the hashtag #SosyChick, one could only surmise that the commercial is a preview for a major endorsement deal.
Comments on her Instagram feed hinted that it was her future debut as the endorser of a famous chicken franchise (go figure.) While a deluge of creepy comments expressing how lucky the chicken was, a few disagreed with the objectification of Solenn and well, sexualizing the fowl.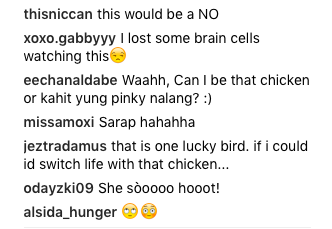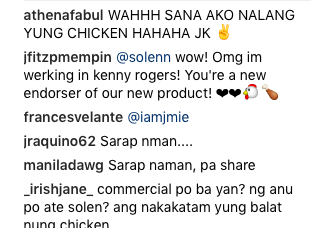 I don't know what's more disturbing: the trailer itself or the hordes of compliments on how hot the video is. This is exactly the same ball game that Carl's Jr. tried to play in 2005 with its commercial with Paris Hilton that was infamously banned for its over-the-top sexiness. Then came a slew of sexualized food and objectified women adapted by the burger chain, and then picked up by others like Burger King's own references to "blowing."
We're tired of this boorish display of objectification. There isn't really any way to conceal sex on mainstream media. Keep 'em hungry for more, I suppose. Although, Playboy gave it up for a while to focus on their articles, and even Carl's Jr. shifted to a more food-centric concept in their advertising. Even the latter's ad agency said in a press release that they've "evolved," mostly because the audience was "too busy ogling at girls" rather than the product attributions. Here's Carl's Jr.'s new take on their commercials. For better or worse, only the ratings will decide. Let's hope the Philippines goes down a smarter path.
Photos screen grabbed from Solenn Heussaff's Instagram account
Follow Preen on Facebook, Instagram, Twitter, Snapchat, and Viber
Related stories: 
Andrea Torres' Jump Rope Video Is a Gross Display of Female Objectification
The One Thing Nico Bolzico and Solenn Heussaff Always Fight About
This Woman Let People Touch Her Vagina, Sparked Discussion on Consent and Respect