Hanli Hoefer thought it was a joke when she got a callback on her VJ audition. Today, she's one of MTV's poster girls who have interviewed numerous artists (though she's still waiting on Beyoncé). Soon, she'll be hosting MTV Music Evolution Manila at the Quirino Grandstand on May 17, where acts Naughty by Nature, Gloc-9, and apl.de.ap will be.
But first things first: she's got to be the realest. Preen talks to VJ Hanli about what's up with today's gangstas—and wankstas.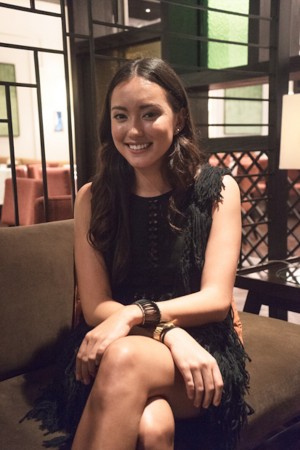 P: You've met a few Filipino hip-hop artists since you got here. What are your impressions on Filipino music so far?
H: Even before I came to the Philippines, I knew that your country is so passionate when it comes to music. The feedback we get online, the shows and the channel is that you guys love your music. Even though I don't understand the words, you can feel the passion in the beat and the rhythm.
P: What makes hip-hop from Asia different?
H: I think it's new. Hip-hop originated from the States. The origin of how it came about is wonderful—that influence that Asia has taken, and how we made it our own is amazing. It could be our time now.
P: People think hip-hop is all about dissing and looking cool.
H: How can I defend hip-hop? People who say that might've listened to awkward hip-hop—they haven't listened to the beginning of hip-hop, that's what it is. There's a shift somewhere from how hip-hop started from talking about urban life, poetry with the beat, you know, have people relate to it. Somewhere along the line, hip-hop's suddenly made of shitty situations. But I think that as long as they have a good balance and talk about the real topic, you can gloat about how you made it.
P: Today, female hip-hop artists are rising to fame. What are they bringing new to the table?
H: I am so happy that there are more female hip-hop artists. They've always been around but undoubtedly, it's still a man's stage. Old artists opened so many doors, so let's not forget. MCs like Queen Latifah, Salt-N-Pepa, TLC, Lil' Kim—they're all major players in this. It just shows that females can be bangin' too.
P: Is it unfair that male artists can layer on clothes and look swagger, while females are made to sell their music in crop tops?
H: I think it doesn't matter what they're wearing as long as they spin like crazy. As long as they have the goods to back it up, they can wear whatever they want. But come on, you guys, let's talk about Evo!
P: We're about to get to that. If you were to organize Evo, what would your lineup be?
H: I'd still put in Naughty by Nature. Definitely all supporting local acts. Abra, too. He's such a cool guy. And then, definitely female artists like NoName Gypsy—who. is. incred.
Photos by Jash Manuel