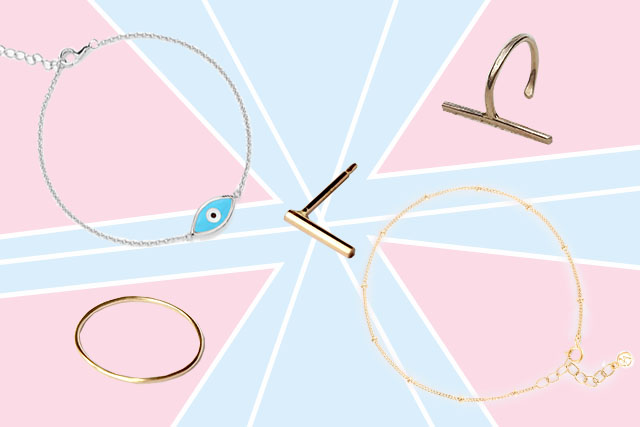 Adding jewelry pieces to an outfit is a great way to take your look to another level as it can dress up any ensemble. Chunky rings and necklaces are great but dainty jewelry gives you more variety. With these types of accessories you can layer different designs like mixing metals and stacking different sized rings. You can also layer necklaces of different lengths and wear a bunch of chain bracelets. We've listed some stores that offer dainty jewelry pieces so you can start shopping this week.
Cinta
Cinta is a local brand that uses raw metals that are sustainably sourced. They offer rings, bracelets, anklets, necklaces and earrings. What is most interesting about their jewelry is the design. They create unique shapes that you might not have seen before. Available online.
Heart & Bolt
Jewelry from Heart & Bolt mixes different materials for each piece. They have chain and cord bracelets with charms or bangles with different stones. You can pick from their many designs or have a piece made especially for you. Available at Bijou, Greenbelt 5 or contact (0917) 899 9033 for bespoke orders.
Stockton Row
Despite their jewelry pieces being dainty, they stand out. Silver and gold metals are mixed with bright stones in blue, pink, and red. They even have zodiac-inspired pieces if you are into your astrology sign. Available at Cura V, Power Plant Mall.
Mejuri
Mejuri works with jewelers in both Toronto and Seoul to deliver luxurious pieces that use ethically sourced materials like diamonds and chains. Their line ranges from chain bracelets to birthstone necklaces and even thread through earrings. Available online.
Micki Olaguer
Micki Olaguer makes her jewelry designs pop with her use of geometric shapes and colorful stones. Her dangling earrings are the perfect accessory that will frame your face and complete any outfit. Available at Bijou, Greenbelt 5.
Namì
Namì, which means nice in Ilonggo, is a brand that creates timeless jewelry that you can wear everyday with any outfit. The pieces are crafted from sterling silver and are handmade in the Philippines. Their collections feature chokers, toe rings, and bangles to name a few.
Art by Lara Intong
Follow Preen on Facebook, Instagram, Twitter, Snapchat, and Viber
Related stories:
What Pendant Should You Wear Over Your Collared Shirts?
Hoop Earrings Are the New It-Accessory You Should Cop Now
Dealing With Messy Hair? Cover It Up With A Turban-Style Headband
5 Celebrity-Approved Jewelry Brands to Cop Right Now