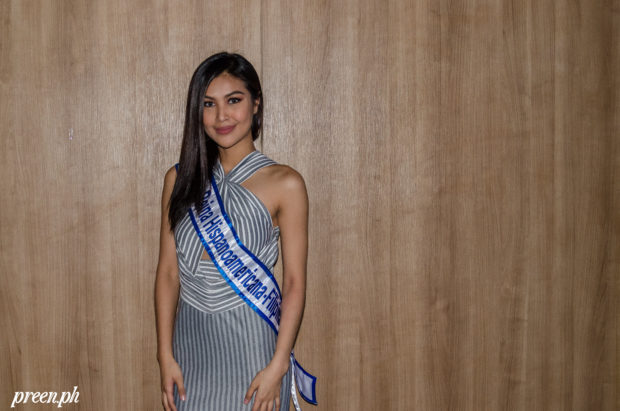 The newly-crowed Miss Reina Hispanoamericana Filipinas Winwyn Marquez practically grew up in the spotlight. Celebrity parents, a beauty queen aunt, and a budding acting career might induce a panic in some but it's clear that it's Winwyn's natural element. Why else would she take on more by daring a life in the world of beauty queens?
She may also say she's overwhelmed but it didn't seem like it. Amid the flashes of cameras and the demands of fans after Bench Fashion Week, she gamely answered surprise interviews and gave into Boomerang requests. I guess it's because there's a humility about her that lets her enjoy it rather then let it get to her head. "I read your article about me and other beauty queens and I couldn't believe it. I can't believe people want to write about me and know more about me," she says after I gave her a #PreenPopQuiz.
What is your ride or die beauty secret? 
You have to have the perfect makeup. We don't have enough sleep and we are always tired. You need to have the best concealer.
What's you favorite concealer? 
To be honest, Happy Skin. I love Happy Skin. Same for my favorite lipstick. I love their line and I'm not even their endorser.
Who is your dream celebrity best friend? 
Anne Hathaway. She's so versatile since she can sing and she can dance. If we were together, maybe we'd keep performing all night.
How are your days like after your win? 
It became more hectic. I am very overwhelmed with what's happening, it's like everyone knows me now. I have been on TV for most of my life but this one is so different. Filipinos are really pageant fanatics.
What do you bring with you wherever you go? 
A rosary. I always have it.
What's your  favorite cocktail? 
I love sangria. The best! But I don't drink that much anymore.
What did your parents advise you as you took on pageant life? 
They kept on telling me to be positive because I lost the first time. They were scared that it would happen again so they told me to stay positive and that they will always be there for me.
How did you get over your first setback on the road to your current crown? 
You can't get over it in a snap. Find things that will make you happy. After my loss, I studied again. I got my teacher's certificate so I can teach children. I cried that first time but it was also motivation. Now, I'm a teacher and now I have my own crown. It all worked out.
What music do you often listen to?
I like pop. Who doesn't love it? I was busy training when Ariana Grande came to the country, I couldn't go. I just looked at Instagram Stories.
What do you and your mom often fight about? 
How I look, how I dress, and my makeup. My mom wants me to be more formal but I like being in shorts. I go for more casual.
What do you say about how women are often criticized for what they wear? 
If you're comfortable with that you look like, if you love how you look, it doesn't matter what people say. Just don't mind them and be happy.
What's one fashion item you can't get enough of? 
Denim shorts. I need to have a lot of them even if they all look alike. I can wear them to shoots or to the beach.
Who is the most fashionable person you know? 
Melanie Marquez
What did Melanie advise you about being in the spotlight? 
She told me not to mind bashers. She said I shouldn't read their comments and I should just block them.
Any one liners she's passed on to you? 
You're not a book! She still says it. She's known for it and when she says it we still laugh.
The beauty secret she taught you? 
Get some rest and drink a lot of water.
Which country do you dream retiring in? 
I love to go back to Japan. I've been there once, I stayed there for six days. I love the food, the attitude of the people, the culture. I also have a lot of friends there.
Photo by Arvin Artates
Follow Preen on Facebook, Instagram, Twitter, Snapchat, and Viber
Related stories:
Get to Know the Beauty Queens Born From Showbiz Parents
7 Things You Need to Know About Rachel Peters
TV Host Laura Lehmann is Miss World Philippines 2017
10 Things You Ought to Know About Maxine Medina