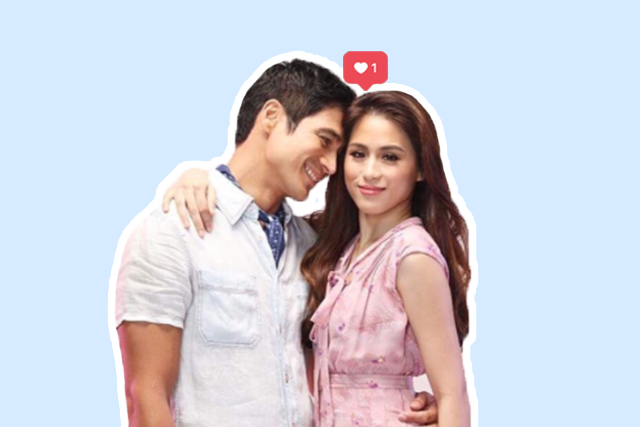 Celebrities pop up almost every day that's why time is the ultimate test for those we call stars. I wouldn't be making a brave proclamation if I say Piolo Pascual and Toni Gonzaga fall into the latter category. Around three years after their first movie, Starting Over Again, they're back at it with Last Night. Billed as a dark, romantic comedy, the movie is drawing in curiosity because of its intriguing trailer. But the mere fact that Piolo and Toni are starring in it, has gotten fans excited for the Sept. 27 premiere date.
A lot has happened between the two since their last movie. Piolo turned 40 years old (I can't believe it too) while Toni now has mom duties because of baby Seve. "I want to make sure that the movie is worth the time I spend away from Seve," she said while explaining why she took on the script. But the banter between her and Piolo hasn't changed, she even admitted that there's a risky bathroom scene where she's not wearing any pants!
Preen.ph got to sit in during the press conference of the film on a Sunday afternoon and here are the sound bites you shouldn't miss.
On how the film gives a new perspective on dark issues such as infidelity
Piolo Pascual: Sometimes, you just have to talk to someone to get a different perspective. [When there's a lot going on in your life and there are so many complications], sometimes you have to take a step back and talk to somebody and talk to someone who will help you understand life better.
Toni Gonzaga: The love story is complicated, you can't put a label that there's cheating that happened. I can't explain because if I do, you won't watch the movie.
On how they didn't expect to work together this year
TG:  I remember [they told me that they can't give a script] for you and PJ. This year, [they didn't say we would be working together.] We were looking at other scripts and [they presented another] story. And then I read the script [for this] plus I got a call from PJ.
PP: Starting Over Again was a risky move not only for us but also for Star Cinema because we didn't end up together. But this story is a riskier love story than Starting Over Again. That's what made us say yes.
TG: We believed in our director, in the material. We believe in the whole thing, It's a collaboration of brilliant minds. I remember when I read the script, last minute, [I thought I wouldn't be able to do it.] Nilaban ko siya. Sabi ko gusto ko talaga ito (I fought for the role. I said I really wanted to do it.)
On who takes longer to prepare before a scene
TG: Honestly, emotionally si PJ. Ako, physically lang ako matagal. Nag papa-blower and makeup. Kailangan ko lumaban at gwapo eh. Dun ako hirap na hirap, lumaban sa kagwapuhan niya (Honestly, it's PJ who takes longer emotionally. I just take long physically because of hair and makeup. I need to be at the same level as his handsomeness. That's my real challenge: to rise to his level in terms of good looks.)
On working together for the second time
PP: With Tin, it was such a breeze because the way Joyce (film's director Joyce Bernal—ed's note) would explain it to us, [sure it's hard]. But once you know the intention of the characters and the story, [it's easier to do.] TG: Si PJ, padating pa lang ako sa set, nandun na emosyon niya. Nag-concealer pa lang ako, si PJ [in character] na. Ang bilis! (PJ is already ready with his emotions when I get to the set. I'm just about to have my concealer done and he's in character already. So fast!)
On what the younger actors bring and why they're not intimidated
PP: I've been in the business for quite some time, not to brag. But we wouldn't have lasted this long if we didn't have the right character and the right attitude to bring to the table. If you compare yourself [to the youth], [but you are also young once] so move on. You have to act your age and think your age as well.
TG: Freshness. Honestly, ang fresh nila tignan. Parang wow, ang mga close up nila ang gaganda nila. Pero hindi naman, every line na makuha mo, you've earned that. Sa every pelikula, sa every project na ginawa, bawat luhang iniyak mo and life experience, that's what you're bringing to the table. Hindi mo na maiipapalit yun because I think life experiences make you a better actress. Pag mas marami kang pinagdaanan, mas marami kang pinaghuhugutan (Freshness. Honestly, the look so fresh. It's like wow, their close ups look so good. But really, every line on your face, you've earned it. In every movie, project, every tear you've cried, and life experiences, that's what you're bringing to the table. You can't trade that off because life experiences make you a better actress. If you've been through a lot, you have more material.)
On why they wouldn't mind doing another movie together
TG: For the younger generation, for the young artists who are aspiring, dreams come true. I started from being a fan in Piolo's commercial, who would have though [that] 15 years after [I would become his] leading lady. If you never give up on your dreams, somehow, someday you will get there.
On the night that they wished never ended
PP: The moments that are not planned. These are the ones you want to last for the night.
TG: Ako simple lang, yung gabi ng hinawakan ko si Seve. Yung gabi na hinawakan ko siya kasi pag hawak ko na siya ngayon, malapit na siya mag-one year old. Ang bilis ng panahon. Paano pag kasing laki na niya si Iñigo [Pascual] at kumakanta ng "Despacito"? (My answer is simple, the night I held Seve. The night I held him because now when I carry him, he's about to turn a year old. Time flies so fast. What will happen when he's Iñigo [Pascual's] age and singing "Despacito"?) [Laughs]
Photo courtesy of Piolo Pascual's Instagram account
Follow Preen on Facebook, Instagram, Twitter, Snapchat, and Viber
Related stories: 
What's Going On With Toni Gonzaga and Piolo Pascual in 'Last Night'?
Toni Gonzaga Opens Up About Suffering From Postpartum Depression
Piolo Pascual Has Been Dating Shaina Magdayao for 5 Years
Who Casts the Faces who Shill Soaps and Creams on TV?