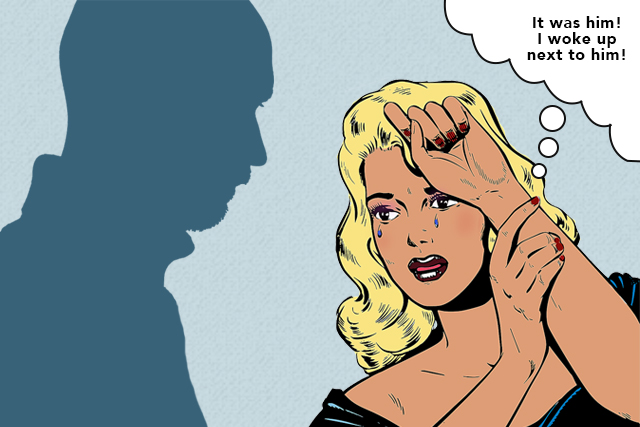 One of the biggest threats to women's safety is silence. Often, when faced with sexual abuse and harassment, women are shamed and told to just shrug it off. It's how rape culture operates and why sexual offenses are a twisted power play.
This is why Judy is fighting back. She's accusing artist Gaston Damag of sexual assault that transpired last October. She was out at an event with a few friends including artist Jigger Cruz. Judy met Gaston for the first time at the event. They left as a group to grab dinner and drinks. "It seemed like a safe setting," Judy said.
Gaston is a Paris-based artist who references his indigenous Ifugao background. His exhibits have been staged in Greece, Luxemborg, and New York. Locally, he's worked with The UP Vargas Museum and The Drawing Room.
"Eventually, Jigger invited me to stay because he wanted to continue a project the following day with me. I agreed because he was saying they had [a few] guest rooms. I stayed in one of the guest rooms," said Judy who went ahead to sleep alone. A few hours later, she realized something was happening. "I woke up and I felt someone was groping me and trying to unbutton my shirt. I immediately ran outside of the room. It was Gaston. I woke up next to Gaston."
In shock, Judy ran out and went to the room Jigger and his girlfriend occupied. "I was asking them if I could stay there because I felt uncomfortable," says Judy. She remembers she was crying and she texted a friend to pick her up immediately, explaining what happened. Judy also remembers how there were a lot of helpers around suddenly, asking her what she wanted or needed, but no one was asking her what she was distressed about.
"When my friend got there he went to Gaston's room and called out Jigger. We were asked to sit in one place," says Judy. Gaston then admitted to what he did and started saying sorry. "He had this annoying line: 'I was only touching her for three to four minutes lang naman eh.' It doesn't make sense," Judy says. "I don't understand them."
At that moment, it felt like Judy was alone as her long-time friend wasn't being a fair host. "Jigger was defending him. He was saying, 'He's a good man. He can't do that.' Even when Gaston admitted to it na."
Judy and her friend left the scene when they realized they weren't getting anywhere. Judy went to the women's desk at the Sun Valley police station in Parañaque. Since the incident happened on the same day Judy filed a report, the police invited the suspect to make a counter-statement to the police.
"When we got back to Jigger's place, Gaston didn't want to go out." Judy says only Jigger spoke to the police.
Preen.ph reached out to Gaston who now denies the accusations. "I am innocent and did not hurt the young lady. I have several testigo in the house where I was staying." Upon contacting Jigger, he stated, "I cannot give any statement for now. I'll let Gaston and Judy make their official statement."
As of writing, Judy is waiting on the next steps. Summons will be issued by the police and if the accused does not respond, matters will be taken up to a trial court. Judy is steadfast in looking for justice and sees that what she's doing should be the normal response so such incidents don't become the norm. "Publicly going out is not that easy but I have to because a lot of cases like these are silenced." Women are so shaken by the incident that sometimes it's easier to let it pass. "That morning, I wanted to get out of the situation. That's your first instinct [because you're] traumatized. You don't even want that in your memory," she says. "But we have to confront it. It prevents it from happening again and again."
She also has some faith in the system. For those of you who are afraid that your complaints will not be taken seriously, there is still hope. Judy says the authorities who responded to her case did well. "I'm proud of them that they are more sensitive to these things. The gave consideration even to the minor details of the case."
Art by Lara Intong
Follow Preen on Facebook, Instagram, Twitter, Snapchat, and Viber
Related stories: 
Sexual Assault in the Manila Art Scene
Stopping Rape Culture Should Start From Childhood to Mainstream Media
This VS Model Is Dismantling Rape Culture One Instagram Post at a Time
7 Ways We Promote Rape Without Realizing It