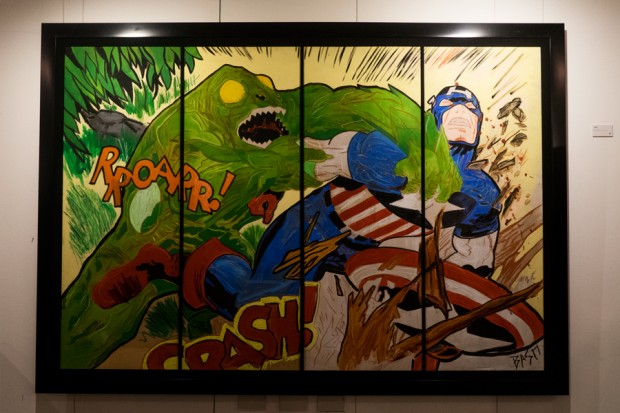 When Basti Artadi, frontman of  '90s rock outfit Wolfgang hears silence, he fills it with color. In the years between his solo project and doing gigs with other rock bands, little did people know that he was painting his rock idols like Elvis Presley and Johnny Cash using materials that were available to him. Irreverent as the sound he is known for, Basti presents a varied collection of his visual works and presents to the public through Kalat.  The solo exhibit kicked off with a fun mixer among Basti's friends and fans alike last night at A SPACE, Makati and will be ongoing until June 22.
Why Kalat?
When you usually do a show, you have one theme or one central story. This one was done with a retrospective approach. The works were created from 2007 to 2015 and there was no one theme that unified them. It also suits the painting style, it looks kalat or messy.
Painting has been your hobby for quite some time so what pushed you to finally show it to the public?
Honestly, A SPACE was the one. A friend of mine knew them and told them, "Hey, Basti paints"  because no one knew and I never really told everyone.  They wanted to see my works and so I sent photos of them and they were like, "Okay, let's go."  If they didn't ask me, all this stuff you see right now would still be in my room. It was also about timing because I already had enough to do a show right now. If they asked me back in 2007, I would have probably just had two pieces.
What influences your works?
I don't know what influences my works. When I paint, it's just really to block out everything and enjoy the work. I just go with it and whatever happens. I could say I am addicted to color. I like the colors to be really bright and vibrant. There is really no one inspiration right now.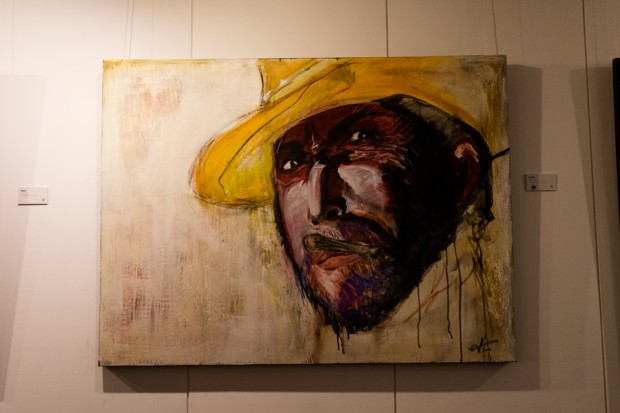 Who are the artists you look up to?
Picasso. Van Gogh. I'm also into comics. I'm influenced by Jack Kirby. I am also influenced by Dali. There is one work in there called "The Virgin's Ear," which is influenced by Dali but also with some dots on it, like how comics used to be printed. I will just draw inspiration from anything. I have one painting in there that is directly inspired by Picasso. I wanted to try something like Picasso's "Blue Period;" the work is called "The Blue Boy."
Most of your paintings were created via mixed media, any reason for this?
I call it mixed media when it's more than two things that I use. Most of the works there are made using oil and pastel. Other ones go beyond that. I have works made using oil, pastel, glue, spray paint, charcoal, crayons, whatever I could get my hands on. Whenever you go past two materials, I think it is easier.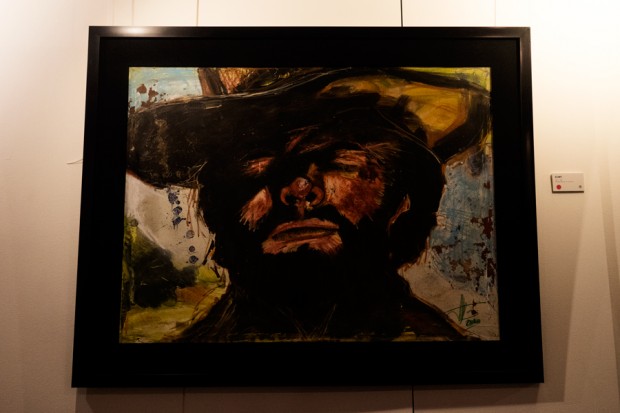 After this first exhibit, do you see yourself having another one?
I'm always going to paint and I will continue to paint. If I do another exhibit, it will be a more jointed thing. There will be a theme and there will be something that will make people think differently about a certain topic.
What song is best played when looking at your works?
Oh, cool. Good question. Put on The Cult's "Electric." I can imagine painting to that so when people listen to that while looking at my works, they would get it. It's a loud album with big, bombastic guitar sounds and drums. It would also go with the color and how bright they are. It also suits the strokes because they are not dainty but big and wide strokes.
Photos by Jash Manuel