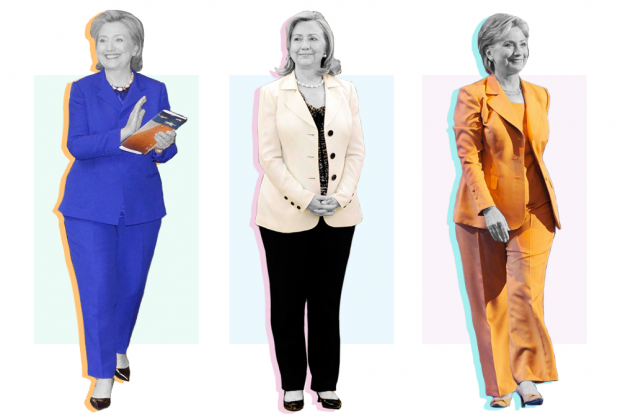 Let's set the scene: December 2010, Bishkek, Kyrgyzstan—an interview with former US Secretary of State Hillary Rodham Clinton. After some questions about Kyrgyzstani issues, the interview moderator asks, "Which designers do you prefer?"
Hillary clarifies, "What designer of clothes?"
"Yes."
"Would you ever ask a man that question?"
This is the setting of Hillary's political career.
No doubt Hillary has proven to be a woman of intelligence and ambition. As then-president Bill Clinton's wife, she was the first First Lady to have a postgraduate degree, her own professional career, an office in the West Wing, and a central role in public policy. Since then, she has served as a senator and as the secretary of state, has played a definitive role in foreign policy, and has recently announced that she is seeking the presidential seat in the 2016 elections.
But you won't hear about that in the media we typically consume, because we'll be hearing about her many hairstyles, her too-yellow pantsuits, how she likes to tie her hair up with scrunchies two decades after they were trendy, and how she chooses to go sans makeup sometimes. We'll be hearing about the Oscar de la Renta gown that she wore to her daughter Chelsea's wedding—never mind that Chelsea's father used to be president, was also present at the wedding, and looked pretty dapper himself during the ceremony. We'll even be hearing about how her cleavage peeked through a black top she'd worn in 2007, and, funnily enough, how she seemed to deliberately dress conservatively—bereft of anything that would betray that she is, in fact, a woman—following Cleavagegate. To top all of this off, just recently, Harper's Bazaar has taken it upon itself to come to Hillary's rescue with a preemptive presidential lookbook, replete with slim silhouette pieces tailored to strike a balance between her femininity and her power—an altruistic effort the magazine failed to extend to any male presidential candidate.
It doesn't take a feminist to notice that the media coverage on Hillary's fashion and beauty choices is much heavier than the attention male politicians' fashion choices get (which is close to nonexistent, by the way). Maybe it has to do with how Hillary admittedly doesn't have the most tasteful fashion sense out there, but in the political arena—in a Senate room with more ill-fitting suits than ideas for effective laws—does it really matter?
Of course, the focus on how Hillary presents herself is something that women across the world are familiar with. No woman can escape the pressure of having to look good all the time. It comes with being women. Being the pretty thing that people look at has become just as much of an important role as being a wife and a mother.
Reporters definitely expect Hillary to play on the maternal role. "How are your kids? How do you balance work and family?" they ask her, but they conveniently forget to ask President Obama, who is also a parent. Hillary says she works to ensure a better future "for my granddaughter," which is a beauty pageant kind of thing to say, but it endears her to the American public, who expect female politicians to be family women, and male ones to do male things, like solve the economic crisis or something.
Back to Kyrgyzstan. Funnily enough, just moments before the moderator had asked the question about her favorite designers, Hillary had said, "If you are in the courtroom or you are presenting a case, it still is a fact—and this is not just in Kyrgyzstan, this is everywhere—that when a man walks into a courtroom, it's rare for someone to say, 'Oh, look what he is wearing.' But if you walk into a courtroom, or any young woman walks into a courtroom, people are going to notice."
Despite being a tenured and successful politician, Hillary still finds herself facing the same pressures that women do everywhere. She still falls prey to people who would rather talk about what she's wearing than her opinions on domestic and international issues. Which makes me want to ask Hillary: "Do you feel that the public thinks your fashion is more important than your politics?"
Would you ever ask a man that question?
Art by Dorothy Guya