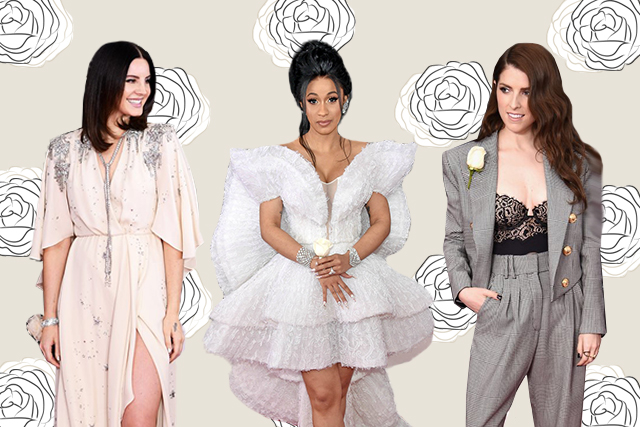 Just like the Golden Globes, this year's Grammy Awards also took a stand with #MeToo and Time's Up. Celebrities were encouraged to incorporate white roses into their outfits as it is a symbol "for hope, peace, sympathy, and resistance." Looking at red carpet photos, many ladies found a way to add the white rose like wearing it as a corsage or having it embroidered onto their clothes. Check out the list below to see who rocked white roses at the Grammys.
Lorde
Instead of holding a white flower, Lorde took a different approach to the #MeToo movement. She had a poem stitched to the back of her red dress. It was an excerpt from Jenny Holzer's "The Apocalypse will blossom. Part of the poem reads, "Rejoice! Our times are intolerable. Take courage, for the worst is a harbinger of the best."
Heidi Klum
Heidi Klum also showed solidarity for the movement by wearing a white rose corsage. The flower stood out against her all-black lace gown.
SZA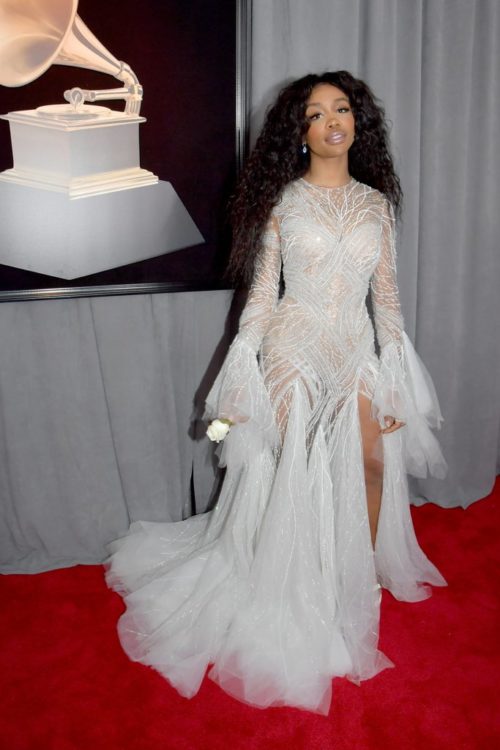 SZA might not have won best new artist (*sigh*) but her red carpet look was everything. She wore a silver Versace gown with thigh-high slits and beaded details. She also held a single white rose for the #MeToo and Time's Up movement.
Cardi B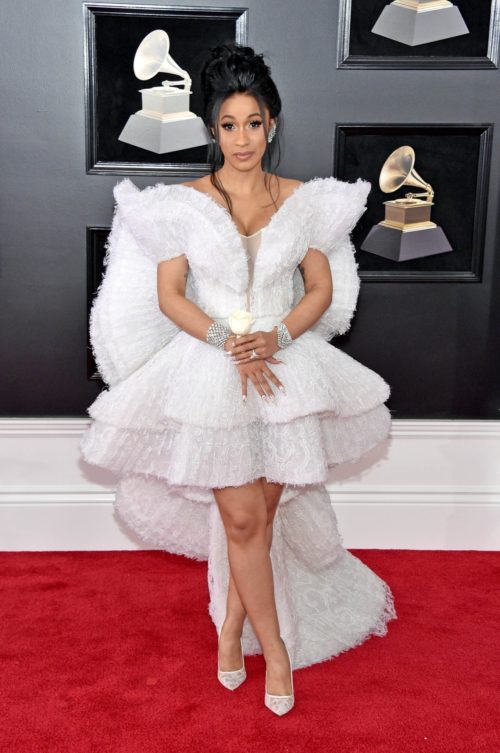 Cardi B finessed her way down the red carpet in a white dress. (See what I did there?) It had a short hemline, long train, and exaggerated shoulder. She also posed with a white rose in her hands.
Kesha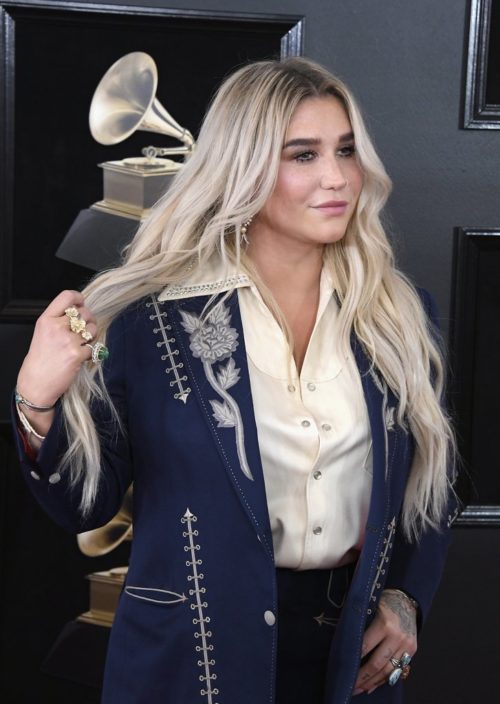 Not everyone wore or held white roses. Some, like Kesha, used their outfits to show their support. Stitched on the lapel of her navy jacket were two white roses. She even brushed her long hair away so you can get better look at it.
Cyndi Lauper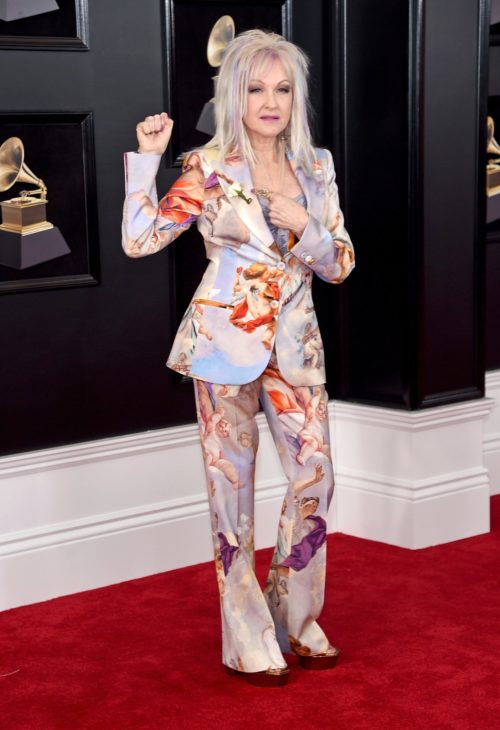 Cyndi Lauper pinned a white rose to her printed jacket and she showed it off well. In a lot of her photos, you will see her posing with a fist in the air while she points at the flower.
Lana Del Rey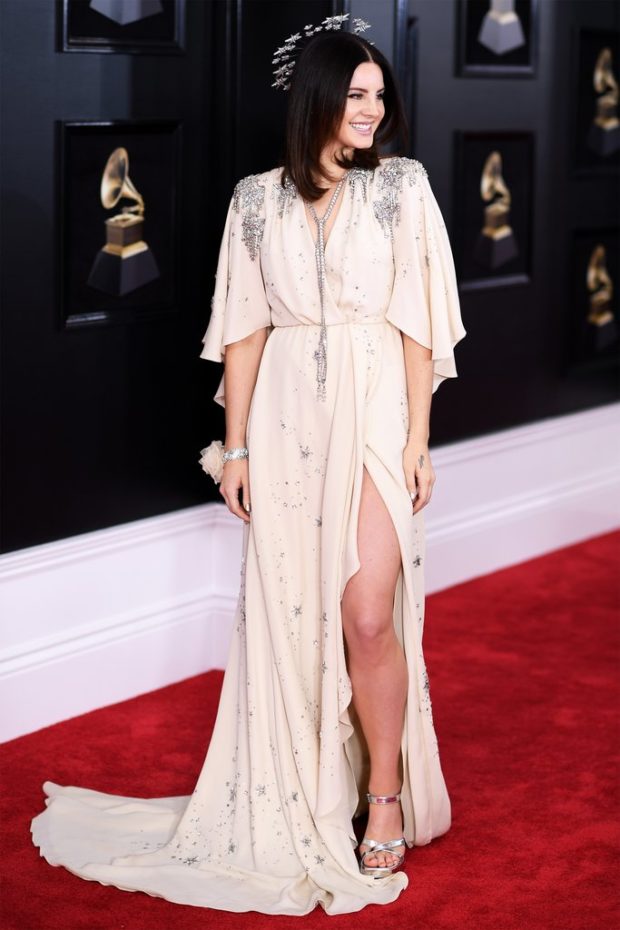 Like Heidi, Lana Del Rey also went for the corsage option. Hers, however, was made of fabric and was not an actual rose. It was placed on a glittery band and matched her gown and headpiece perfectly.
Anna Kendrick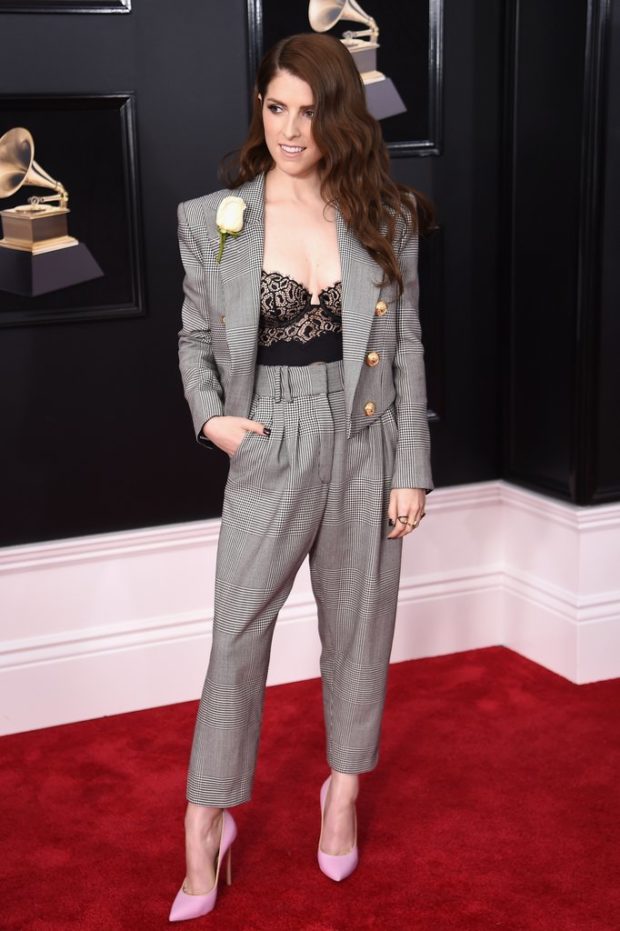 Anna Kendrick also wore a pantsuit to the award show. It was a black and white plaid print with gold buttons. She wore the jacket over a lace top and finished the look with pink heels. In support of the #MeToo movement, she had a white rose attached to her jacket.
Sarah Silverman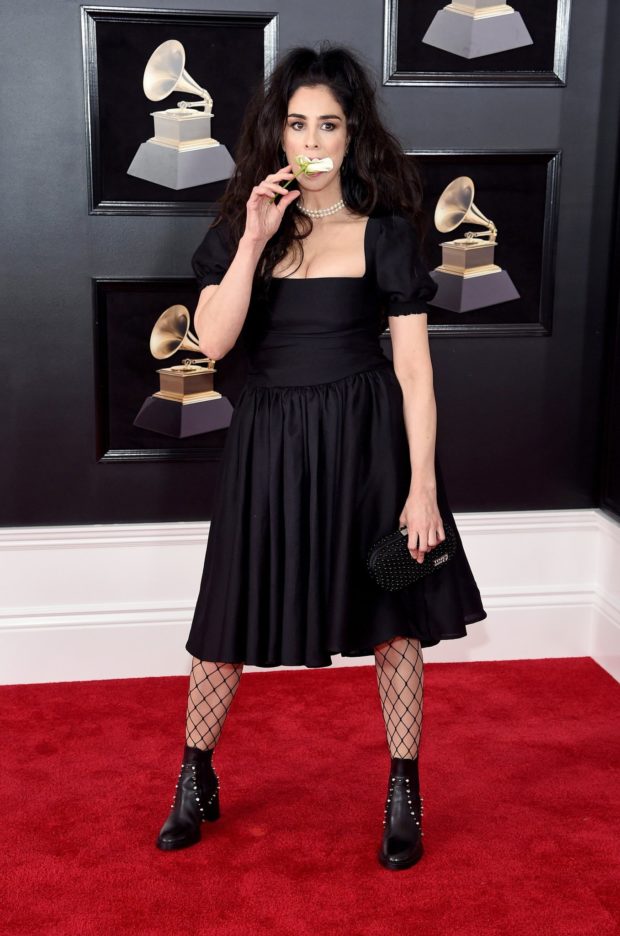 Leave it to Sarah Silverman to do something unconventional on the red carpet. In a black dress, fishnet stockings, and black boots, she posed with a white rose in her mouth. Now that's making a statement.
Janelle Monae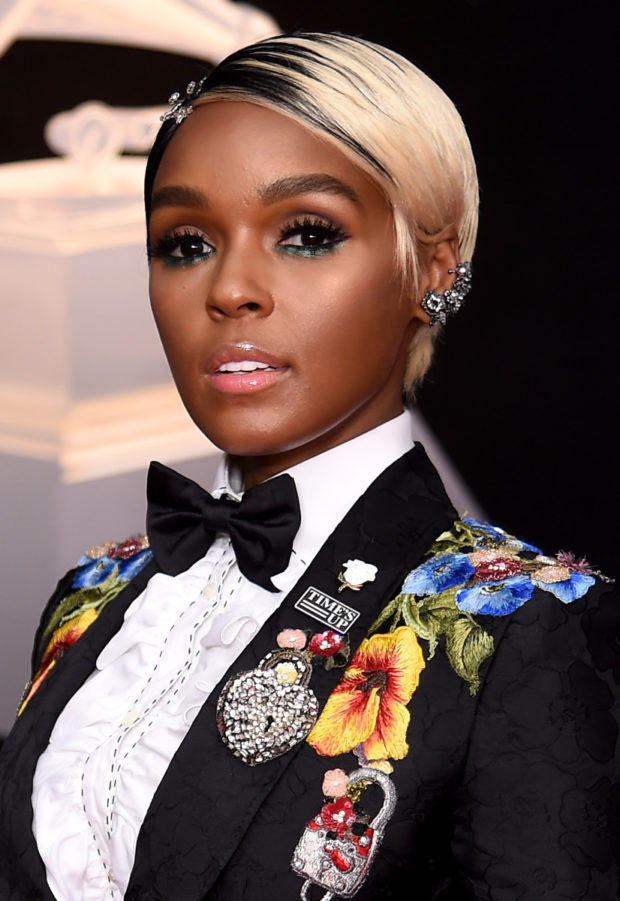 Singer Janelle Monae's support was a little more subtle. On the lapel of her embroidered jacket she wore a white pin and a Time's Up pin as well.
Art by Lara Intong
Follow Preen on Facebook, Instagram, Twitter, Snapchat, and Viber
Related stories:
Why Miley Cyrus and Kelly Clarkson Carried White Roses to the Grammys Red Carpet
Men Making Fun of #MeToo Ironically Prove the Problem
How #MeToo Unites Women Beyond Race and Class for an Overdue Cause
Wait a Sec, Men Didn't Speak Up Against Sexual Misconduct at the Golden Globes